This delicious carrot cake is straightforward to prepare. I invite you to make it at home and surprise your family. I am sure that your children will love it.
I remember that the first cake I made was a carrot cake. Initially, I made it taste its flavor. I used a few ingredients for the preparation, yes, I got some pretty sweet carrots, so in that first recipe, I used minimal sweetener. These provided the necessary. Over time I improved the recipe because I began to add some ingredients to the mixture such as coconut, almonds, cinnamon, and raisins, which improved a lot.
When preparing this dessert, I have found that there is no unique way to make it because, for this, you can use spices such as nuts, ginger, or nutmeg, which cannot be missing, also for the cover you can use creams of different flavors and textures. In this regard, I think that the way it prepared is delicious, perfect for eating at any time, accompanying it with a precious glass of milk or a hot coffee.
The preparation of this cake is quite easy. It is similar to the recipe of auyama cake that you find in this blog; however, in this one, the carrots must be raw to grate them manually or steamed to process or liquefy them. I prefer to do it first since it remains juicier and adds enough color to the mixture.
It is also important that the following tricks be taken into account in the preparation so that it is quite delicious:
Added each of the ingredients in order, as the preparation shows and beat the mixture very well so that it becomes creamy. On this depends the softness of the cake.
For baking, a baking dish must be used that allows heat to circulate properly throughout the mixture and to check if a clean and dry knife is ready if it comes out in the same way it means that is ready to let cool and consume.
Dried fruits can use in the mixture, such as nuts, hazelnuts, raisins, grated coconut, or sweet peanuts.
If you like carrot, you can also consume it in salty preparations such as soups, steamed, stews, or juices and desserts, you can even eat it raw in salads or use it to color the preparations or as a thickener.
How to make carrot cake?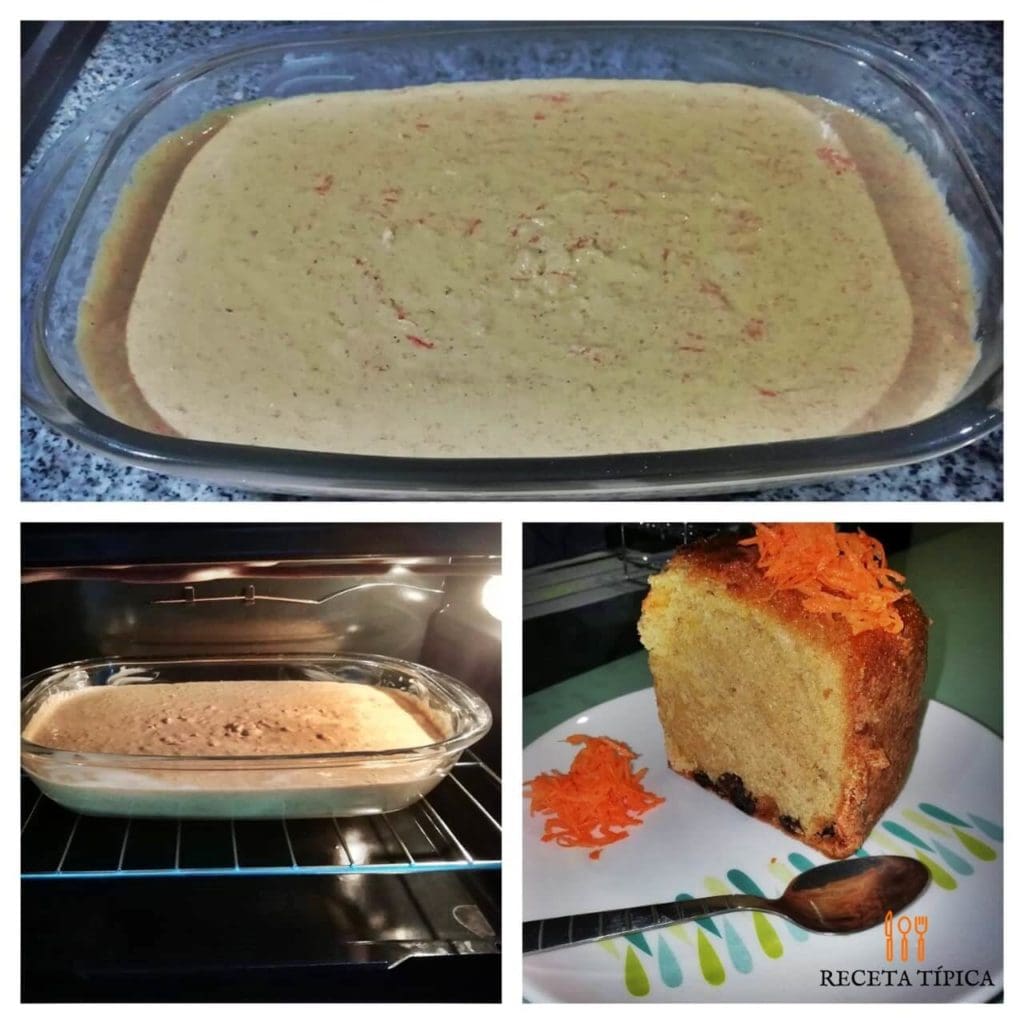 Recommended recipes: Pumpkin Cake or Coffee Cake.
Receta original en
Español
Ingredients
2

cups

of flour

250

grams

of margarine

1

cup

brown sugar

2

cups

carrot grated.

1

tablespoon

baking powder

1

tablespoon

cinnamon powder

½

cup

raisins or almonds chopped

3

eggs

1

tablespoon

vanilla extract

½

cup

of orange juice
Instructions
Preheat the oven to 180 ° C.

Melt the butter, let it cool and bring the carrot to the blender or food processor and blend until it forms a puree.

In a bowl or bowl, pour the previous mixture and stir. At the same time, the sugar, eggs, flour, vanilla extract, cinnamon, baking powder, raisins or almonds, and finally orange juice alternately added.

Prepare a mold by greasing it with butter and add a little flour on the walls (so that the cake does not stick, pour the mixture evenly.

Bake at 200 ° C for 40 or 45 minutes (you can check if this list if when you insert a knife or stick in the cake, it comes out dry and clean).

Let it cool to remove it from the mold, decorate to your liking, and serve to enjoy this creamy recipe.

Ready, as you can see, it is quite an easy cake to prepare.

Bon Appetite!
Nutrition
Calories:
521
kcal
|
Carbohydrates:
64
g
|
Protein:
6
g
|
Fat:
27
g
|
Saturated Fat:
6
g
|
Polyunsaturated Fat:
7
g
|
Monounsaturated Fat:
13
g
|
Trans Fat:
1
g
|
Cholesterol:
61
mg
|
Sodium:
510
mg
|
Potassium:
321
mg
|
Fiber:
3
g
|
Sugar:
30
g
|
Vitamin A:
6587
IU
|
Vitamin C:
10
mg
|
Calcium:
159
mg
|
Iron:
3
mg