This delightful carrot cake is very easy to make. I invite you to try making it at home and surprise your family – I'm certain your kids will love it.
The first cake I ever made was a carrot cake. I initially made it just to taste the flavor, using a minimal amount of ingredients. That said, I had some particularly sweet carrots, which is why I used very little sweetener – the carrots provided enough sweetness on their own. Over time, I refined the recipe, adding ingredients like coconut, almonds, cinnamon, and raisins, all of which greatly improved it.
When making this dessert, I realized that there isn't just one way to make it. Some might use spices such as walnuts, ginger, or nutmeg – all essential. For the topping, various flavored creams with different textures can be used. Regardless of the method, I believe any version is delightful, perfect for any time, whether accompanied by a refreshing glass of milk or a hot coffee.
Making this cake is quite simple and is similar to the pumpkin cake recipe you'll find on this blog. However, it's crucial for the carrots to be raw when grating them manually, or steamed when processing or blending them. Personally, I prefer the former method since it retains more moisture and adds a vibrant color to the mix.
Here are some additional tips to make this cake even more delicious:
Add each ingredient in the order listed in the preparation and thoroughly mix until the batter becomes creamy. The cake's softness depends on this step.
Bake in an oven-safe mold that allows for even heat distribution. To check its readiness, insert a clean, dry knife; if it comes out clean, it's ready to cool and eat.
You can add any desired nuts like walnuts, hazelnuts, raisins, shredded coconut, or candied peanuts.
If you're a fan of carrots, you can also enjoy them in savory dishes such as soups, steamed dishes, stews, juices, and other desserts. They can be eaten raw in salads or used to add color to dishes or as a thickener.
How can I ensure the carrot cake has the perfect flavor and texture?
The secret to the ideal flavor and texture of a Colombian carrot cake lies in two factors: using freshly grated carrots and correctly incorporating the ingredients. Start by blending melted margarine and carrot until you get a smooth puree, accentuating the carrot's flavor. Ensure you add dry and wet ingredients alternately to maintain the cake's airy texture.
Tip: Orange juice not only adds moisture but also a subtle citrus note that wonderfully complements the carrot and cinnamon flavors.
How do I know when my cake is baked?
To determine if your carrot cake is ready, perform the skewer test. Insert a skewer or knife into the cake's center; if it comes out clean and dry, your cake is done. Be cautious not to overbake, as it can dry out.
Common mistake: Avoid frequently opening the oven to check the cake, as this can reduce the oven's temperature and affect baking.
Why should I let it cool before unmolding?
It's vital to allow the cake to cool before removing it from the mold to prevent it from falling apart. Cakes tend to be fragile when hot, but as they cool, they become more stable.
Are there other ways to enhance my carrot cake's flavor?
Yes, consider adding a frosting. A popular choice is cream cheese frosting, which pairs excellently with carrot cake flavors. You'll need cream cheese, powdered sugar, vanilla, and some butter.
Are there similar recipes I can try?
If you love carrot cake, you might explore recipes using vegetables as primary ingredients, like zucchini bread or beet cake. These recipes also utilize spices and brown sugar to highlight the vegetables' natural flavors.
Recommendation: Try the beet cake recipe, which shares ingredients like cinnamon, brown sugar, and flour. It allows you to experiment with varying textures and flavors, much like the carrot cake.
Remember, the key to perfection in the kitchen is patience and practice. Don't hesitate to experiment with these recipes and make adjustments according to your taste. Happy baking!
Carrot Cake Recipe Instructions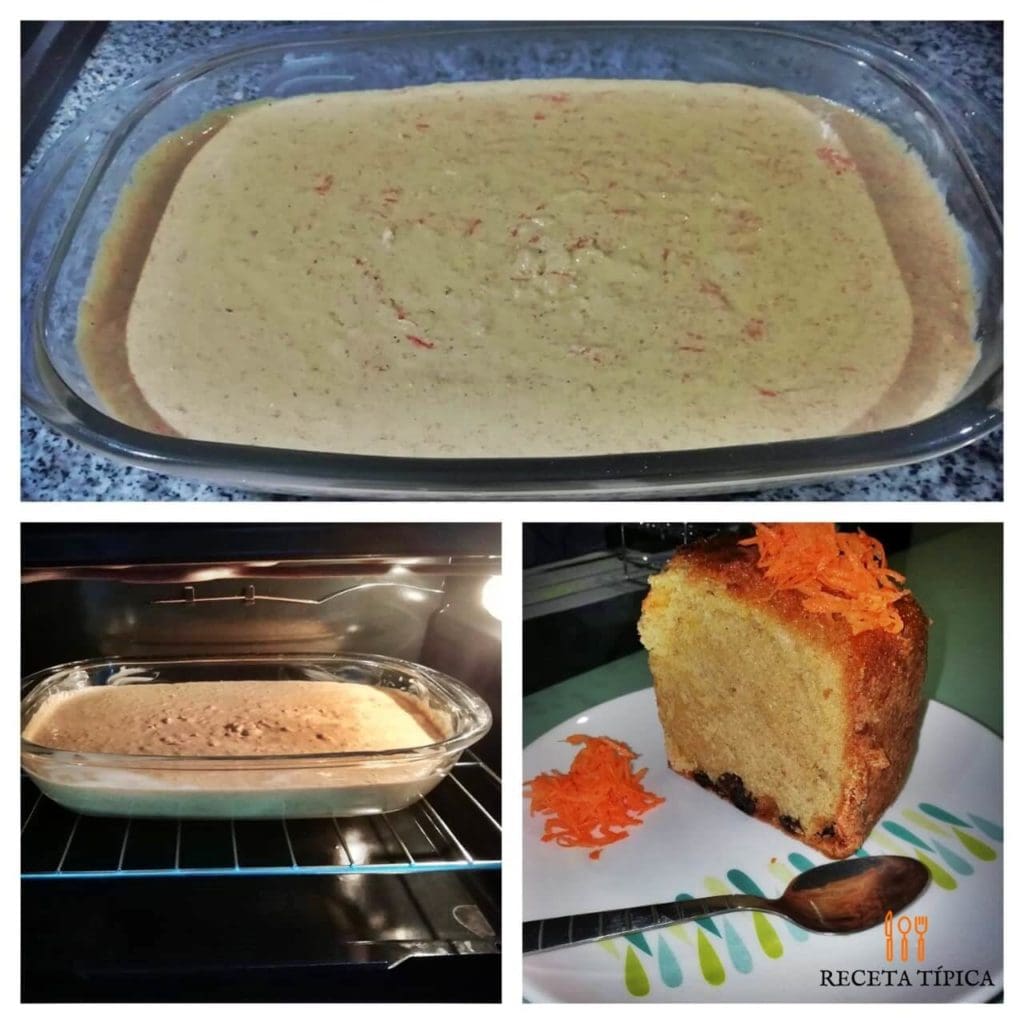 📖 Recipe
Ingredients
2

cups

of flour.

250

grams

of margarine.

1

cup

of brown sugar.

2

cups

of grated carrot.

1

tablespoon

of baking powder.

1

tablespoon

of ground cinnamon.

½

cup

of raisins or chopped almonds.

3

eggs.

1

tablespoon

of vanilla extract.

½

cup

of orange juice.
Instructions
Preheat the oven to 180°C (356°F).

Melt the margarine, let it cool, and blend with the carrot in a blender or food processor until you achieve a puree.

In a bowl, combine the carrot puree and mix while alternately adding sugar, eggs, flour, vanilla extract, cinnamon, baking powder, raisins or almonds, and lastly, the orange juice.

Grease a cake mold with butter and sprinkle some flour on its sides (this prevents the cake from sticking). Pour the mixture evenly.

Bake at 200°C (392°F) for 40-45 minutes (check readiness by inserting a knife or skewer into the cake; if it comes out dry and clean, it's ready).

Allow the cake to cool before unmolding, decorate as desired, and serve.
Enjoy your delicious homemade carrot cake!
Nutrition
Calories:
521
kcal
|
Carbohydrates:
64
g
|
Protein:
6
g
|
Fat:
27
g
|
Saturated Fat:
6
g
|
Polyunsaturated Fat:
7
g
|
Monounsaturated Fat:
13
g
|
Trans Fat:
1
g
|
Cholesterol:
61
mg
|
Sodium:
510
mg
|
Potassium:
321
mg
|
Fiber:
3
g
|
Sugar:
30
g
|
Vitamin A:
6587
IU
|
Vitamin C:
10
mg
|
Calcium:
159
mg
|
Iron:
3
mg