Learn how to prepare a sweet and sour carrot salad with fundamental ingredients; you will want to make it more often.
The carrot salad recipe that I am going to give you next is very homemade, simple, and easy to prepare, but that, despite its simplicity, is very delicious, and I particularly like to give it that bittersweet touch with ingredients simple.
We are in a week of salads, and I love it; in fact, it is that for our health and to improve our diet, it is highly recommended a portion of salad at lunch, as essential and nutritious as a portion on the plate. The carrot, as you know, has a particularity, and its most significant nutritional benefit helps us for vision.
It is a food that I recommend a lot, the carrot helps us a lot, and if we give it to consume our children, we are contributing to its excellent development. Salads are healthy portions that you cannot miss and that you should include in your diet, it is so vital and of the utmost importance. If everyone knew the value of a serving of salad on the plate, they would consume it more frequently.
This carrot salad would be ideal to accompany a dish that carries a portion of roasted meat, or to accompany some fish, even with a portion of beans tastes supremely delicious. It can combine with many dishes, and that is what I like the most, for that reason I recommend it. In this carrot salad, you will find sweet, sour, and sour notes, but they are very soft and precise notes, making this salad a balanced portion.
So if what you want is a portion of healthy salad, do not discard the carrot salad with a bittersweet touch, I hope you are encouraged to prepare it at home. Let's cook.
Ingredients for preparing carrot salad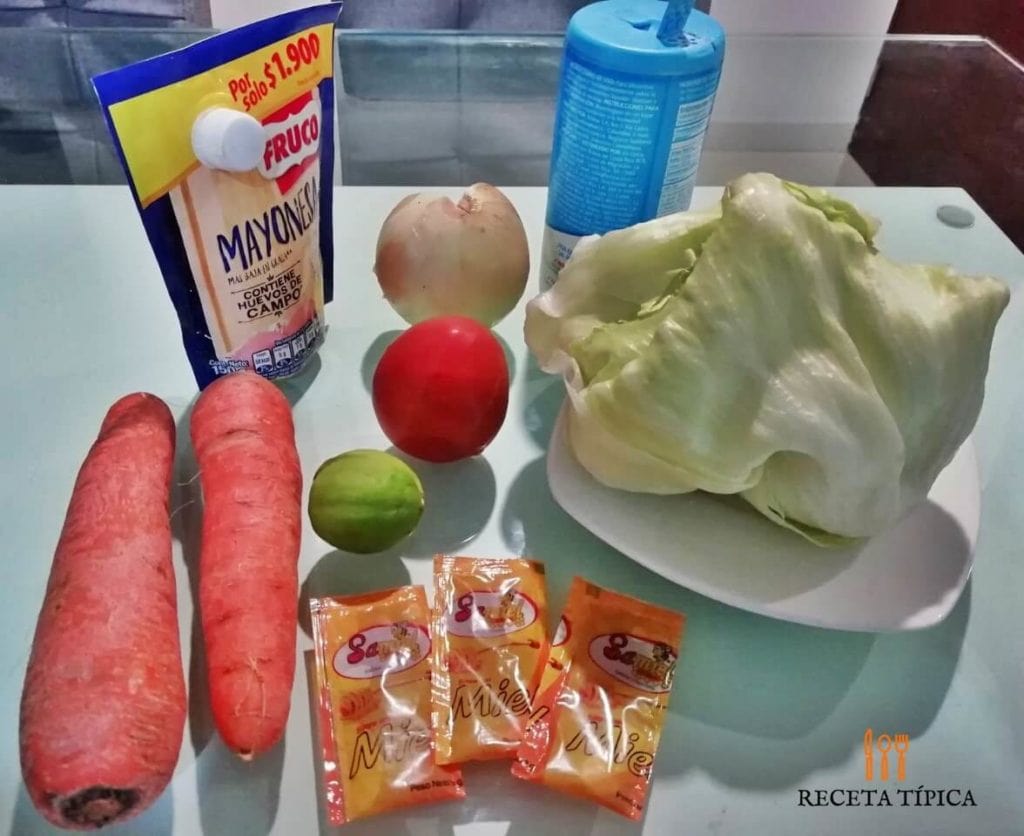 How to make carrot salad?
Accompany this carrot salad with a grilled chicken breast or egg and potato salad
Receta original en
Español
📖 Recipe
Ingredients
400

g

carrot

1

onion

1

tomato

Lettuce.

6

tablespoons

mayonnaise

2

tablespoons

honey

The juice of a lemon.

Salt and pepper to taste.
Instructions
Peel and grate the carrot, place it in a bowl.

Chop the lettuce into thin strips, and add to the carrot.

Then chop the tomato in squares and the onion in pen, and add to the bowl.

Add mayonnaise, honey, lemon juice, pepper to taste, and stir.

Serve immediately or store in the refrigerator until the time of use.
Nutrition
Calories:
253
kcal
|
Carbohydrates:
27
g
|
Protein:
3
g
|
Fat:
16
g
|
Saturated Fat:
3
g
|
Polyunsaturated Fat:
10
g
|
Monounsaturated Fat:
4
g
|
Trans Fat:
1
g
|
Cholesterol:
9
mg
|
Sodium:
800
mg
|
Potassium:
642
mg
|
Fiber:
5
g
|
Sugar:
19
g
|
Vitamin A:
17657
IU
|
Vitamin C:
18
mg
|
Calcium:
70
mg
|
Iron:
1
mg