If you want to eat cauliflower in a delicious, easy, and fast way, I invite you to prepare together this recipe for cauliflower fritters. The best way to integrate this vegetable into meals and feed nutritiously.
Why eat cauliflower?
Cauliflower is part of the cruciferous vegetables, like broccoli or cabbage, they have this name since they have cruciform stems. Each of these has a rather striking shape and color, either white, purple, green, or light orange.
Some people are afraid of eating it since cauliflower heads are very compact; they can have small insects or fungi inside them; however, with a good wash, they can eliminate. For this, it could consider removing brown spots from this vegetable, cutting these parts with a knife to remove harmful pesticides and insects can be taken to a bowl with salt and ice water and leave it there for 10 minutes.
If this plant consumed regularly, our body could receive the high value of vitamin C, vitamin K, protein, magnesium, phosphorus and fiber, folic acid, pantothenic acid, among others. As you can see, it is quite nutritious added to the fact that it contains high amounts of water, which makes it a diuretic food.
What should I consider to prepare cauliflower fritters?
In preparation, it is essential to cook the cauliflower; when draining, it removes the water very well so that the cakes are not pasty.
In this case, it must be cooked traditionally and then put in a colander to drain and then crush it, but in my recipe, I choose to grate it before cooking it so that when removing, it is more comfortable.
As for the cooking of this, it would be ideal to do it in the microwave because it loses less nutritional properties, although if it steamed for a short time, it would be a similar process.
How to make cauliflower fritters?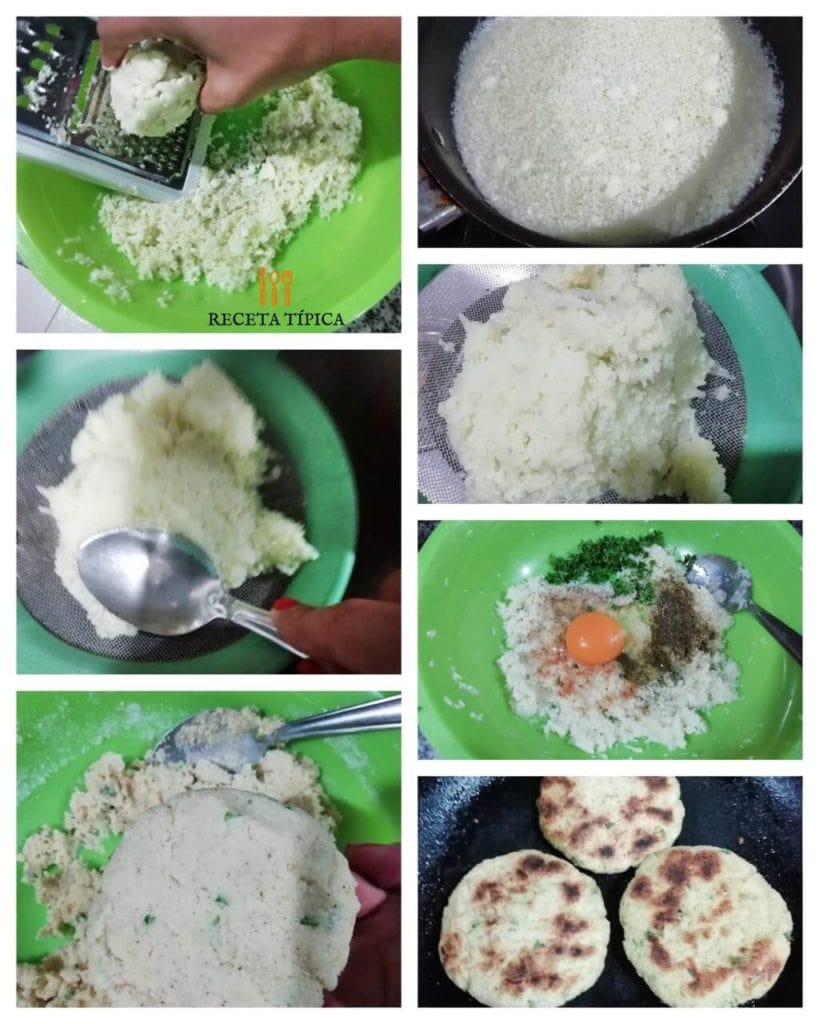 I hope you enjoy preparing these delicious cauliflower fritters or cauliflower cakes.
If you like these cauliflower fritters, you can prepare chocolo cake or stuffed arepas.
Receta original en
Español
📖 Recipe
Ingredients
A sprig of parsley

(chopped)

½

teaspoon

oregano

1

cloves

garlic

(crushed)

4

tablespoons

of breadcrumbs

1

egg

450

grams

of cauliflower

100

grams

of grated cheese

Salt and pepper to taste

A spoonful of butter
Instructions
Wash the cauliflower very well, grate it, and steam for about 8 minutes. Drain very well in a colander.

Place the cauliflower, the egg, the cheese, the breadcrumbs, the parsley, the salt, the pepper, the oregano in a bowl, and mix very well to integrate the ingredients.

Knead for 3 minutes until the dough is moldable.

Take a quantity of dough, of the desired size, make a ball and then flatten it and give it a circular shape.

Place a skillet over medium-high heat with a little butter and add the cauliflower fritters. Let them cook on each side for about 4 minutes or until golden brown.

Serve hot and accompany with the sauce of your choice.
Nutrition
Calories:
188
kcal
|
Carbohydrates:
14
g
|
Protein:
11
g
|
Fat:
10
g
|
Saturated Fat:
6
g
|
Polyunsaturated Fat:
1
g
|
Monounsaturated Fat:
3
g
|
Trans Fat:
1
g
|
Cholesterol:
67
mg
|
Sodium:
862
mg
|
Potassium:
403
mg
|
Fiber:
3
g
|
Sugar:
3
g
|
Vitamin A:
344
IU
|
Vitamin C:
55
mg
|
Calcium:
236
mg
|
Iron:
1
mg