Learn with us to prepare this delicious recipe for chickpeas with tripe. A delicacy for those who enjoy eating the simple.
At some point in our lives, we have all tried the famous beef tripe. My memory of this ingredient comes from my childhood, where my grandmother, every Saturday, I prepared sancocho accompanied with tripe, and about twice a month, I made the famous mondongo soup. For this reason, I know him perfectly, and although I must admit that as a child, I did not like it, the passage of time has made me change my mind.
Although not only time, this recipe for chickpeas with tripe, in particular, has changed my way of thinking about the beef tripe, and I think of everything I've missed for not daring to prepare and taste.
Is this recipe only made with tripe?
I have had the opportunity to prepare this recipe on several occasions, one of them. I made only with tripe, and on another time, I decided to add sausage as I had seen in another recipe. If you like simplicity, only with tripe, it is vibrant, but you can add some exotic touches to the preparation; without a doubt, the chorizo ​​manages to give this recipe a unique flavor that makes it delicious.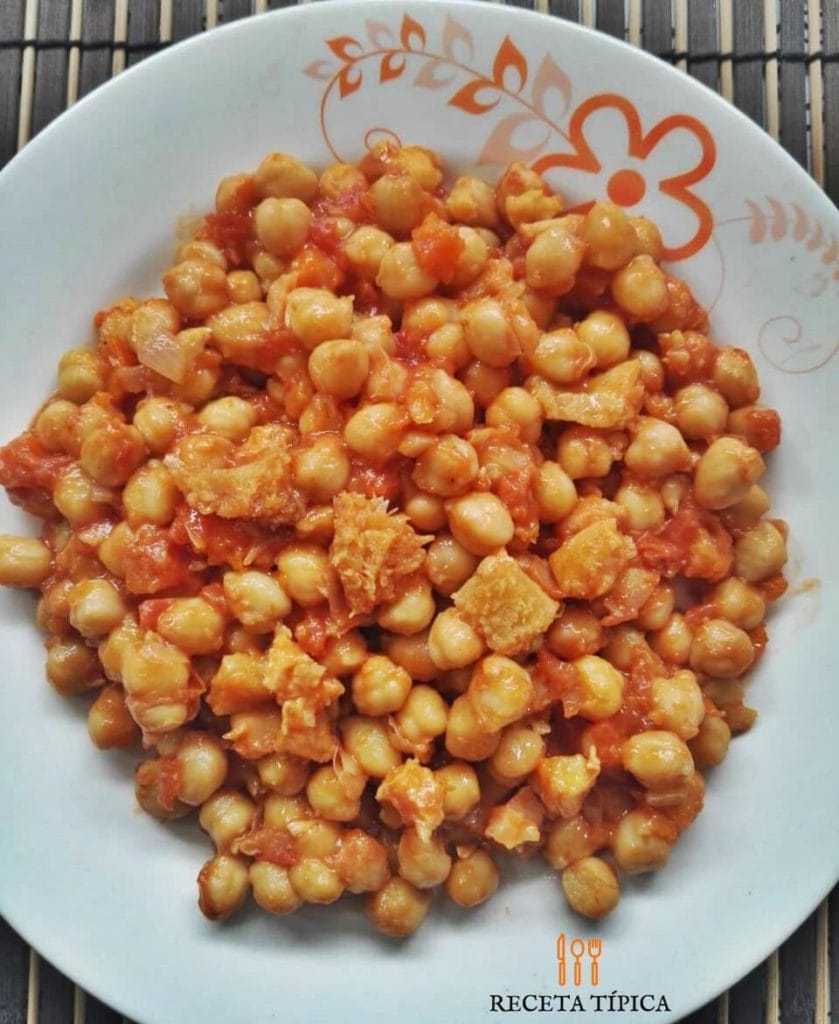 As I have always said, everything is a matter of taste, and some also add knee bone, calf leg, and some other ingredients, which also make this recipe delicious.
I prefer simplicity, and I decided not to complicate myself with so much, so I just added beef tripe, and I'm sure you'll love it. This recipe for chickpeas with tripe is ideal for eating on a winter day, where the cold is attacking, it has an exciting way to provide calories to our body. So make up your mind and let's cook.
If you liked these chickpeas with tripe, you could also prepare chickpeas with chicken or beef ribs broth.
Receta original en
Español
📖 Recipe
Ingredients
400

g

of chickpeas.

500

g

of tripe.

2 to

matoes

(finely chopped)

1

carrot

(chopped)

2

onions

(finely chopped)

3

cloves

of garlic

(finely chopped)

100

g

of tomato sauce.

Oil.

Water.

Salt and pepper.

Cumin to taste.
Instructions
Place the chickpeas to soak from the previous day.

Chop the tripe and blanch them, that is, in a pot with boiling water, place them about 3 minutes. Strain and pour the cold water.

In a pressure cooker, boil water, add the chickpeas, tripe, and carrot. Add the cumin to taste, salt, and pepper. Close the pot and let it cook for about 30 to 40 minutes.

In a skillet with a little oil, add the tomato and onion and garlic. A little salt and a little pepper and sauté until ready. Remove from heat.

Remove the cooking water from the chickpeas with the tripe and add the stew to the pot and the tomato sauce, mix very well and ready to serve.
Nutrition
Calories:
257
kcal
|
Carbohydrates:
26
g
|
Protein:
22
g
|
Fat:
8
g
|
Saturated Fat:
2
g
|
Polyunsaturated Fat:
2
g
|
Monounsaturated Fat:
3
g
|
Trans Fat:
1
g
|
Cholesterol:
103
mg
|
Sodium:
573
mg
|
Potassium:
684
mg
|
Fiber:
7
g
|
Sugar:
7
g
|
Vitamin A:
2135
IU
|
Vitamin C:
13
mg
|
Calcium:
63
mg
|
Iron:
6
mg