I invite you to prepare delicious churros together, they are straightforward to make, and in the end, you will not be able to stop eating them.
Churro is a dough based on flour cooked in oil. Its essential ingredients are water, wheat flour, oil, and salt, and its shape can be straight, in the form of a cane, in ties, spirals, or even in circles, and often they are filled or filled with sugar.
In Colombia, they usually eat alone and are covered with sugar. People eat them hot and freshly made, in a circle. Although in some places they can also be found linearly, their size varies, and they can be filled or not (their general filling is with arequipe or sandwich).
I wanted to bring you this recipe because it is straightforward to make, my aunt taught me the recipe many years ago, since I was little I love churros. I still enjoy eating them. I remember that it was what I wanted most every Sunday because it is tradition As a family, I go to Holy Mass every eight days, but it turns out that every time we left the church, there was the smell, it was the churros stand that was just right away. But there wasn't always money to buy, so my aunt pleased me with some homemade churros for her. I enjoyed the last churro she ate.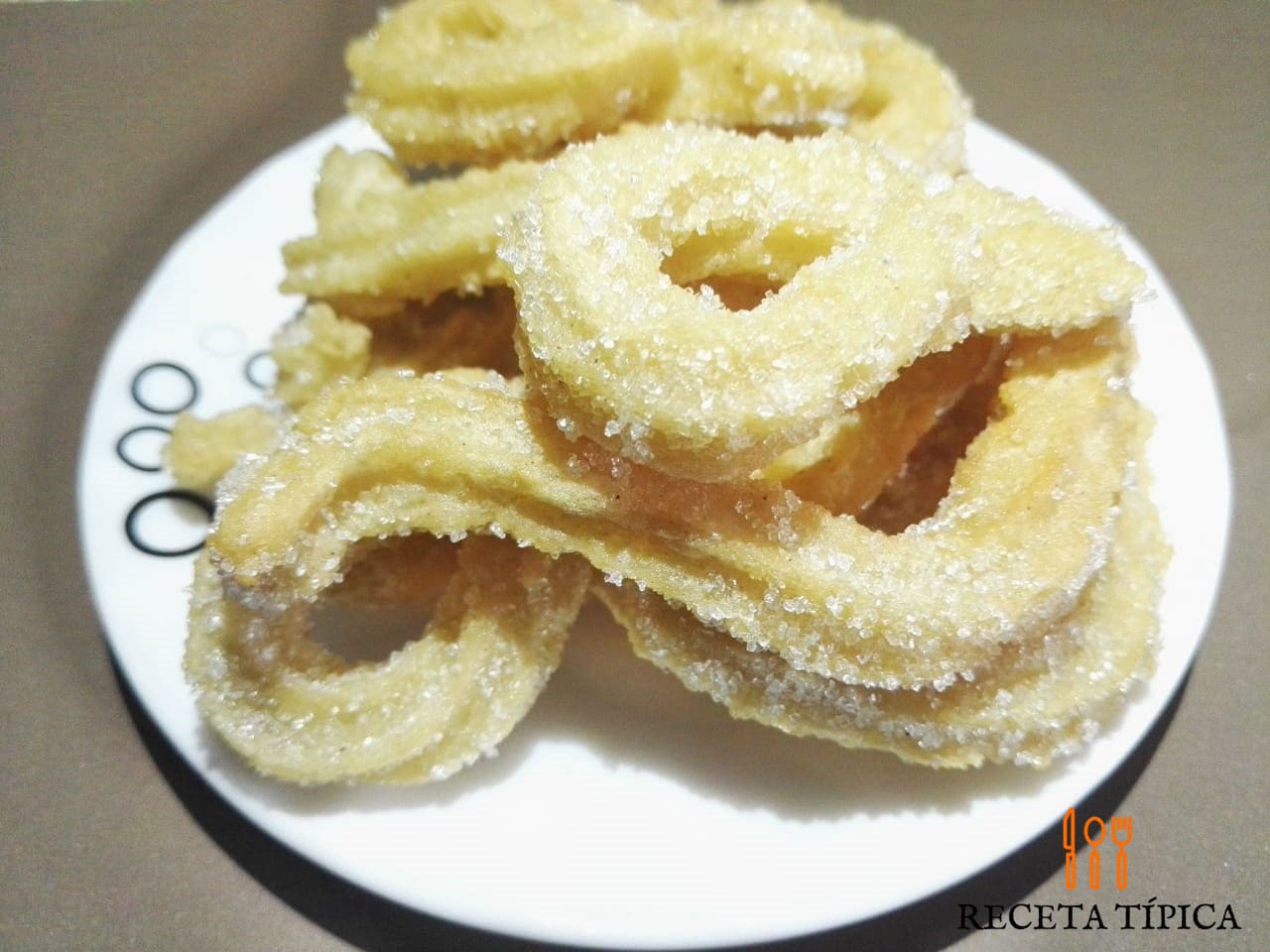 If you have never tried churros, what are you waiting for to encourage you to prepare and taste them? Its ingredients are fundamental, cheap, and many times we have them at home, and if not, they are straightforward to find.
So I hope you like this recipe and can surprise your families with these delicious churros, ideal for those afternoons full of laughter and talks, and where many times the most important thing is the love that we put to everything we do. Let's cook.
I also invite you to prepare coffee and Bread at home.
Receta original en
Español
Ingredients
250

g

of wheat flour. 1 cup.

250

g

of water. 1 cup.

1

teaspoon

salt

Oil.

Sugar.
Instructions
In a pot, place the water over medium heat along with the salt. When it is boiling, please remove it from the heat and add the flour. Stir with the help of a wooden spoon until the dough separates from the walls.

Place the dough in a pastry bag with a narrow nozzle, in a churrera, or if you do not have either, you can use a small bag with a small hole in the bottom.

Heat the oil while making the churros portions with the raw dough on a dishcloth.

When the oil is hot, fry the churros over medium heat so that they will not be raw inside, nor will they burn very lightly.

Once fried, remove them to a tray with paper towels to absorb excess oil

Serve them sprinkled with sugar, and if you wish, you can combine it with cinnamon.
Nutrition
Calories:
141
kcal
|
Carbohydrates:
27
g
|
Protein:
3
g
|
Fat:
2
g
|
Saturated Fat:
1
g
|
Polyunsaturated Fat:
1
g
|
Monounsaturated Fat:
1
g
|
Trans Fat:
1
g
|
Sodium:
293
mg
|
Potassium:
34
mg
|
Fiber:
1
g
|
Sugar:
3
g
|
Calcium:
6
mg
|
Iron:
1
mg