I invite you to prepare some delicious churros with me, they're very easy to make and in the end, you won't be able to stop eating them...
The churro is a dough made from flour cooked in oil. Its basic ingredients are water, wheat flour, oil, and salt, and its shape can be straight, in the form of a rod, in loops, spirals, or even in circles, and many times they tend to have filling or are coated with sugar...
In Colombia, they are generally eaten alone, and are covered with sugar. People consume them hot and freshly made, in a circular shape. Although in some places they can also be found in linear form, their size varies and they can be found filled or not (their general filling is with dulce de leche or guava paste).
I wanted to bring you this recipe because it is very easy to make, my aunt taught me the recipe many years ago, because since I was little I love churros, and I still enjoy eating them, I remember that it was what I craved the most every Sunday, as it is a family tradition to go to holy mass every 8 days, but it turns out that every time we left the church, there was the smell, it was the churros stall that was just next door. But there wasn't always money to buy, so my aunt indulged me with some homemade churros made by her, I enjoyed every last churro I ate.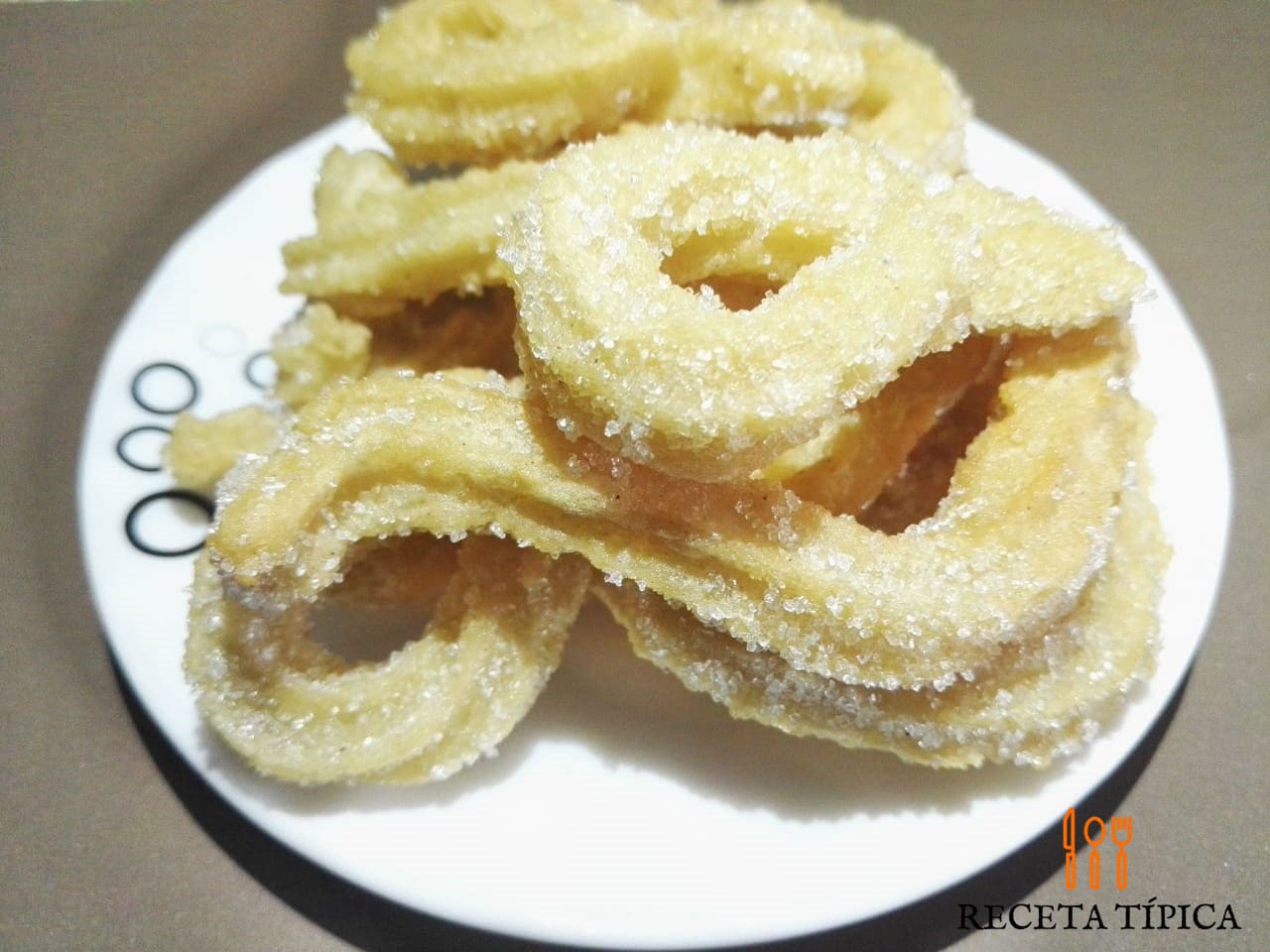 If you have never tried churros, what are you waiting for to encourage yourself to prepare and taste them. Their ingredients are very basic, inexpensive, and many times we have them at home and if not they are very easy to find. So I hope you like this recipe and can surprise your families with these delicious churros, ideal for those afternoons full of laughter and chats, and where many times the most important thing is the love we put into everything we do. Let's cook.
What's the secret for the churros to come out crunchy?
To achieve crispy churros, it is crucial to control the oil temperature. It is advisable to fry them over medium heat so that they cook slowly and do not remain raw inside nor burn quickly.
What kind of flour should I use to prepare churros?
To prepare Colombian churros, use regular wheat flour (250 g), which is mixed with water and salt to form the dough.
How can I shape them without a churro maker or pastry bag?
If you don't have a churro maker or pastry bag, you can use a small plastic bag with a hole in the bottom. Place the dough inside and press so it comes out through the hole, forming the churros.
Can I freeze the dough to fry them later?
Yes, you can freeze the dough. Let them defrost at room temperature until they are malleable.
What side options can I offer with the churros?
Colombian churros can be served sprinkled with sugar and cinnamon. You can also offer dipping sauces, like hot chocolate, dulce de leche, or jam.
Tips and tricks
Make sure the water is boiling before adding the flour to achieve a smooth, lump-free dough.
Use a wooden spoon to mix the dough, as it helps to better incorporate the ingredients.
Before frying the churros, place them on a kitchen towel to slightly dry and prevent the oil from splashing when frying them.
Common mistakes when preparing churros
Not waiting for the water to boil before adding the flour, which can result in a lumpy dough.
Frying the churros over too high heat, which makes them burn on the outside and stay raw inside.
Not draining the excess oil after frying, which can make the churros come out greasy.
Similar recipes or with shared ingredients
Colombian buñuelos: They share basic ingredients such as flour, oil, and sugar. They are fried balls made with wheat flour, cheese, and egg, and are served sprinkled with sugar.
Arepas de choclo: They use wheat flour and are served with sugar and butter. They are a delicious option to enjoy for breakfast or snack.
Colombian natilla: It's a traditional dessert that also takes sugar and cinnamon. It's made with milk, panela, cornstarch, and cinnamon, and is usually served during holidays.
📖 Recipe
Ingredients
250

g

wheat flour 1 cup.

250

g

water 1 cup.

1

teaspoon

of salt.

Oil.

Sugar.
Instructions
In a pot, place the water over medium heat along with the salt. When it's boiling, remove it from the heat and add the flour. Stir with the help of a wooden spoon until the dough separates from the walls.

Put the dough in a pastry bag with a narrow nozzle, in a churro maker or if you don't have either, you can use a small bag with a small hole at the bottom.

Heat the oil while you make portions of churros with the raw dough on a kitchen towel.

When the oil is hot, fry the churros over medium heat, so they don't remain raw inside or burn too quickly.

Once fried, remove them to a tray with kitchen paper to absorb the excess oil

Serve them sprinkled with sugar, and if you wish you can combine it with cinnamon.
Nutrition
Calories:
141
kcal
|
Carbohydrates:
27
g
|
Protein:
3
g
|
Fat:
2
g
|
Saturated Fat:
1
g
|
Polyunsaturated Fat:
1
g
|
Monounsaturated Fat:
1
g
|
Trans Fat:
1
g
|
Sodium:
293
mg
|
Potassium:
34
mg
|
Fiber:
1
g
|
Sugar:
3
g
|
Calcium:
6
mg
|
Iron:
1
mg