Prepare the most delicious coconut lemonade at home today and indulge in the delightful flavor this recipe brings. I assure you, you will love its taste and especially its natural and nutritious preparation.
Coconut lemonade has become quite popular in many parts of the world. And why not? It's a tasty, nutritious, and above all, refreshing drink. It's worth trying and making at home.
Delicious coconut lemonade
This recipe offers something very unique: a 100% natural preparation of coconut lemonade that is beneficial and helps us cool down, and especially pleases our palate.
What sets our coconut lemonade apart from other recipes?
Something I haven't found in other recipes: our recipe is 100% natural, made from fresh coconut at home.
We won't be buying coconut milk from a supermarket or store. Instead, we'll prepare it ourselves, giving our lemonade a delicious taste.
It's incredibly refreshing, and the coconut's full flavor shines through.
What is coconut lemonade?
Coconut lemonade is made from coconut milk, combined with other ingredients like lemon, ice, a bit of water, and sugar to create this wonderful drink.
Over time, this recipe has gained popularity and has been refined to impress and please those who drink it. To this day, it has established itself as one of the best lemonades on the market.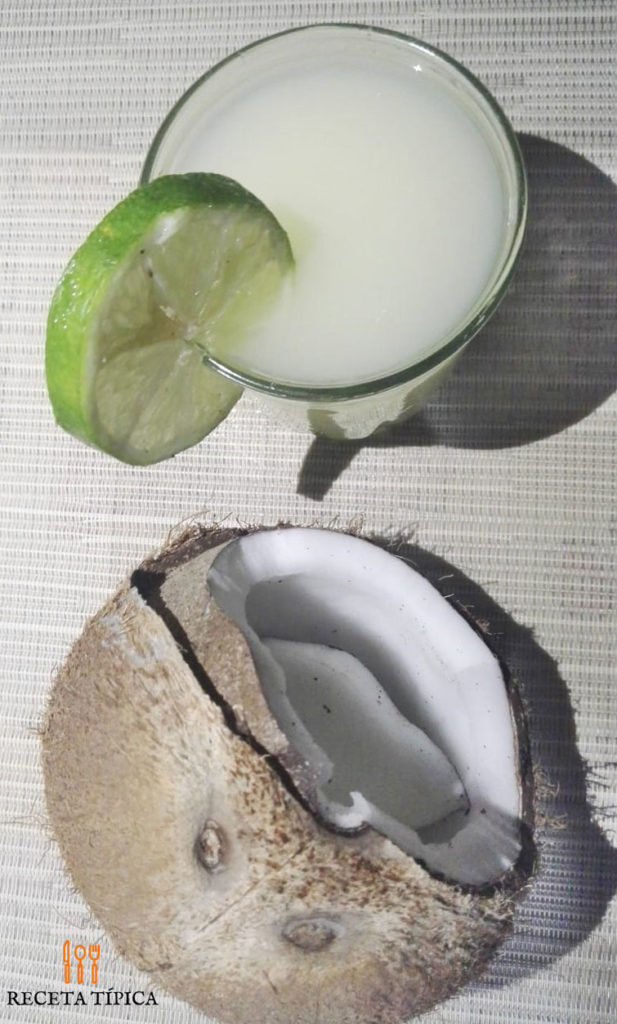 How to prepare a delicious coconut lemonade?
First, peel the coconut. Drain the coconut water, then place the coconut over a medium-low flame, turning every minute until it's charred on all sides. Remove and tap it on the ground.
Once peeled, wash the coconut, cut it into small pieces and blend with a little water. After blending, strain through a sieve, pressing to extract the coconut milk. Save the coconut pulp.
In a blender, add the coconut milk, water, lemon juice, sugar, mint, and ice. Blend until smooth. Serve cold and enjoy its wonderful taste.
What to pair with this recipe?
It pairs well with delicious sandwiches, a special lunch, or even dinner. It complements a variety of flavors and will be a hit with any meal you choose.
Tips and recommendations
If you wish to buy coconut milk, you can, but I recommend making it at home for a more authentic taste.
Add mint for an exceptional freshness to the lemonade.
Benefits of this recipe
Coconut offers many health benefits: it's antibacterial, antioxidant, liver-protecting, antiparasitic, heart-protecting, and immune system boosting.
Rich in vitamins and minerals like potassium, phosphorus, magnesium, and vitamins B, C, and E. It also contains trace elements.
It's hydrating, remineralizing, antioxidant, energizing, and detoxifying.
Recommended recipes
Coconut Rice: Use the leftover coconut milk and pulp for a delicious recipe that's worth trying.
Fish Soup with Coconut Milk: A soup with an exotic and unique touch of coconut milk.
Coco Loco Cocktail: A great cocktail to enjoy with friends.
📖 Recipe
Ingredients
1

small coconut.

2

cups

of ice.

1

cup

of water.

6

or 7 ounces of lemon juice.

3 to 5

tablespoons

of sugar.

2

tablespoons

of heavy cream.

Lemon slices for garnish.
Instructions
Peel the coconut, drain the water and set aside.

Roast the coconut over medium-low heat for 4 minutes until blackened on all sides. Then tap it against the floor or wall to crack and remove the shell.

Once peeled, wash the coconut and cut into small pieces. Blend with a little water. Don't add too much water, just enough to blend.

After blending, strain the pulp to extract the coconut milk.

In the blender, combine 1 and a half cups of coconut milk, ice, water, lemon juice, sugar, and heavy cream.

Blend for a few minutes until smooth.

Serve in a glass and garnish with lemon slices.
Nutrition
Calories:
243
kcal
|
Carbohydrates:
15
g
|
Protein:
2
g
|
Fat:
21
g
|
Saturated Fat:
19
g
|
Polyunsaturated Fat:
1
g
|
Monounsaturated Fat:
1
g
|
Cholesterol:
3
mg
|
Sodium:
28
mg
|
Potassium:
266
mg
|
Fiber:
1
g
|
Sugar:
10
g
|
Vitamin A:
30
IU
|
Vitamin C:
18
mg
|
Calcium:
35
mg
|
Iron:
3
mg