Rice pudding is a delicious, traditional dessert in Colombia. It's very common to see it sold on the street, but making homemade rice pudding is quite simple. Therefore, today we're going to prepare it and surprise the little ones at home.
This classic Colombian dessert is loved by people of all ages, and for good reason. Rice pudding is easy to make, it's economical, and always leaves a lasting impression on any palate.
Rice pudding is one of the most popular recipes in Colombia, traditionally served as a delicious dessert either after breakfast or in the afternoon after lunch. Colombian grandmothers prepare these recipes to reward their grandchildren, because honestly, who doesn't enjoy this tasty dessert?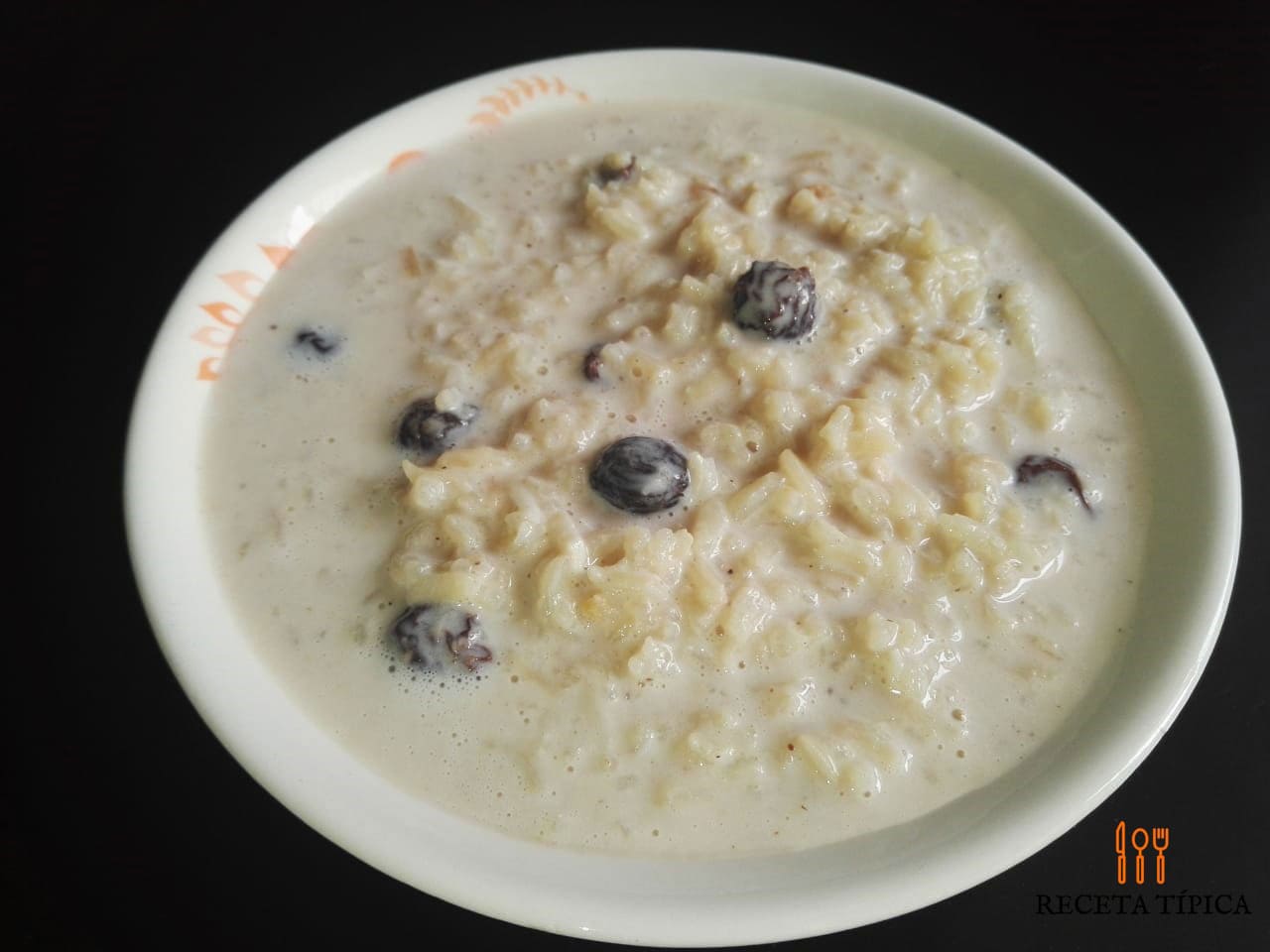 Street vendors often offer it with condensed milk on top, which is a perfect complement. On the other hand, rice pudding can be accompanied by cookies, toast, bread, and cheese, even with several of these combinations it is delicious, it's just like having a cup of coffee or a cup of hot chocolate, you can also accompany it with any of the previous complements.
How can I make my rice pudding recipe have a creamier texture?
To achieve a creamier texture in rice pudding, you can use evaporated milk or cream instead of regular milk. You can also add a small can of condensed milk for a sweet and creamy touch. Be sure to cook the rice slowly and stir constantly to prevent sticking and achieve a smooth, silky consistency.
What can I do if my recipe is too liquid?
If your rice pudding is too liquid, you can cook it longer over low heat for the milk to reduce and thicken. You can also add a tablespoon of cornstarch dissolved in a little cold water to thicken it. However, be sure to keep stirring constantly to prevent the rice from burning or sticking.
How can I prevent the rice from sticking to the bottom of the pot?
To prevent the rice from sticking to the bottom of the pot, make sure to cook it over low heat and stir constantly. If you notice it's sticking, add a little more liquid (water or milk) and stir frequently. You can also cook the rice pudding in a slow cooker for better results.
What other Colombian desserts can I make with rice?
In addition to rice pudding, there are other delicious Colombian desserts you can make with rice, such as coconut rice, sweet rice, rice with egg, and rice pudding. All these desserts share similar ingredients, like rice and coconut milk, and are perfect for a family gathering or to satisfy your craving for something sweet and comforting.
📖 Recipe
Ingredients
1

Cup

of rice

500

ml

of milk or half a bag of 1 liter milk

¼

cup

of raisins

(You can add to your liking)

¼

cup

of shredded coconut

½

cup

of sugar or ¼ of panela

1

Tablespoon

of ground cinnamon

4

cups

of water
Notas
You can sprinkle a little cinnamon when serving.
It usually tastes delicious when it's cold or refrigerated.
Instructions
In a slow cooker, add the 4 cups of water over medium heat.

When the water starts to boil, add the rice and the sugar or panela; continue cooking for half an hour or until the rice is soft.

Add the milk, raisins, coconut, and cinnamon. Continue cooking for another 15 minutes.

You should be vigilant, stirring constantly to prevent the rice from sticking, if the milk begins to rise you must reduce or turn off the heat. The important thing is that the rice doesn't end up glassy.

Serve and enjoy as you wish, either hot or cold.
Nutrition
Calories:
391
kcal
|
Carbohydrates:
77
g
|
Protein:
8
g
|
Fat:
6
g
|
Saturated Fat:
4
g
|
Polyunsaturated Fat:
1
g
|
Monounsaturated Fat:
1
g
|
Cholesterol:
13
mg
|
Sodium:
72
mg
|
Potassium:
320
mg
|
Fiber:
3
g
|
Sugar:
32
g
|
Vitamin A:
208
IU
|
Vitamin C:
1
mg
|
Calcium:
185
mg
|
Iron:
1
mg