The perfect recipe to prepare creamy mushroom chicken, you will learn to make it most efficiently, and you will know the great benefits of eating mushrooms. So we go step by step through this delicious dish.
On this occasion, we will prepare a delicious and delicious creamy mushroom chicken, a pleasant and perfect combination to make at home. But before telling you how to make this recipe, I want us to learn a little about the properties and benefits of eating mushrooms.
Mushroom is a very precious food and used in most kitchens worldwide. Perhaps because of the ease, it has to combine it with other ingredients, and thus form a unique healthy pot or a perfect garnish. It is also part of the foods recommended by dietitians. In-depth research, I found that it brings significant benefits to our health:
Prevents cancer: Since it contains selenium and vitamin D, which makes it a source of antioxidants, thus helping DNA repair and reducing the possibility of malignant cells affecting our health.
It promotes the functioning of the nervous system: because it contains vitamin B1, which is the one that participates in carbohydrate metabolism and generates energy.
It prevents hair loss and strengthens it: thanks to its high value of minerals such as zinc and selenium.
Strengthens our heart: Since they are rich in potassium, it improves blood pressure and decreases the possibility of suffering from cardiovascular diseases.
It delays the development of diabetes and reduces the symptoms associated with this pathology.
It favors the reduction of cholesterol.
For the above reasons, it is advisable to include mushrooms in our diet at least once a month. That's why I chose this recipe for chicken in mushroom sauce, more than satisfaction and taste on the palate; you can eat healthily.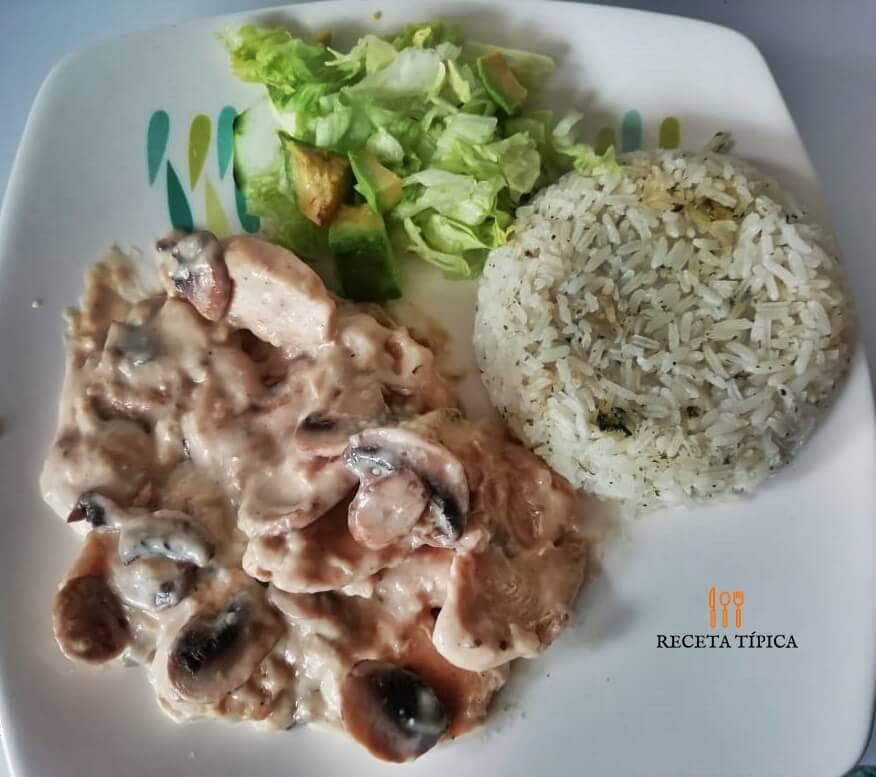 Now, if what we came for, the mushroom sauce chicken recipes are widespread in several regions of the world, and the sauces that accompany the mushrooms are usually white. However, this may vary depending on the ingredients we use. Do not stay with the craving, and prepare this delicious recipe. Let's cook.
How to make creamy mushroom chicken?
Accompany this creamy mushroom chicken with white rice and carrot salad.
Receta original en
Español
Ingredients
5

tablespoons

butter

¼

onion finely chopped.

1

clove

garlic finely chopped.

2

tablespoons

flour

4

cups

of cold milk

1 ½

cup

mushrooms

Salt and pepper to taste.

4

pieces

of the breast without bone or skin.

4

tablespoons

oil
Instructions
For the sauce, in a pot, heat the butter over low heat and sauté the onion and garlic, add the mushrooms and cook for 2 minutes.

Mix the flour with the milk and add it to the mushrooms in cooking, and cook over medium heat while stirring for about 10 minutes or until it thickens.

Sprinkle the breasts (If you wish, you can marinate the breasts with thyme, garlic and onion powder, among others) and sauté in a skillet over medium heat with oil until cooked.

You can add the breasts to the sauce and cook for another 5 minutes, or boil the breast and toss the sauce over the chicken.
Nutrition
Calories:
311
kcal
|
Carbohydrates:
18
g
|
Protein:
10
g
|
Fat:
23
g
|
Saturated Fat:
6
g
|
Polyunsaturated Fat:
5
g
|
Monounsaturated Fat:
11
g
|
Trans Fat:
1
g
|
Cholesterol:
27
mg
|
Sodium:
709
mg
|
Potassium:
483
mg
|
Fiber:
1
g
|
Sugar:
14
g
|
Vitamin A:
427
IU
|
Vitamin C:
2
mg
|
Calcium:
302
mg
|
Iron:
1
mg