The perfect recipe for Chicken in Mushroom Sauce. You'll learn to make it in the simplest way and discover the significant benefits of consuming mushrooms. Let's go step by step through this delightful dish.
"When Colombian culinary tradition meets the elegance of ingredients, a masterpiece emerges in the kitchen: Chicken in Mushroom Sauce. Imagine tender chicken breasts bathed in a rich, creamy sauce where mushrooms, with their distinctive texture and flavor, play the leading role. This recipe is more than just a dish; it's an invitation to a sensory journey, where each bite promises to transport you to a warm, cozy corner of Colombia, where food is prepared with passion and love. If you're looking to delight your guests or merely indulge yourself, look no further. Chicken in Mushroom Sauce is the perfect choice for a memorable dinner."
On this occasion, we will prepare a delicious chicken in mushroom sauce, a delightful combination perfect for making at home. But before we dive into the recipe, let's learn about the properties and benefits of consuming mushrooms.
Mushrooms are a highly valued food used in many cuisines worldwide. Perhaps due to their versatility in pairing with other ingredients, creating either a stellar main dish or a perfect side. Additionally, they're recommended by dieticians. Upon research, I found that they offer significant health benefits:
Cancer Prevention: Containing selenium and vitamin D, they are antioxidant sources, aiding DNA repair and reducing the likelihood of malignant cells affecting our health.
Heart Strengthening: Rich in potassium, they improve blood pressure and decrease the risk of cardiovascular diseases.
Beneficial for the Nervous System: Due to their vitamin B1 content, which participates in carbohydrate metabolism and energy production.
Prevents Hair Fall & Strengthens It: Thanks to high mineral content like zinc and selenium.
Delays Diabetes Development & Reduces its Symptoms.
Aids in Cholesterol Reduction. For these reasons and more, it's advisable to include mushrooms in our diet at least once a month. That's why I chose this chicken in mushroom sauce recipe, as it offers more than just taste satisfaction; I aim to provide health during mealtime. It's always best to know what we're eating.
Plate of chicken in mushroom sauce Now, to the main event. Chicken in mushroom sauce recipes are common in various world regions, and the accompanying sauces for mushrooms are typically white, though this can vary based on the ingredients used. Don't miss out—prepare this delicious recipe. Let's cook.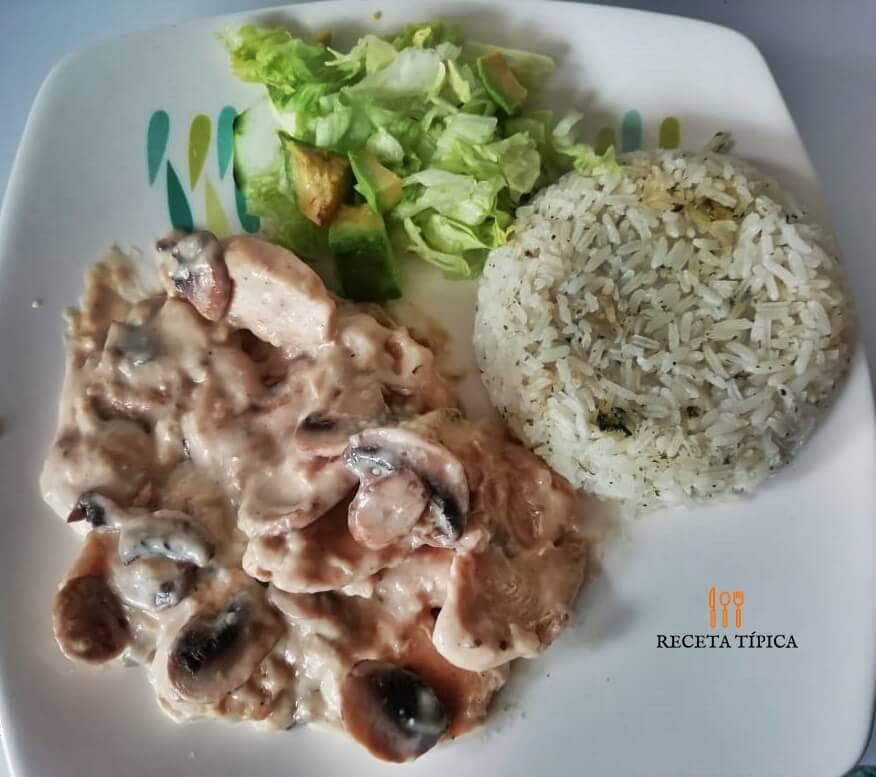 Why did my mushroom sauce turn out too liquid?
The sauce's consistency depends on the flour amount used and the cooking duration. If your sauce is too runny, you might not have added enough flour or cooked it long enough to thicken. I suggest cooking it a few more minutes while monitoring its consistency.
How can I intensify the mushroom flavor in the sauce?
To enhance the mushroom flavor, sauté them longer until they release their water and turn golden. This will concentrate their taste in the sauce. You can also add a touch of white wine while sautéing for a deeper, more complex flavor.
Can I use a different type of mushroom instead of the regular ones?
Absolutely! Feel free to experiment with various mushrooms like shitake, portobello, or even a mix of different kinds. Each mushroom offers unique flavors and textures, adding a twist to the recipe.
Is it necessary to use chicken breasts?
No, while breasts are popular, you can also use thighs or drumsticks. These cuts can be juicier and tastier. Ensure you adjust the cooking times based on the piece's thickness.
What complements chicken in mushroom sauce well?
White rice is ideal to complement the sauce's creamy flavor. You can also serve it with a fresh salad or steamed potatoes for a balanced meal.
Tips & Tricks
Authentic Flavor: For a more genuine taste, use chicken broth instead of some milk in the sauce.
Extra Creaminess: If you desire a creamier sauce, add a touch of heavy cream or double cream in the last cooking minutes.
Toast the Mushrooms: Before adding the mushrooms to the pot, ensure the garlic and onion are golden brown; this will slightly caramelize the mushrooms, deepening the sauce's flavor.
Common Mistakes in Preparation
Not sautéing the garlic and onion enough: A vital step for flavor development. Take your time; allow them to release their aromas and lightly brown.
Directly adding flour to the pot: This can result in lumpy sauce. Always mix it with milk beforehand.
Not seasoning the chicken properly: Ensure you season the breasts well before sautéing for a rich, juicy flavor.
Similar Recipe Recommendations
Chicken a la Criolla: Similar in its preparation method, this recipe features tomato and onion sauce and shares ingredients like garlic and chicken. It's an excellent alternative if you prefer a more tomato-based dish.
Garlic Mushrooms: If you loved the mushroom combination, this dish is perfect. Serve as an appetizer or side.
Lemon Chicken: Using chicken pieces and citrus elements that pair well with chicken in mushroom sauce if you're looking to diversify flavors.
Instructions for Chicken in Mushroom Sauce
📖 Recipe
Ingredients
5

tablespoons

of butter.

¼

finely chopped onion.

1

finely chopped garlic clove.

2

tablespoons

of flour.

4

cups

of cold milk.

1 ½

cup

of mushrooms.

4

chicken breasts.

Salt and pepper to taste.

Chopped parsley for decoration.

1

tablespoon

of oil.
Notas
Using other parts of the chicken, like thighs or drumsticks, will alter the cooking time. Monitor them and ensure they're cooked through.
Instructions
Heat a large pot over medium heat. Add the butter and allow it to melt. Sauté the onions and garlic until golden.

While that's cooking, in a separate bowl, mix the flour with a bit of cold milk to create a paste. Gradually add the rest of the milk, stirring to prevent lumps.

Pour the milk and flour mixture into the pot, stirring continuously.

Add the mushrooms, then the chicken breasts seasoned with salt and pepper. Cook for about 20 minutes, or until the chicken is cooked through and the sauce has thickened.

Add salt and pepper to taste, and once cooked, decorate with chopped parsley.

Serve with white rice, salad, or steamed potatoes.
Nutrition
Calories:
311
kcal
|
Carbohydrates:
18
g
|
Protein:
10
g
|
Fat:
23
g
|
Saturated Fat:
6
g
|
Polyunsaturated Fat:
5
g
|
Monounsaturated Fat:
11
g
|
Trans Fat:
1
g
|
Cholesterol:
27
mg
|
Sodium:
709
mg
|
Potassium:
483
mg
|
Fiber:
1
g
|
Sugar:
14
g
|
Vitamin A:
427
IU
|
Vitamin C:
2
mg
|
Calcium:
302
mg
|
Iron:
1
mg