Do you want to learn how to prepare a Cuba libre cocktail? It is effortless! So you have no excuse for not trying. The best, you only need a few ingredients. It's time to learn how to prepare the Cuba libre cocktail and do it in the best way.
The Cuba libre or rum and coke are one of those classics that yes or yes you should know, and that will get you out of any trouble when you need to make a quick and creamy drink. Now, let's learn a little about the history of this cocktail.
Everything started with the entrance of the famous Coca-Cola to Cuba, from the collaboration of the US forces in the Spanish-American war. When the triumph came, a group of Cuban and American soldiers gathered who were out of service, in a bar in Old Havana to celebrate the victory.
A young messenger Fausto Rodriguez later recalled that Captain Russell arrived and ordered Ron Bacardí and Coca-Cola on ice. The captain drank with pleasure, which aroused the interest of the soldiers around him. So the bartender prepared a round of drink for them. This round was a success.
While they raised their arms holding the new cocktail, a soldier proposed to toast for Cuba Libre. It was the battle cry during the war, so in honor of it and for having achieved liberation, this Cuban drink began to call.
So it's time to take a risk and dare to prepare this classic Cuban cocktail with rum and coke - it has been delighting palates for decades. I remember trying it on a party night, which also had lemon juice. I tell you that it is a very refreshing drink, and I know that many of you have prepared at home, although without knowing the name of its origin.
I invite you to prepare chicha de piña or Fruit cocktail.
Receta original en
Español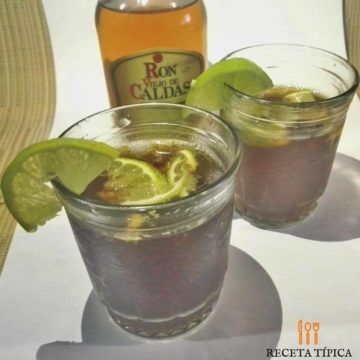 Ingredients
4

ounces

of white or golden rum.

120

ml

of coke.

8

ice cubes

4

tablespoons

lemon juice or to taste.

2

slices

of lemon
Instructions
Place four ice cubes in each glass cup.

Add 2 ounces of rum in each glass, with two tablespoons of lemon juice and 60 ml of coke for each glass.

Stir a few seconds with the help of a spoon.

Decorate the glass with a slice of lemon on edge and ready to enjoy.
Nutrition
Calories:
160
kcal
|
Carbohydrates:
8
g
|
Protein:
1
g
|
Fat:
1
g
|
Saturated Fat:
1
g
|
Polyunsaturated Fat:
1
g
|
Sodium:
6
mg
|
Potassium:
35
mg
|
Fiber:
1
g
|
Sugar:
6
g
|
Vitamin A:
2
IU
|
Vitamin C:
13
mg
|
Calcium:
6
mg
|
Iron:
1
mg