Craving a fruit salad? Don't hold back, prepare one; it's very straightforward and the result is delicious.
Our Colombian fruit salad is a nutrient-packed, vibrant-colored, and flavor-bursting answer. This recipe is a delight for the senses. With each bite, you'll experience the juicy sweetness of papaya, the crunchiness of green apples, the softness of peaches, and the tropical taste of pineapple. Topped with cream, condensed milk, and a generous scoop of ice cream, this fruit salad is more than a simple fruit mix; it's an unforgettable culinary experience.
I love this fruit salad recipe, and why wouldn't I? We can't find another recipe that is as healthy, nutritious, and delicious. It is ideal for any time of the day, especially on those sunny and hot days, this salad feels quite good, as it is very refreshing, and if we accompany it with a scoop of deliciously flavored ice cream, its combination will be simply perfect!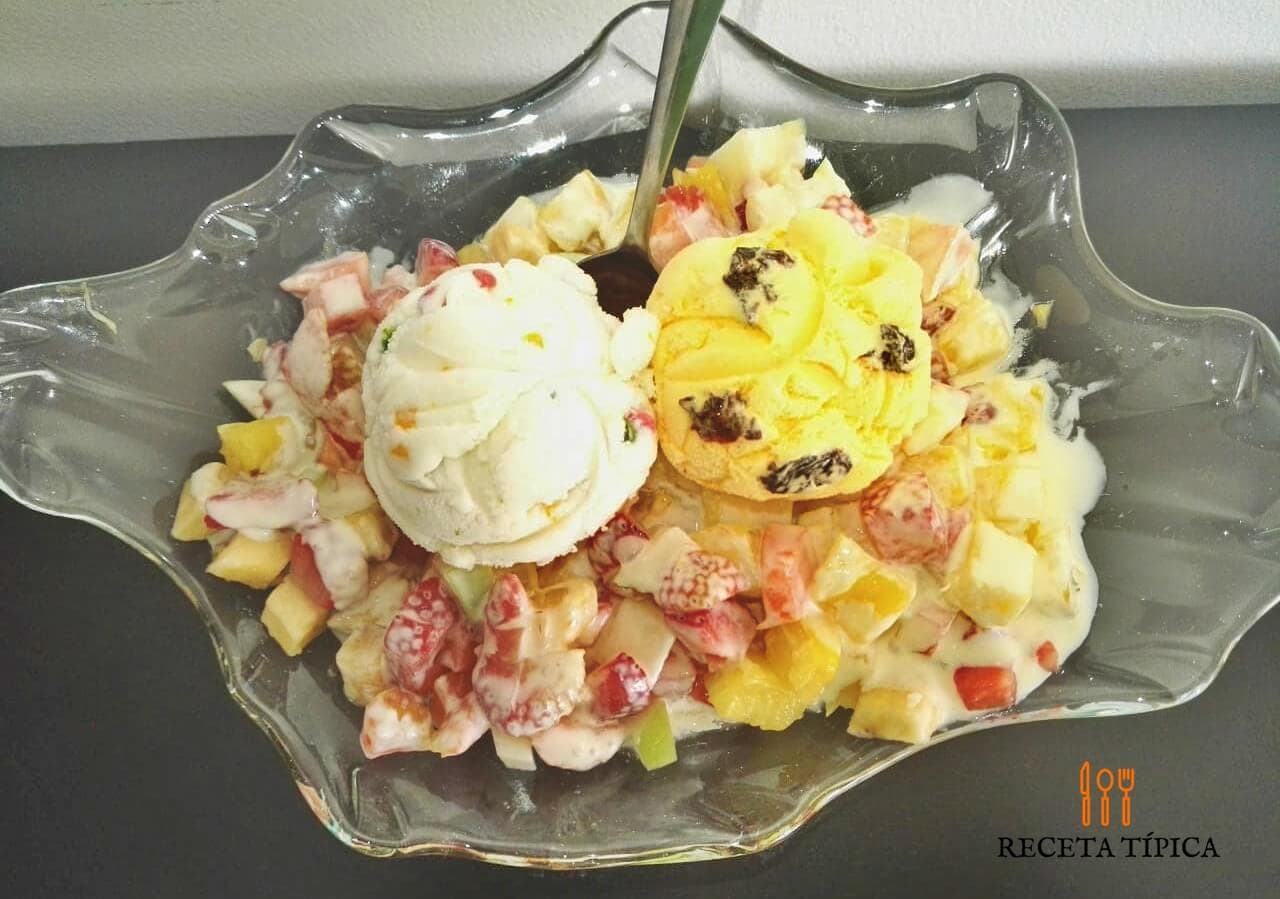 Fruit salad is a pretty easy dish to prepare, healthy, and the best thing is that it contains very few calories, ideal for taking care of our health, our body, but at the same time, eating deliciously. But that's not all, here I bring you the best part, besides all, we can make it with endless possible combinations. When I talk about this, I mean that we can mix the fruits that we like the most, many or few, it will be delicious, here we can discover new flavors and undoubtedly get to know one of the greatest pleasures of cooking.
Colombia is a country quite rich in the production of different fruits, how fortunate we are, we have a wide variety of exotic and delicious fruits that allow us to create this particular dish today. What I love the most about fruit salad is the portion of grated cheese I can find in it, it's what melts me the most, it combines quite well with the fruits.
We can use this dish as an appetizer, as a dessert, or simply to satisfy a craving at any time of the day, I hope you prepare this fruit salad and enjoy it with your friends and loved ones. Let's cook.
How do I select the right fruits for the fruit salad?
Just like with the fruit cocktail, the success of a fruit salad lies in the quality and freshness of the fruits you choose. For green apples, look for those with firm skin and without bruises. The peaches should be juicy but firm to the touch. For the papaya, choose one that has a uniform color and is slightly soft when pressed.
Can I use canned fruits instead of fresh fruits?
Although fresh fruits will always be the best option for their taste and texture, you can use canned fruits if you don't have access to fresh fruits. However, keep in mind that canned fruits often come in syrup, which can add extra sugar to your salad.
How can I make the salad more nutritious?
To make the salad more nutritious, you can add nuts or seeds such as chia or flax. You can also add natural or Greek yogurt instead of cream for a healthier and protein-rich option.
How do I prepare the cream?
The cream can be used as it comes, directly from the can or bottle. Just pour it over the fruits and stir carefully to combine. If you prefer a thicker texture, you can whip it a bit before adding it to the salad.
What is the best way to serve?
It can be served in individual bowls or in a large dish to share. For an additional touch of indulgence, add grated cream cheese and one or two scoops of your favorite ice cream on top.
Tips and Tricks
One tip is to prepare the fruit salad just before serving to prevent the fruits from browning. If you must prepare it in advance, add a bit of lemon juice to keep the fruits fresh.
Common Mistakes
A common mistake is to add too much cream or condensed milk, which can make the salad too sweet. Remember, the fruits already provide their natural sweetness, so it is better to add these ingredients in moderation and adjust to taste.
Similar Recipe Recommendations
If you enjoyed this fruit salad, you'll love the fruit salad with yogurt and granola, which is a healthier version with a crunchy touch. You can also try the fruit cocktail, which is similar but with a touch of orange juice and rum for adults. Both recipes are perfect for enjoying seasonal fruits in a delicious and refreshing way.
📖 Recipe
Ingredients
2

green apples.

2

peaches.

½

cup

of strawberries.

2

bananas.

1

slice

of papaya.

3

slices

of pineapple without their center.

1

cup

of cream.

Double cream cheese to taste.

4

scoops of ice cream.

Condensed milk.
Notas
Remember you can add more fruits or substitute those you don't like.
Instructions
In a large container, place the papaya, peach, and pineapple cut into small cubes.

Add the strawberries and the banana cut into slices.

The apple can be cut in half moon, or into small cubes.

Mix the fruits a little.

Add the cream, the condensed milk, and mix very well, but very carefully.

Serve the fruit salad and add the grated cheese on top along with one or two scoops of ice cream of the flavor you prefer.
Nutrition
Calories:
313
kcal
|
Carbohydrates:
53
g
|
Protein:
5
g
|
Fat:
11
g
|
Saturated Fat:
7
g
|
Polyunsaturated Fat:
1
g
|
Monounsaturated Fat:
3
g
|
Cholesterol:
37
mg
|
Sodium:
54
mg
|
Potassium:
692
mg
|
Fiber:
6
g
|
Sugar:
37
g
|
Vitamin A:
726
IU
|
Vitamin C:
56
mg
|
Calcium:
130
mg
|
Iron:
1
mg