We will enjoy a delicious grape dessert, an ideal pudding to eat at any time of the day, it is straightforward to prepare and tasty.
With this grape dessert recipe, we will make the most of grapes and juice. We can use the ones we have at home or use the juice that is already ready. It is essential to follow the step by step, and if you want to prepare more portions, add a little more ingredients.
In the market, there are various varieties of grapes, which are identified by their aroma, color, shape, or acidity. Among these, we find black, red, and white table grapes. Each can use in various preparations; for example, the sweetest and smallest usually used in pastry or pastry, the largest and most acidic widely used for winemaking.
In my case, I like all varieties because if they are acidic, I use them to make milkshakes or infusions, sweets for direct consumption, or to make desserts, jams, cakes, or juices. Of these, I also take a lot of raisins because its extraordinary flavor can be an exceptional contrast to preparing sweet or savory dishes.
For this grape sponge, I want to share two ways to extract the juice from the grapes, which is something simple to do. The first way is to wash them very well, cut them in half to extract the seeds, add them to a blender and crush them for a minute and then strain to remove the remains of the husks. The second form washed, and the seeds removed. In a pot over medium heat, the grapes are placed with water and allowed to boil for 15 minutes.
After the above, strain the grapes, crush them with a spoon, scoop out all the juice, and remove the pulp. These two processes can be quite complicated. However, they will not take much time to perform. If, on the contrary, the previous steps are a bit complicated, you can choose to buy the ready grape juice.
How to make Grape dessert.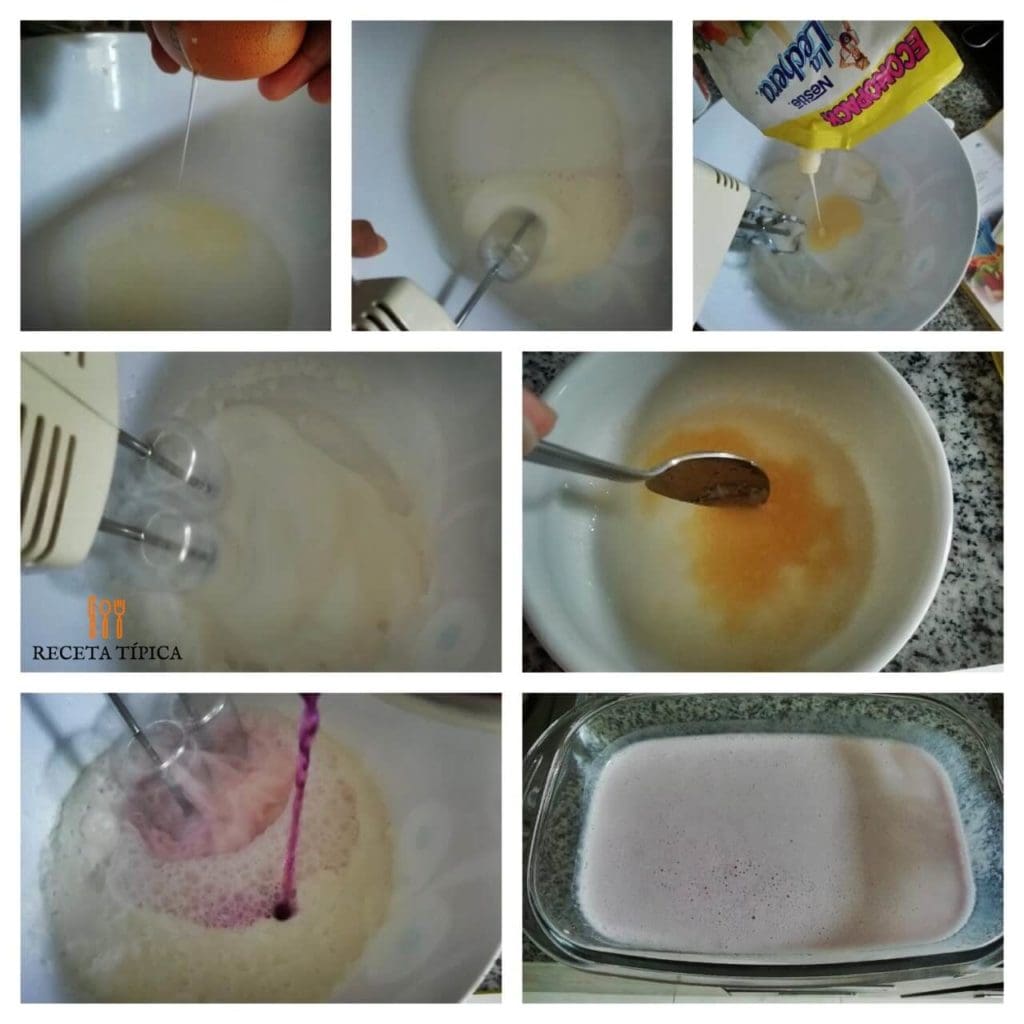 Finally, remember that grape dessert is a dessert with a soft texture and sweet taste, it can be consumed at any time of the day, preferably after lunch and it is essential that it remains refrigerated at all times to preserve its consistency.
If you liked this grapes dessert, you might also like coffee dessert or strawberry dessert.
Receta original en
Español
📖 Recipe
Ingredients
1

can of condensed milk

½

cup

whole milk

2

egg whites until stiff

1

cup

grape juice

3

jelly envelopes
Instructions
Beat the egg whites until they are about to snow, you can do it with the blender or by hand using a fork.

Add the milk, milk, and grape juice.

Apart prepare the jelly without flavor, mixing it in 3 tablespoons of water or milk and putting it to heat while stirring so that lumps do not form (you can follow the instructions suggested by the box)

Add the unflavored gelatin to the blender and continue blending for two more minutes.

Pour the mixture into a large mold or serving molds. Please take it to the refrigerator for an hour or until it set.

Serve and decorate, preferably with a sauce that highlights the flavor.
Ready! As you can see, this is a straightforward dessert to prepare and to taste. It is genuinely delicious. I hope you can enjoy it.
Nutrition
Calories:
400
kcal
|
Carbohydrates:
65
g
|
Protein:
15
g
|
Fat:
10
g
|
Saturated Fat:
6
g
|
Polyunsaturated Fat:
1
g
|
Monounsaturated Fat:
3
g
|
Cholesterol:
37
mg
|
Sodium:
177
mg
|
Potassium:
499
mg
|
Fiber:
1
g
|
Sugar:
64
g
|
Vitamin A:
319
IU
|
Vitamin C:
3
mg
|
Calcium:
327
mg
|
Iron:
1
mg