In this summer season, nothing is more ideal than this delicious guava juice, prepare it in just 5 minutes, it's hot and your throat is dry, let's get started!
If you're looking for a refreshing and flavorful drink, guava juice is the answer. Guava, with its tropical and sweet taste, is a delicious and healthy fruit that allows you to enjoy a fresh and natural drink.
This guava juice recipe is easy to prepare and can be customized to your preferences. You can adjust the amount of sugar and add milk or water to your liking. The result is a perfect drink for any occasion, whether for a sunny afternoon in the garden or to accompany a delicious meal. Don't wait any longer and get ready to prepare this guava juice.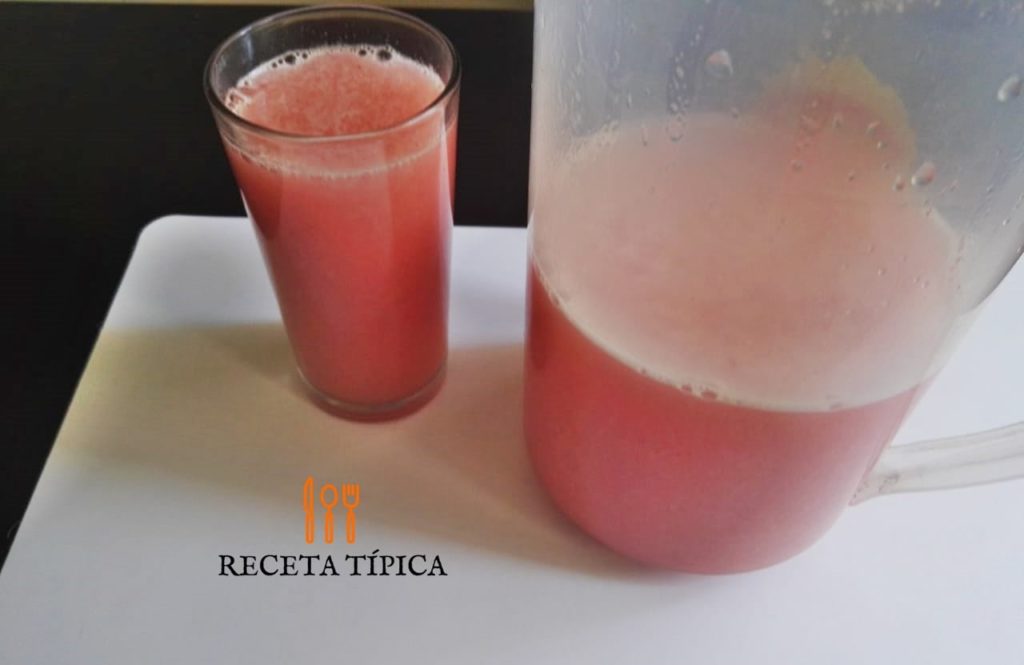 What is guava and where can it be obtained?
Guava is a sweet and juicy tropical fruit with white or pink pulp and small seeds. It can be found in most supermarkets and fresh produce shops that sell exotic fruits.
Is it necessary to add sugar to guava juice?
Sugar is not necessary if the guava is ripe and sweet enough. However, if the guava is a bit acidic or if you prefer a sweeter taste, you can add sugar to taste.
Can I make this juice without milk?
Yes, you can make this juice with water only if you prefer a dairy-free version.
Can frozen guavas be used to make this juice?
Yes, you can use frozen guavas if fresh ones are not available. Just make sure to thaw them before use.
Is it necessary to strain the juice after blending the guavas?
Yes, it is recommended to strain the juice after blending the guavas to remove the seeds and any piece of pulp that may not have been completely blended.
Can ice be added to guava juice?
Yes, you can add ice to the juice to make it more refreshing and cool.
Can I add other fruits to guava juice?
Yes, you can add other fruits to guava juice to customize it according to your preferences. Some options might be pineapple, mango, orange, lemon, among others.
How long can guava juice be stored in the refrigerator?
Guava juice can be stored in the refrigerator for about 2-3 days in an airtight container. However, it is best to consume it as soon as possible to enjoy its fresh and natural flavor.
How to make Guava Juice?
This guava juice recipe is very easy to prepare, in just 3 steps you will be able to enjoy this delicious and refreshing drink and best of all, it will only take you 5 minutes to prepare it, so now you will have no excuse not to make it.
Benefits of Guava Juice
Guava juice, besides being a completely refreshing drink and very convenient for this summer season, has many health benefits, as it contains a lot of water and few calories (Remember not to overdo the sugar, as it is not so suitable for our health when consumed in high quantities), among the many benefits are:
Helps improve your visual health
Protects the nervous system
Helps take care of your skin health
Prevents anemia
Helps prevent diabetes
Helps improve cardiovascular health
For all the above benefits, it is ideal to increase the consumption of guava, remember that you can eat it in fruit in a natural way, without needing to prepare this juice.
We recommend you to prepare: Oat milk or tree tomato juice.
📖 Recipe
Ingredients
5

guavas

Sugar to taste

Milk Optional

Water
Notas
If you want to prepare the tree tomato juice only with water, you can do it and even use only milk or a mixture of water and milk as I have done in this recipe.
Instructions
Split the guavas in half and add them to the blender glass.

Add water and/or milk, and sugar to your taste.

Blend for about 30 seconds, use a strainer to remove the fruit's seeds.

Serve and enjoy.
Nutrition
Calories:
63
kcal
|
Carbohydrates:
13
g
|
Protein:
2
g
|
Fat:
1
g
|
Saturated Fat:
1
g
|
Polyunsaturated Fat:
1
g
|
Monounsaturated Fat:
1
g
|
Cholesterol:
1
mg
|
Sodium:
3
mg
|
Potassium:
358
mg
|
Fiber:
5
g
|
Sugar:
9
g
|
Vitamin A:
535
IU
|
Vitamin C:
194
mg
|
Calcium:
19
mg
|
Iron:
1
mg