Thinking about passion fruit makes my taste buds delight and my mouth water. This citrus produces an incredible flavor in various dishes you might want to prepare. Join me in making this exquisite passion fruit dessert.
Thinking of passion fruit makes the taste buds delight and salivate. This citrus fruit creates an amazing taste in various preparations, whether in sauces for meats, as a salad dressing, cocktails, or traditionally using it as the main ingredient in juices or milkshakes.
This fruit is characterized by its intense yellow color and smooth texture. Interestingly, it's recognized as the fruit of passion and originates mainly from the Amazon, especially Peru.
When I was a child, I loved opening a passion fruit and adding sugar inside, creating something similar to nectar. Its taste was pure delight for me. Nowadays, I use it frequently in sauces and desserts, like the one we'll make today.
For this dessert, you only need a few passion fruits and some additional ingredients like milk, cream, and sweetened condensed milk. They combine perfectly, giving flavor and texture. If you don't have passion fruits available, you can replace them with the pulp of other fruits.
However, it would be excellent to have this ingredient, not only for its taste but also for its health benefits. It has a relaxing effect and provides various vitamins and minerals, like provitamin A or beta-carotene, essential for vision, skin, hair, bones, and immune system function.
In conclusion, this is a good option, like many other desserts; not only nutritionally but also to sweeten the palate after a meal. Its unique taste further enhances the savory dishes you had before.
I hope you can prepare, taste, and share this delightful dessert with your loved ones. I'm sure they will love it and want more.
How can I extract passion fruit juice most effectively?
To obtain passion fruit juice, blend the pulp of about 7 large passion fruits and then strain the mixture to remove the seeds. This way, you'll get about 1 cup of passion fruit juice for the dessert recipe.
Can I make the dessert without using gelatin?
Yes, you can prepare the dessert without gelatin, though its texture will be softer and creamier rather than firm like mousse. You can replace gelatin with 1 cup of plain yogurt or cream cheese to add consistency.
How long should I let it cool?
It's advisable to chill the passion fruit dessert in the fridge for at least 1 hour or until fully set. This ensures the right texture when served.
What other ingredients can I add to this recipe?
You can add fresh fruit pieces like strawberries, kiwi, or mango for extra flavor. You can also sprinkle shredded coconut or chopped nuts for a different texture.
How can I thicken the passion fruit sauce?
For a thicker sauce, increase the amount of cornstarch in the mix. Stir constantly over low heat, and the sauce will thicken as it boils.
Tips for a Perfect Passion Fruit Dessert
Make sure to completely dissolve the cornstarch in water before adding to the sauce to avoid lumps.
Cool the sauce entirely before pouring it over the dessert for a consistent texture.
For a fancier presentation, you can pour the dessert mixture into individual glass cups before chilling.
Common Mistakes
Not straining the passion fruit juice, resulting in seeds in the dessert.
Not correctly dissolving the unflavored gelatin, causing an uneven dessert texture.
Not cooling the dessert sufficiently before serving, making it harder to handle and present.
Recommendations for Similar Desserts
Mango Mousse: Uses similar ingredients like cream and condensed milk for another refreshing and delicious option.
Tropical Fruit Jelly: Combines fruits like pineapple, mango, and passion fruit in a colorful and tasty gelatin.
Coconut and Passion Fruit Panna Cotta: A creamy dessert with a unique flavor combination.
We also recommend: Chocolate Dessert or Baked Milk Dessert.
📖 Recipe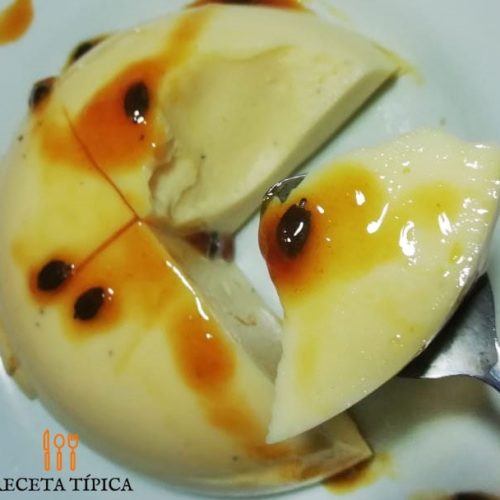 Ingredients
1

large can of cream

1

large can of condensed milk

½

cup

whole milk

1

cup

passion fruit juice

(blend the pulp of 7 large passion fruits, strain and use the juice)

3

packets of unflavored gelatin
For the Sauce
2

passion fruits

½

tablespoon

cornstarch

1

cinnamon stick

½

cup

water

3

tablespoons

sugar
Instructions
In a blender, combine the cream, sweetened condensed milk, milk, and passion fruit juice.

Separately, prepare the unflavored gelatin by mixing it in half a cup of water or milk and heating it while stirring to avoid lumps (follow the box's instructions).

Add the gelatin to the blender mixture and blend for two more minutes.

Pour the mix into a large mold or portioned molds and refrigerate for about an hour or until set.

Serve and preferably decorate with the sauce to enhance the taste.
For the Sauce
Cook the two passion fruits (with seeds, don't blend) with the sugar, cinnamon, pre-dissolved cornstarch, and water over low heat.

Stir continuously and let it boil until the mix thickens.

Allow it to cool and use it to top the dessert and decorate.
Done! As you can see, this is a very easy-to-make dessert, and it's genuinely delicious when tasted. I hope you enjoy it!
Nutrition
Calories:
181
kcal
|
Carbohydrates:
34
g
|
Protein:
4
g
|
Fat:
4
g
|
Saturated Fat:
2
g
|
Polyunsaturated Fat:
1
g
|
Monounsaturated Fat:
1
g
|
Cholesterol:
15
mg
|
Sodium:
63
mg
|
Potassium:
293
mg
|
Fiber:
2
g
|
Sugar:
31
g
|
Vitamin A:
521
IU
|
Vitamin C:
14
mg
|
Calcium:
133
mg
|
Iron:
1
mg
Ready! As you can see, this is a straightforward dessert to prepare, and when tasting it, it is truly delicious. I hope you enjoy it.