Thinking about passion fruit makes the taste buds delight, and my mouth becomes water. And this citrus generates an incredible flavor in the different preparations you want to make, accompany me to prepare this exquisite passion fruit dessert.
Thinking about passion fruit makes the taste buds delight, and my mouth becomes water. And it is that this citrus generates an incredible flavor in the different preparations that you want to make, either in meat sauces, as salad dressing, cocktails, typically using it as the main ingredient in juices or milkshakes.
This fruit characterized by its intense yellow color, its soft texture, and as a curious fact, it is recognized as the passion fruit or passion fruit and is native to the Amazon mainly from Peru.
When I was a child, I enjoyed opening a passion fruit and adding sugar inside. Which generated something similar to nectar, and its taste for my taste was a delight. Nowadays, I use it very often in sauces or desserts like the one we will prepare in this recipe.
For this dessert, you only need a few passion fruit and a few additional ingredients such as milk, cream, and milk, which become a perfect mixture, to give flavor and texture. If you do not have passion fruit on hand, you can replace them with the pulp of other fruits.
It is an excellent option to have this ingredient, not only for the taste but also for the benefits to the body. It has a relaxing effect and various vitamins and minerals such as provitamin A or beta-carotene that transformed into vitamin A. Essential for vision, the excellent condition of the skin, hair, bones, and the proper functioning of the immune system.
In conclusion, this is a good option like many other desserts, not only at a nutritional level but also to sweeten the palate at the end of a good lunch or dinner, since its unmistakable flavor further highlights the salt meal that you ingested previously.
I hope you can prepare, taste, and share with those who most love this delicious dessert because I am sure they will like it very much and will want to repeat.
Recipes recommended: Coffee desert or guava jelly.
Receta original en
Español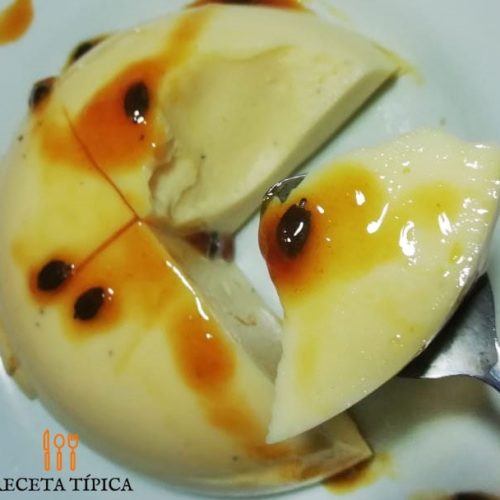 Ingredients
1

can of milk cream

1

can of condensed milk

½

cup

whole milk

1

cup

of passion fruit juice

(the pulp of 7 passion fruit is liquefied, strain and the juice used)

3

flavored jelly envelopes

For the sauce

2

passion fruit

½

tablespoon

cornstarch

1

sliver of cinnamon

½

cup

of water

3

tablespoons

sugar
Instructions
Add the cream, milk, milk and passion fruit juice in the blender.

Apart prepare the jelly without flavor, mixing it in half a cup of water or milk and putting it to heat while stirring so that lumps do not form (you can follow the instructions suggested by the box)

Add the unflavored gelatin to the blender mixture and continue blending for two more minutes.

Pour the mixture into a large mold or serving molds. Take it to the fridge for about an hour or until it has set.

Serve and decorate, preferably with the sauce to improve the flavor.

For the sauce

Cook on slow the two passion fruit (used with the seed, not due blend with three spoonfuls of sugar, cinnamon, corn starch pre-dissolved, and a half cup of water.

Stir constantly and boil until the mixture feels thick.

Let it cool and use the sauce to dip the dessert and decorate it.
Nutrition
Calories:
181
kcal
|
Carbohydrates:
34
g
|
Protein:
4
g
|
Fat:
4
g
|
Saturated Fat:
2
g
|
Polyunsaturated Fat:
1
g
|
Monounsaturated Fat:
1
g
|
Cholesterol:
15
mg
|
Sodium:
63
mg
|
Potassium:
293
mg
|
Fiber:
2
g
|
Sugar:
31
g
|
Vitamin A:
521
IU
|
Vitamin C:
14
mg
|
Calcium:
133
mg
|
Iron:
1
mg
Ready! As you can see, this is a straightforward dessert to prepare, and when tasting it, it is truly delicious. I hope you enjoy it.