Are you looking for something different to prepare today? We have an excellent idea, a Mexican-style picadillo, without losing the Colombian flavor. Stay and make this simple recipe with us.
I love to break the routine in the kitchen and prepare something different, in this case, a tasty picadillo, and if you are tired of eating in the street and there is the occasion when you want to enter the kitchen to prepare and eat something different, precious and homemade. I recommend you make this recipe to break the routine and so you can enjoy it to the fullest.
The truth is, I don't know how I got to this dish. Still, this way around life, and exploring a little about it, I realized that it is a fairly popular dish in Mexican cuisine because I wanted to prepare it, but without losing touch, Colombian, and I look delicious. I want you to know this recipe and make it.
The picadillo is a very nutritious recipe because ground beef and some vegetables added, which indeed become a benefit to our health. It is known as minced meat, although it is also known as ground beef with potatoes.
The ingredients used usually chopped before cooking. I imagine that this small detail is where its traditional name is born. It is a recipe based on a stew because a tomato puree seasoned with onion used. It is something straightforward to prepare, and delicious for those days when we feel like something a little different.
If you want to add potato or not, it is to your liking; either way is very delicious. I hope you are encouraged to prepare this wonderful picadillo recipe and dare to surprise those who love you most. Let's cook.
Recipes recommended: Mashed potatoes or veggie burger.
Receta original en
Español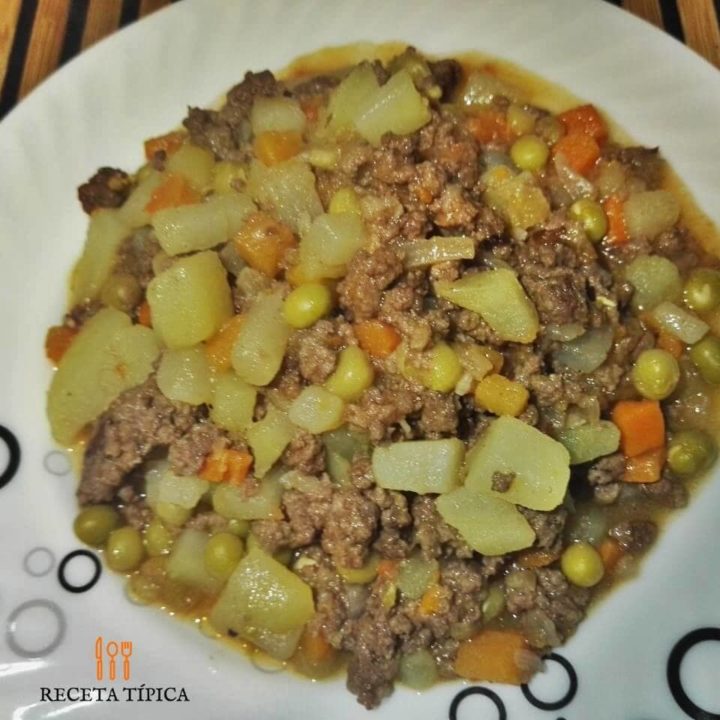 Ingredients
500

g

ground beef

½

onion

1

potato cut into small cubes.

2

carrots peeled and cut into small cubes.

½

cup

of peas.

1

bay leaf

½

teaspoon

oregano

Salt and pepper to taste

Oil.
For the sauce:
5

tomatoes

½

onion

2

cloves

of garlic

1½

cups

of water

A pinch of cumin.

Salt and pepper to taste.
Notas
When cooking with the covered pot, it is hot, if you do not want it this way, do not cover the pot.
Instructions
Prepare the sauce: In a blender, add halved tomatoes, onion, garlic, water, cumin, salt and pepper, and blend. Reserve.

In a pot, heat the oil and add the finely chopped onion, cook for about 3 minutes over medium-high heat.

Add the ground meat and, with the help of a wooden spoon, separate it very well, so that it is not in large pieces when cooking.

Season with salt and pepper and cook until it changes color.

Add the potato and carrot cut into small cubes, mix well, and cook over medium heat about 5 minutes, stirring occasionally.

Add the sauce, the peas, the bay leaf, the oregano, and cover the pot.

Cook for about 15 to 20 minutes or until the vegetables cooked.

Before serving, remove the bay leaf, rectify flavor.
Accompany this delicious Colombian-style picadillo with a good portion of red rice.