Looking for something different to prepare today? We have a wonderful idea for you, a Mexican-style picadillo without losing the Colombian flavor. Stay with us and prepare this simple recipe.
I love breaking the routine in the kitchen and preparing something different, in this case, a tasty picadillo. If you're tired of eating out and there's a time when you want to step into the kitchen to prepare and eat something different, delicious, and homemade, this is one of those recipes I recommend to break the monotony and make it the best thing you've ever made.
Honestly, I don't even know how I stumbled upon this dish, but that's how life goes. Upon exploring it a bit, I realized it's quite popular in Mexican cuisine. So, I decided to give it a try without losing the Colombian touch, and it turned out delicious. I want you to get to know this recipe and prepare it.
Picadillo is a very nutritious recipe as it includes ground meat and some vegetables, which are indeed beneficial for our health. It's known as picadillo, but it's also referred to as ground meat with potatoes.
The ingredients are typically chopped before cooking, which, I assume, is where its traditional name originates from. It's essentially a stew recipe, using a tomato puree seasoned with onion. It's very easy to prepare, especially for those days when we crave something a bit different.
Whether you choose to add potatoes or not is up to you; either way, it's delightful. I hope you get encouraged to prepare this wonderful picadillo recipe and surprise your loved ones. Let's cook.
How to prevent the picadillo from becoming too dry?
To avoid your picadillo from drying out, it's recommended to cook it over medium heat and cover the pot, as mentioned in the recipe notes. This creates a broth that keeps the mixture juicy and enhances the flavor of the ingredients.
Why doesn't my sauce have enough flavor?
The flavor of the picadillo sauce greatly depends on the ripeness and quality of the tomatoes used. Also, it's crucial to season adequately with salt, pepper, and cumin. Taste your sauce during cooking and adjust the spices as needed.
How can I make my picadillo softer in texture?
If you prefer a softer-textured picadillo, you can cook the vegetables (potatoes and carrots) before adding them to the stew. This allows them to soften and blend more easily with the meat.
Can I use another type of meat that isn't ground for the picadillo?
Of course, picadillo can be made with various meats. However, ground meat is most commonly used due to its texture and ease of cooking. If you opt for another type of meat, ensure it's cut into small pieces for even cooking.
Can I add other vegetables to the picadillo?
Absolutely. Picadillo is a highly flexible recipe, and you can incorporate other vegetables as per your liking or whatever you have on hand. Some examples include bell peppers, peas, or even corn.
Chef Tips and Tricks
To intensify your picadillo's flavor, you can brown the meat before adding the rest of the ingredients. This gives it a smoky touch that complements the other flavors perfectly.
When preparing the sauce, blending the ingredients before cooking will yield a smoother texture.
Don't forget to stir your picadillo continuously while it cooks to prevent it from sticking to the pot's bottom.
Common Mistakes When Making Picadillo
Cooking on very high heat: This can cause the meat to burn or the vegetables to cook too quickly and become mushy. It's best to cook on medium heat and stir regularly.
Not seasoning enough: Meat and vegetables require adequate seasoning to enhance their flavors. Ensure to taste and adjust spices during cooking.
Recommended Similar Recipes
Colombian Chicken Rice: Similar to picadillo in its use of vegetables and meat, this dish is a mix of rice, chicken, vegetables, and spices.
Shredded Beef: Another Colombian dish using beef but in a different manner. Shares ingredients like onion, tomatoes, and spices.
I recommend these recipes because they use similar ingredients to picadillo, allowing you to explore different facets of Colombian cuisine. Moreover, if you enjoy picadillo, you'll likely love these dishes too.
Keeping Ingredients Fresh
It's crucial to remember that using fresh, high-quality ingredients will always enhance the taste of your dishes. Fresh vegetables will provide better texture and flavor to your picadillo. Also, ensure your meat is fresh and of good quality.
In conclusion, making picadillo is a flavorful culinary journey. By following these tips and avoiding common mistakes, you'll create a dish that delights both your and your guests' senses. Colombian cuisine is rich in variety and flavors, and picadillo perfectly exemplifies this. Enjoy your culinary journey, and bon appétit!
Pair this delicious Colombian-style picadillo with a good portion of red rice. We recommend serving stuffed avocados with tuna, grilled pork ribs, or mashed potatoes alongside.
📖 Recipe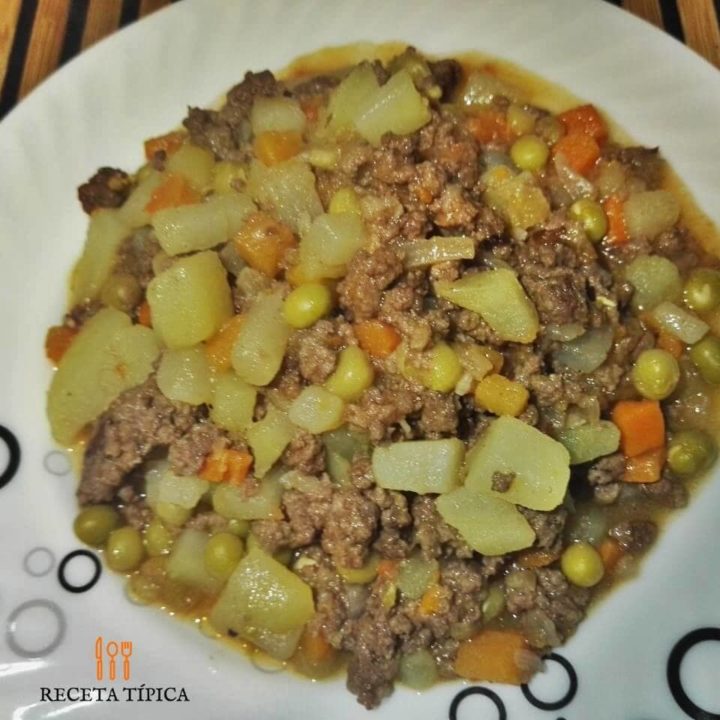 Ingredients
500

g

ground meat

½

onion

1

potato

(diced into small cubes)

2

carrots

(peeled and diced into small cubes)

½

cup

of peas

1

bay leaf

½

teaspoon

of oregano

Salt and pepper to taste

Oil
For the sauce:
5

ripe tomatoes

½

onion

2

garlic cloves

1½

cups

of water

A pinch of cumin

Salt and pepper to taste
Notas
Cooking with the pot covered will make it brothy. If you don't want it this way, don't cover the pot.
Instructions
For the sauce: In a blender, combine the quartered tomatoes, onion, garlic, water, pinch of cumin, salt, and pepper. Blend. Set aside.

In a pot, heat oil and add the finely chopped onion. Cook for about 3 minutes over medium-high heat.

Add the ground meat and, using a wooden spoon, break it apart thoroughly, ensuring no large chunks form as it cooks.

Season with salt and pepper and cook until it changes color.

Incorporate the diced potato and carrot. Mix well and cook over medium heat for around 5 minutes, stirring occasionally.

Pour in the sauce, add the peas, bay leaf, and oregano, then cover the pot.

Cook for 15 to 20 minutes or until the vegetables are cooked and the meat is thoroughly done. Adjust the seasoning if needed.

Remove the bay leaf before serving.
Nutrition
Calories:
350
kcal
|
Carbohydrates:
19
g
|
Protein:
20
g
|
Fat:
21
g
|
Saturated Fat:
8
g
|
Polyunsaturated Fat:
1
g
|
Monounsaturated Fat:
9
g
|
Trans Fat:
1
g
|
Cholesterol:
71
mg
|
Sodium:
1028
mg
|
Potassium:
895
mg
|
Fiber:
4
g
|
Sugar:
6
g
|
Vitamin A:
5229
IU
|
Vitamin C:
35
mg
|
Calcium:
62
mg
|
Iron:
3
mg
Accompany this delicious Colombian-style picadillo with a good portion of red rice.