Learn to prepare the best pork tamales with us, a typical Colombian recipe that everyone who tries them loves.
Tamales are one of the most famous and traditional preparations we have in Colombia, one of the most delicious and desired by both Colombians and foreign people who come to visit us. There are chicken tamales, beef, mixed tamales, and these time pork tamales.
They are so delicious and irresistible that I love to prepare them; although they take a little time and effort in their preparation, it is worth considering that effort, making them, and in the end, enjoying one of the most precious things that Colombia has in its gastronomy.
It is perfect for enjoying pork tamales, sharing with the family, where everyone participates in their elaboration. From the moment they are cooking and every detail. It is the best feeling that exists in the world, the moments cooking with family and enjoying with them.
What part of the pork used for tamales?
Here comes the exciting thing, we don't have to adapt only to one piece of the pig, but we can use the ones we like best, today in my preparation I have decided to add pork, pork ribs, and bacon, taking advantage of the parts that I can and those that give a lot of flavors.
If you wish, you can only use the part you like best and continue with the elaboration of the tamales in the way we have been doing it. When it comes to the elaboration of delicacies, I always recommend good pork tamales, so I hope you will be encouraged to prepare them at home, either few or many, and delight yourself with their delicious flavor. Let's cook.
If you liked these pork tamales, you could also prepare wrapped corn cakes or stuffed capon.
Receta original en
Español
📖 Recipe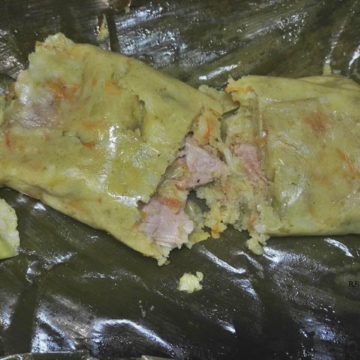 Ingredients
1

kg

of yellow corn dough.

5

cups

of water

2

tablespoons

color

Salt to taste

For the hogao:

1

kg

of tomatoes

(chopped.)

4

onions

(chopped)

2

scallions

(chopped)

5

cloves

garlic

(minced)

1

small red pepper

(chopped)

Salt

(black pepper, cumin, and saffron to taste.)

Plantain leaves clean.

For the filling:

1

kg

of pork cut into six portions.

1

kg

of pork ribs cut into 6 pieces.

2

cloves

garlic

(minced)

100

g

of bacon

1

kg

of sliced ​​potatoes.

250

g

of fresh peas.

400

g

of carrots cut into cubes or slices.

Salt

(black pepper and cumin to taste)
Instructions
To make the dough, place the water in a large pot over medium heat, add the salt to taste.

Heat the water without letting it boil, then slowly add the pre-cooked cornmeal stirring with a wooden spoon until a thick mixture is left. If you see it too dry, you can add some water. Remove from heat and reserve.

Marinate the meat with the garlic.

In a skillet, prepare the hogao, add the onions, garlic and red pepper, when the onion is transparent, add the tomato. Add salt, black pepper, saffron, and cumin.

Meanwhile, prepare the peas, so cook them in water until they are soft. Place the carrot into diced or sliced ​​potatoes and sliced ​​potatoes.

Prepare the plantain leaves on the table; the leaves should not be cut or cracked.

Take the dough and add halfway through the hogao. Take a portion of dough and put it on the plantain leaves, spread it, and put the meats, vegetables, and potatoes together with another little stew. Repeat this process five more times.

To wrap, first, use one sheet and then another. Tie with cabuya or pita.

Fill a large pot with water, bring to a boil and add salt. When it is boiling, add the tamales and let it cook for 1h 30 minutes or 2 hours.

If the pot runs out of the water, add boiling water so that it does not stop cooking.

After a time, drain and serve hot.
Nutrition
Serving:
1
serving
|
Calories:
1482
kcal
|
Carbohydrates:
185
g
|
Protein:
76
g
|
Fat:
51
g
|
Saturated Fat:
15
g
|
Polyunsaturated Fat:
10
g
|
Monounsaturated Fat:
19
g
|
Trans Fat:
1
g
|
Cholesterol:
204
mg
|
Sodium:
1565
mg
|
Potassium:
2905
mg
|
Fiber:
22
g
|
Sugar:
15
g
|
Vitamin A:
13873
IU
|
Vitamin C:
109
mg
|
Calcium:
372
mg
|
Iron:
19
mg