This stewed potatoes recipe is very easy to prepare and the best part is that they are delicious and exquisite. Follow this step-by-step tutorial to enjoy them alongside any dish.
This recipe combines the authentic flavor of perfectly cooked potatoes with a gentle and aromatic stew of tomatoes, onions, and garlic, creating a dish full of flavor that will satisfy the most demanding palates.
These Stewed Potatoes are perfect for sharing with family or friends, and they can be served as a main dish or as a side to accompany other delicious Colombian dishes. The best part is that this recipe is so versatile and adaptable that you can personalize it with your favorite ingredients, adding your own touch and surprising your loved ones with an unforgettable delicacy.
The stewed potatoes are a quite traditional recipe; they can be prepared in many ways, even adding meat, chicken, or eggs, and they are the ideal accompaniment for any meal.
One of my first memories of stewed potatoes was when I was still in school. It was common for each grade to be in charge of the school store on certain days to raise funds, so the teachers asked the students' parents for collaboration with products to be sold, from bags of sweets to these delicious potatoes. It wasn't mandatory; each person brought what they could or sometimes a list of products for one to bring and sell was distributed.
What I liked the most were these stewed potatoes, probably because the taste of a cooked potato is exquisite, especially when combined with hogao or stew. By the way, here you can find the Colombian hogao recipe, and prepare this recipe quickly and easily.
How to make stewed potatoes with chicken or meat?
Following the previous recipe step by step, add the shredded chicken or meat to the stew and stir very well until the stew is mixed with the chicken or meat. Then add the potatoes. Serve and enjoy.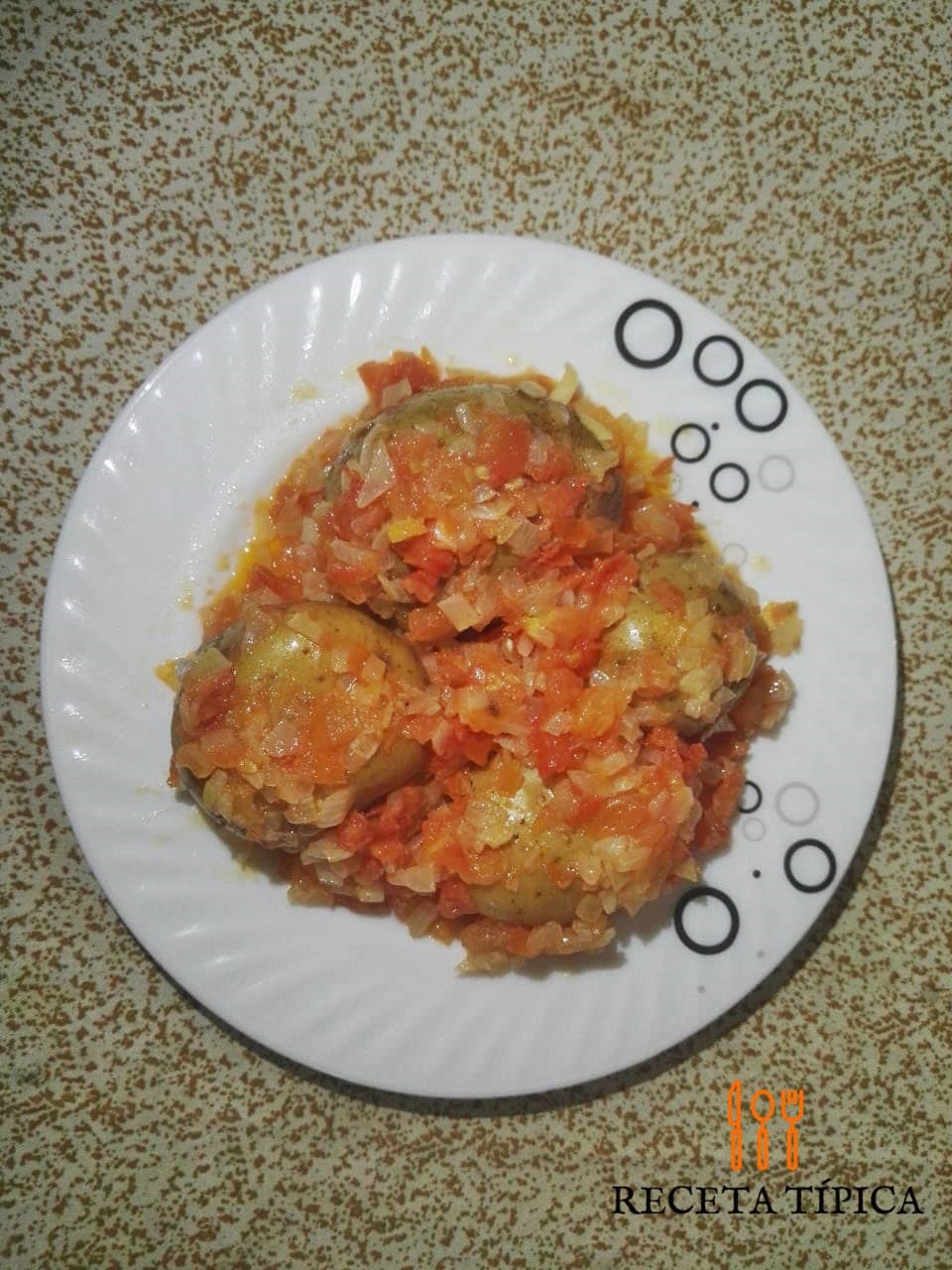 How to make stewed potatoes with eggs?
You can prepare the stewed potatoes with eggs in two ways:
With boiled eggs: chop the eggs into small pieces and add them to the stew after removing it from the heat; mix well and serve with the potatoes.
With scrambled eggs: Add the desired eggs to the stew after 7 minutes or when you see the onion becoming transparent; stir well until you reach the desired texture over medium heat. Mix with the cooked potatoes and enjoy.
Frequently Asked Questions about Stewed Potatoes
What is the secret to achieving perfectly cooked potatoes?
To achieve perfectly cooked potatoes, cook them in a slow-cooking pot with enough water, over medium heat for 20 minutes or until they are soft. Make sure not to overcook them, as they can fall apart and lose their shape.
Is it necessary to peel the potatoes for this recipe?
Peeling the potatoes is optional in this recipe. In the original version, it is suggested to wash the potatoes well and cook them with their skin. However, if you prefer to peel them, you can do so before cooking.
Can I use other types of oil?
Yes, you can substitute the indicated oil for another of your preference. Olive oil, for example, is a good option that adds a delicious flavor to the stewed potatoes.
Can I add other ingredients to the stew to give it more flavor?
Of course, you can experiment by adding ingredients like bell pepper, carrot, peas, olives, or even chunks of meat or chicken, depending on your personal taste and what you have on hand.
How should I serve the Stewed Potatoes?
You can serve the stewed potatoes in two ways: by adding the potatoes to the pan with the stew and stirring them well to mix, or by serving the potatoes on a plate and then pouring the stew on top.
Tips and Tricks
Wash the potatoes well to remove any dirt or residue before cooking them.
Make sure to finely chop the tomatoes, onion, and garlic to obtain a stew with a smooth and uniform texture.
If you decide to add other ingredients to the stew, cut them into small and uniform pieces so that they cook evenly.
Common Mistakes
Not washing the potatoes well: Make sure to wash them properly before cooking them, especially if you prepare them with their skin.
Overcooking the potatoes: Cook the potatoes for the indicated time and check their texture to avoid them falling apart.
Using too much oil: Use the suggested amount of oil to avoid a greasy stew.
📖 Recipe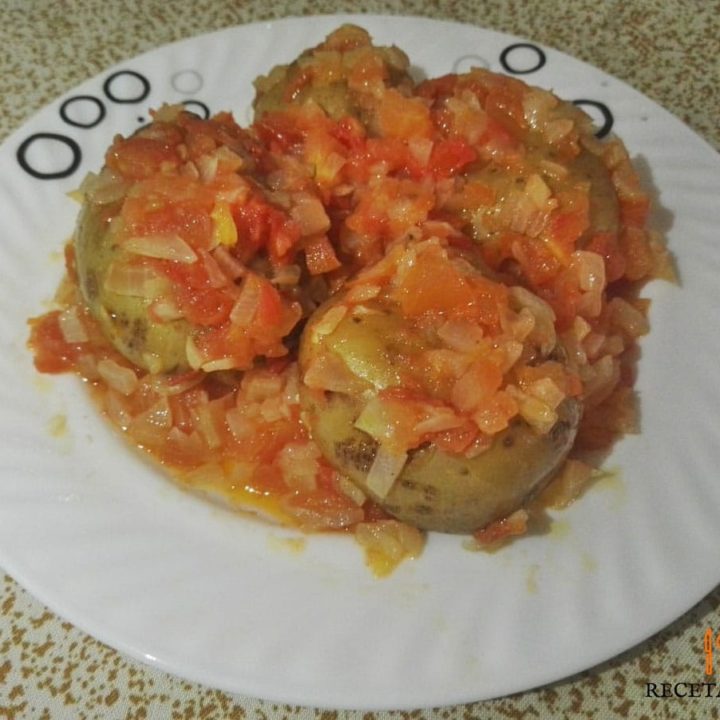 Ingredients
4

medium potatoes

(whole and unpeeled)

3

tomatoes

(finely chopped)

3

sprigs of green onion or 1 regular onion

(finely chopped)

1

garlic clove

(finely chopped)

1

pinch

of ground pepper

(optional)

3

teaspoons

of oil

Salt to tast
Instructions
Wash the potatoes thoroughly to remove any dirt they may have. I like to prepare them with the skin, but you can peel them if you wish.

In a slow-cooking pot, add the 4 potatoes with enough water, over medium heat for 20 minutes or until they are soft.

Drain and set aside.

For the Stew:

In a pan over medium heat, add the 2 teaspoons of oil, the tomatoes, onion, garlic, pepper (if using), and salt to taste.

Sauté for about 7 minutes or until the onion is transparent, stirring constantly.

Add the potatoes to the pan and stir them in the stew. Serve and enjoy.

You can also serve the potatoes and then pour the stew on top.
Nutrition
Calories:
96
kcal
|
Carbohydrates:
9
g
|
Protein:
2
g
|
Fat:
6
g
|
Saturated Fat:
1
g
|
Polyunsaturated Fat:
2
g
|
Monounsaturated Fat:
4
g
|
Trans Fat:
1
g
|
Sodium:
1172
mg
|
Potassium:
450
mg
|
Fiber:
2
g
|
Sugar:
5
g
|
Vitamin A:
1552
IU
|
Vitamin C:
26
mg
|
Calcium:
23
mg
|
Iron:
1
mg