This recipe of stewed potatoes or papas guisadas is very easy to prepare and best of all are delicious and exquisite, follow this step-by-step tutorial for you to enjoy them in the company of any dish.
Stewed potatoes are a fairly traditional recipe, can be prepared in many ways, even by adding meat, chicken or egg and are the ideal accompaniment to any meal dish.
One of my first memories of stewed potatoes, was when I was still in school, it was common for each grade to be taken care of on certain days, from the school shop, to raise funds, so teachers asked the parents of the students, collaboration with products that sell, from bags of confections to these delicious potatoes.
It was not an obligation, everyone carrying what they could carry or sometimes pulled out a list of products for one to carry and sell.
I think what I liked the most was these stewed potatoes, surely because the taste of a cooked potato is exquisite and more when combined with hogao or stew. By the way, here you can find the Colombian hogao recipe, and prepare this recipe quickly and easily.
How to make potatoes stewed with chicken or meat?
Following the above recipe step by step, add the chicken or displeased meat to the stew and stir very well until you mix the stew with the chicken or meat. Then add the potatoes. Serve and enjoy.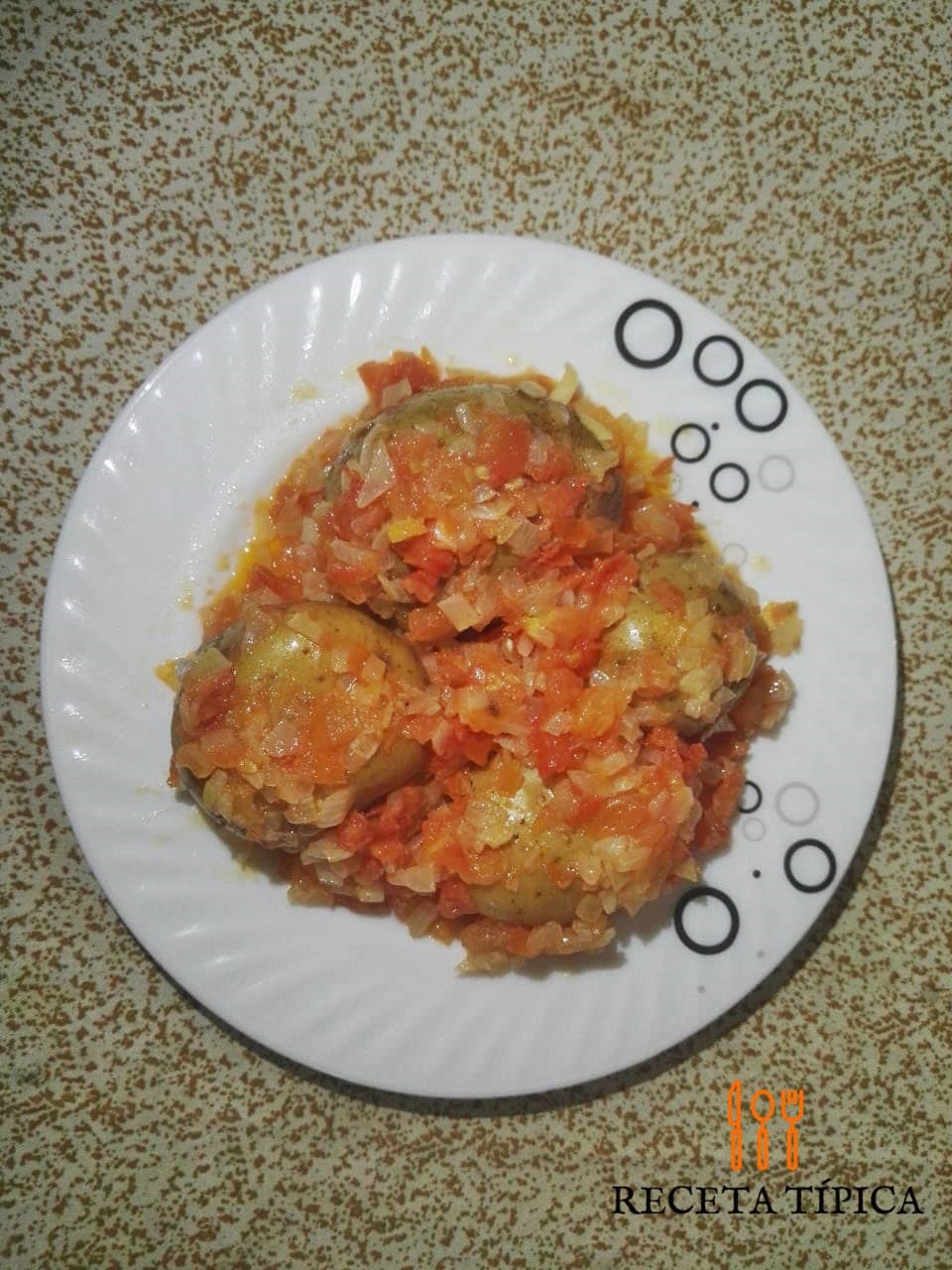 How to make potatoes stewed with egg?
You can prepare the roasted potatoes with egg in two ways:
With boiled eggs: chop the eggs into small pieces and add them to the stew after removing the stew from the heat, mix them very well and serve with the potatoes.
With scrambled eggs: Add the desired eggs to the stew after 7 minutes or when you see the onion place transparently, stir very well until you have the desired texture over medium heat. Mix with the cooked potatoes and enjoy.
If you guys are looking for some other easy recipes, check these out: Mondongo soup or boronia.
Receta original en
Español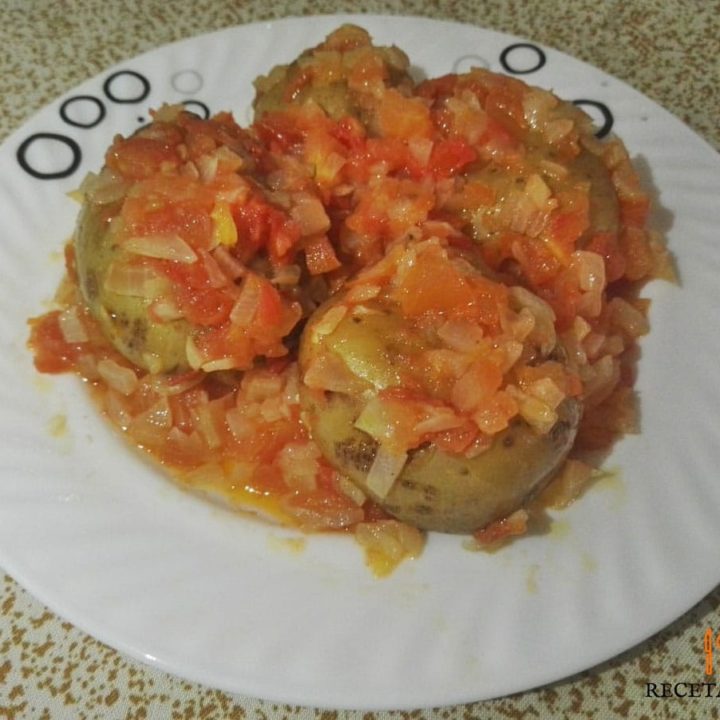 Ingredients
4

medium

(whole, and unpeeled potatoes)

3

tomatoes

(finely chopped)

3

sprigs long onion or 1 finely chopped egg onion

1

garlic clove

(finely chopped)

1

pinch

of ground pepper optional

3

teaspoons

oil

Salt to taste
Instructions
Wash the potatoes very well to remove the possible dirt they have, I like to prepare them with shell, but if you want you can peel them.

In a slow cooker, add all 4 potatoes with enough water, over medium heat for 20 minutes or until soft.

Drain and set aside.
For the Stewed:
In a frying pan over medium heat, add 2 teaspoons oil, tomato, onion, garlic, pepper (if used) and salt to taste.

Sauté for about 7 minutes or until onion is clear, stirring sour.

Add the potatoes to the pan and stir the potatoes in the stew. Serve and enjoy.

You can also serve the potatoes and then add the stew on top.
Nutrition
Calories:
96
kcal
|
Carbohydrates:
9
g
|
Protein:
2
g
|
Fat:
6
g
|
Saturated Fat:
1
g
|
Polyunsaturated Fat:
2
g
|
Monounsaturated Fat:
4
g
|
Trans Fat:
1
g
|
Sodium:
1172
mg
|
Potassium:
450
mg
|
Fiber:
2
g
|
Sugar:
5
g
|
Vitamin A:
1552
IU
|
Vitamin C:
26
mg
|
Calcium:
23
mg
|
Iron:
1
mg