Learn how to prepare this delicious yellow rice recipe, you will see how in a few steps you will achieve incredible results.
Yellow Rice or Arroz amarillo is a super simple and very traditional recipe. One of those foods that can get you out of trouble and has assured success.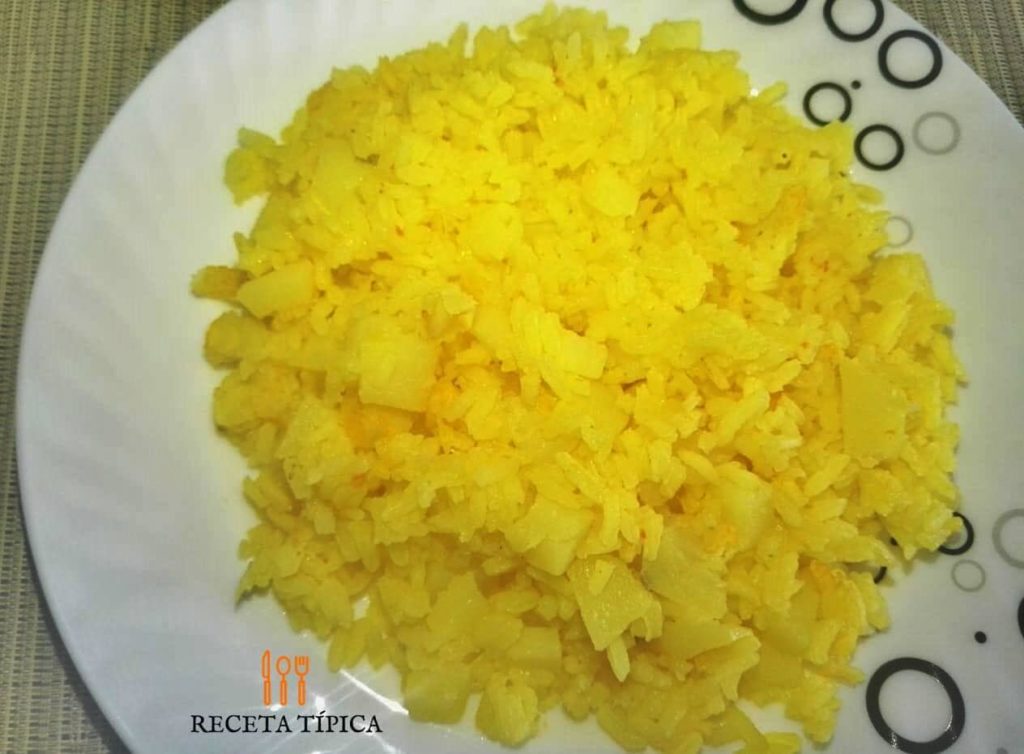 It's a very basic recipe, its main ingredients are rice, saffron or turmeric, salt, and water, but that doesn't mean that we are left with just those ingredients, remember that the world of gastronomy is in constant innovation and changes, so we can add other ingredients vegetables, chicken, meats, or add some herbs and spices, cream of milk to make it creamy, or Parmesan cheese, rather, is a rice that allows us to play with the ingredients that you have in the kitchen.
Yellow rice is one of those recipes that we have to learn to cook, whether we are or not lovers of cooking, either to break the routine of white rice that we prepare very often at home or to try the delights that the cuisine can offer us.
This type of rice is perfect to accompany many recipes, such as: Pork loin, grilled chicken, salmon, pork chops, salads, gratin potatoes, meat roll, vegetables, and as well as these, many other recipes with which we can accompany this Rice.
There are many ways to prepare rice and each recipe is unique and delicious. That's why we're going to show you one of the many ways to make yellow rice, it's really easy to prepare. It only takes 20 minutes to prepare different and delicious rice.
It is rice to prepare any day, not only on special occasions. With this recipe, you will learn how to make a bowl of good yellow rice. I'm sure you'll surprise your family with this recipe, so what are you waiting for to prepare it? To cook.
If you guys are looking for some other easy recipes, check these out: Stewed Potatoes or bacon and plantain balls.
Receta original en
Español
Ingredients
1

cup

white rice.

2 ½

cups

water.

4

tablespoons

chopped scallions.

1

tablespoon

Oil.

1

teaspoon

ground saffron or turmeric.

1

garlic clove.

Salt and pepper to taste.

1

pound

potato cut in pieces Optional
Notas
You can add peas to the rice.
You can add vegetables such as broccoli, carrot, etc.
You can also add chicken or meat in pieces.
Let your imagination run wild and create flavors in your kitchen.
Instructions
Place the water in a saucepan and bring to medium heat.

Add the salt, pepper, oil, teaspoon of turmeric or saffron, garlic and scallions finely chopped.

When the water boils, add the rice and potato (if you use it) and stir.

When the water has dried, turn down the heat.

Cover the pot and let cook until the rice is on point. Approximately 20 to 25 minutes. And that's it.
Nutrition
Calories:
290
kcal
|
Carbohydrates:
57
g
|
Protein:
6
g
|
Fat:
4
g
|
Saturated Fat:
1
g
|
Polyunsaturated Fat:
1
g
|
Monounsaturated Fat:
2
g
|
Trans Fat:
1
g
|
Sodium:
599
mg
|
Potassium:
551
mg
|
Fiber:
3
g
|
Sugar:
1
g
|
Vitamin A:
62
IU
|
Vitamin C:
24
mg
|
Calcium:
37
mg
|
Iron:
1
mg