Learn how to prepare this delicious yellow rice recipe. With just a few steps, you'll achieve incredible results.
Yellow rice is an incredibly straightforward and traditional dish. It's one of those meals that can come to the rescue and is always a hit.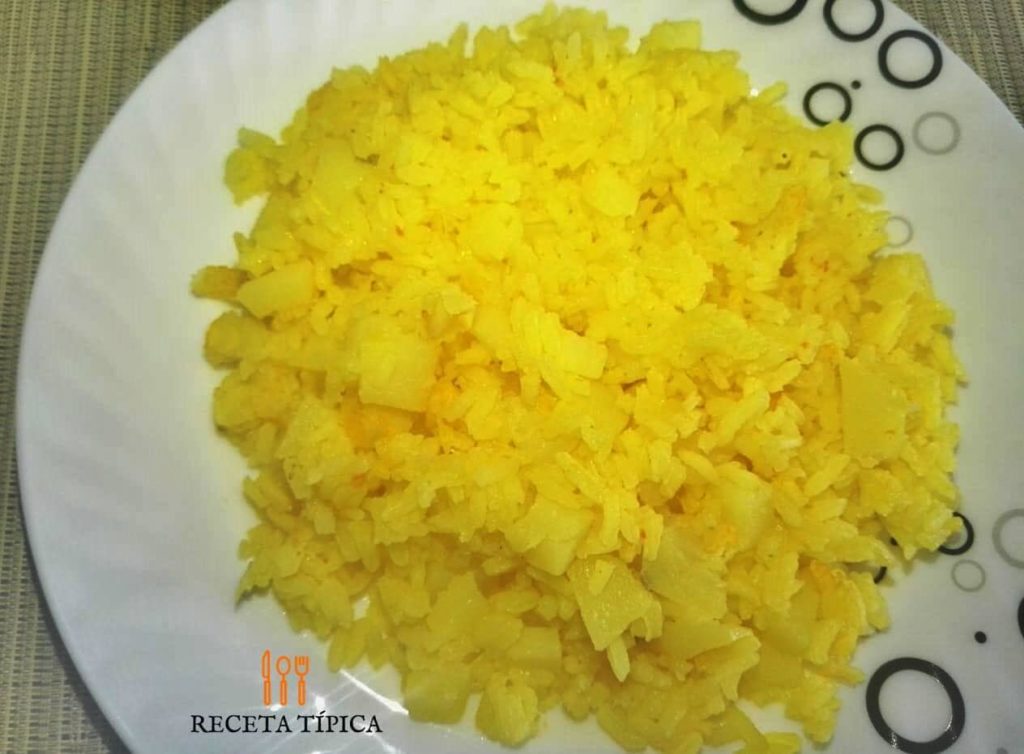 At its core, this recipe requires simple ingredients like rice, saffron or turmeric, salt, and water. However, this doesn't mean you're limited to these ingredients. Remember, the culinary world is always evolving, and you can enrich this dish with added veggies, chicken, meats, or even herbs and spices. Consider adding cream for a creamy texture or Parmesan cheese. Essentially, this rice allows for creativity based on what's available in your kitchen.
Yellow rice is a must-know, whether you're passionate about cooking or not. It's a great change from the usual white rice we often make at home, and it's versatile enough to accompany various dishes, like pork loin, grilled chicken, salmon, pork chops, salads, gratinated potatoes, meat rolls, vegetables, and many more.
There are countless ways to prepare rice, and each one is unique and delicious. Here, we'll show you one easy method to make yellow rice. In just 20 minutes, you can enjoy a distinct and tasty rice dish.
This rice is perfect for any day, not just special occasions. With this recipe, you'll master the art of yellow rice. I'm confident you'll impress your family with this dish. So, why wait? Let's get cooking!
How can I make this yellow rice flavorful?
To achieve a mouth-watering Colombian yellow rice, using chicken broth instead of water is key. It provides the rice with a depth of flavor that water can't match. You can also consider adding other ingredients like green peas, vegetables like broccoli and carrot, or even diced chicken or meat.
How can I prevent the rice from sticking?
A common mistake when cooking rice is not controlling the temperature correctly. To prevent sticking, reduce the heat once the water has evaporated. Then, cover the pot and cook until the rice is perfectly done, about 20 to 25 minutes.
How do I achieve the yellow hue in the rice?
The secret to Colombian yellow rice's color lies in ground saffron or turmeric added during cooking. However, use these spices in moderation. A teaspoon is usually enough to give a pleasing yellow color without overpowering the rice's flavor.
Can I incorporate other vegetables or proteins in this recipe?
Absolutely! This is the beauty of Colombian yellow rice. You can mix in green peas, broccoli, carrots, or even chicken or meat. Experiment to find your perfect blend.
How do I know when the rice is done?
The rice is ready when it has a soft texture, and each grain is fully cooked. If it's too hard, add a bit more chicken broth or water and continue simmering.
Common Mistakes and Tips
Ensuring the correct rice to liquid ratio is vital. Use 2½ cups of liquid (water or chicken broth) for every cup of rice. Overloading with liquid can result in overly soft rice.
Similar Recipe Recommendations
If you enjoyed this yellow rice recipe, consider making a "Bandeja Paisa." It's another Colombian dish featuring white rice along with native ingredients. This hearty meal includes beans, meat, cracklings, eggs, ripe plantains, and avocado—truly a feast of Colombian flavors.
Another option is the "Colombian Paella," which also uses rice, and you can add vegetables, chicken, or meat, just like with the yellow rice.
Remember, experimentation is key. Don't be afraid to try new ingredient and spice combinations. Every new creation might become your next favorite dish. Enjoy Colombian cuisine and bon appétit!
Pair this yellow rice with a "blanquillo" soup or chicken cream.
📖 Recipe
Ingredients
1

cup

white rice

2½

cups

water or chicken broth

1

bulb onion

Oil

1

teaspoon

ground saffron or turmeric

1

garlic clove

Salt and pepper to taste

1

pound

of diced potatoes

(Optional)
Notas
• You can add green peas to the rice.
• You can also incorporate veggies like broccoli, carrot, etc.
• Feel free to mix in diced chicken or meat. Let your creativity run wild in the kitchen.
Instructions
Pour water or broth into a pot and heat over medium.

Add salt, pepper, oil, the teaspoon of turmeric or saffron, and finely chopped garlic and onion.

Once the water boils, stir in the rice and potatoes (if using).

Reduce the heat after the water has evaporated.

Cover the pot and let it simmer until the rice is done, approximately 20 to 25 minutes.
Nutrition
Calories:
290
kcal
|
Carbohydrates:
57
g
|
Protein:
6
g
|
Fat:
4
g
|
Saturated Fat:
1
g
|
Polyunsaturated Fat:
1
g
|
Monounsaturated Fat:
2
g
|
Trans Fat:
1
g
|
Sodium:
599
mg
|
Potassium:
551
mg
|
Fiber:
3
g
|
Sugar:
1
g
|
Vitamin A:
62
IU
|
Vitamin C:
24
mg
|
Calcium:
37
mg
|
Iron:
1
mg