We invite you to know the step by step of how to prepare a delicious mashed pumpkin, a delightful dish that will leave you wanting more.
We invite you to know the step by step on how to prepare a delicious mashed pumpkin or poteca de auyama, a delightful dish that will leave you wanting more.
Poteca de auyama is a dish made with a mash of pumpkin, to which a Criolla sauce or the traditional hogao add is made with onion, garlic, tomatoes, and cumin. A very traditional dish in the department of Tolima here in Colombia, and without a doubt, we have to do it at home and try such a delicious delicacy.
This recipe is used in many food dishes and mainly use for holidays, Christmas, or Thanksgiving. Like in other countries with their traditional holiday dishes, for example in Mexico for the Day of the Dead, where they make "Candied Pumpkin".
Is the mashed pumpkin a vegetarian recipe?
You decide if you want to make this vegetarian recipe or not, in its usual preparation it only takes auyama, onion, garlic, and tomatoes, among other ingredients, you can not add protein and thus make it vegetarian.
Some people like to experiment in the kitchen with the various preparations that exist in the gastronomic world. This recipe is no exception because we can cook a chicken breast, shred it, and at the end of the preparation, integrate it with the auyama puree; and mix it with the hogao, thus obtaining a delicious preparation full of flavor.
You choose how to do it, I put the recipe and give some ideas, but finally, you are the person who will cook and therefore the one who decides how to prepare it. So I hope you have all the inspiration put into the kitchen and that you are encouraged to make this delicious mashed pumpkin. Let's cook.
If you liked this mashed pumpkin, remember that you can also prepare auyama cake or pork skewers.
Receta original en
Español
📖 Recipe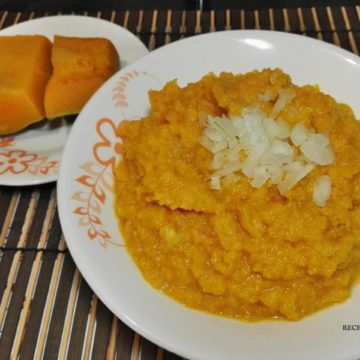 Ingredients
2

medium pumpkin.

½

cup

of chicken

(meat, or water vegetable broth.)

¼

cup

of milk

1

onion

2

scallions

2

tomatoes

3

tablespoons

butter

2

cloves

of garlic

Salt and black pepper
Instructions
Peel the pumpkin, remove the seeds, and cut into pieces.

Place the pieces of pumpkin in a pot with water and a little salt and let cook over medium-high heat until they are soft.

While the pumpkin is cooking, prepare the hogao or Criolla sauce, for this, in a skillet with a little oil, sauté the chopped onions with the finely chopped garlic, once it is transparent, add the chopped tomato in cures or grated and let cook for ten more minutes. Set aside.

When the auyama is soft, please remove it from the water, drain, and with a crush fork until it forms a puree. Season with salt and pepper.

Mix the butter, vegetable stock, milk, and hogao with the mashed pumpkin, and cook for 5 minutes, stirring frequently.
Nutrition
Calories:
248
kcal
|
Carbohydrates:
54
g
|
Protein:
9
g
|
Fat:
4
g
|
Saturated Fat:
1
g
|
Polyunsaturated Fat:
1
g
|
Monounsaturated Fat:
1
g
|
Cholesterol:
5
mg
|
Sodium:
833
mg
|
Potassium:
2571
mg
|
Fiber:
5
g
|
Sugar:
23
g
|
Vitamin A:
58562
IU
|
Vitamin C:
73
mg
|
Calcium:
197
mg
|
Iron:
6
mg