Imagine a creamy mashed potato bursting with flavor and a special touch, all smothered in cheese... Challenge your imagination and try this special mashed potato recipe!
This delight is not only incredibly tasty but also a source of nutrition and well-being for the body. It's time to let go of biases about the humble potato and embrace its versatility and goodness as it's transformed into a smooth, silky mash. Get ready to fall in love with this classic, comforting dish that will surely captivate both your loved ones and you.
Mashed potatoes, sometimes called mashed patatas, are a dish made from boiled and mashed potatoes, among other ingredients. In most cuisines, it's considered a side dish accompanying main courses, often meats or fish.
Potatoes are one of those quintessential ingredients that allow us to create and make various dishes in the kitchen, be it French fries, boiled potatoes, stewed potatoes, baked potatoes, stuffed potatoes, or in our case, a delicious mashed potato.
A common mistake when making mashed potatoes is ending up with lumps or perhaps a less creamy texture. Here are some tips to ensure you make the best mash:
When buying potatoes, aim for those with good starch content as this gives the mash better texture.
When boiling the potatoes, add salt to the cooking water while it's still cold, and also sprinkle some salt when the mash is ready.
Boil the potatoes with their skins on to prevent water from getting into the potato, which makes it watery.
Try to have all potatoes roughly the same size, so they cook evenly. If there's a large and a small potato, their cooking points vary.
Use a potato masher or ricer, rather than a blender or food processor.
Finally, mash the potatoes thoroughly and vigorously; this is the only way to avoid lumps.
These are some of the essential tips when making a great mashed potato. I hope you're encouraged to try it out with us. It's going to be delightful. Let's cook!
I invite you to prepare delicious white rice and meat patties to accompany this mashed potato dish.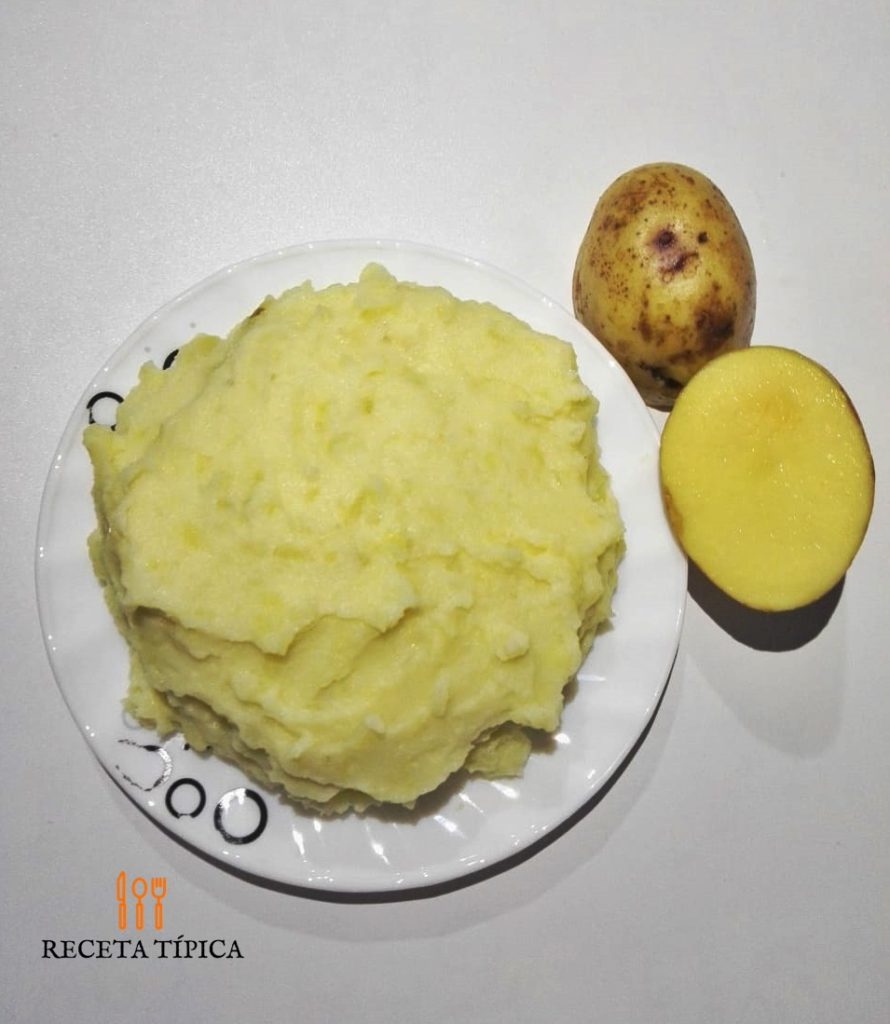 Which type of potatoes should I use for the mash?
For a smooth and delightful mashed potato, the ideal choice is floury potatoes like the "papa sabanera," which is common in Colombia. These potatoes are perfect for mashing due to their high starch content, resulting in a creamier, non-sticky texture.
How can I prevent my mashed potatoes from being watery?
To avoid a watery texture, make sure to drain the potatoes well after boiling. Also, be careful not to add too much milk or cream. The recipe calls for 200 ml of hot milk and 50 g of cream, but if your mash seems too runny, reduce the amount of liquids.
Can I prepare it in advance?
Yes, you can make it ahead. Just follow the recipe, and once done, cover it with aluminum foil and store it in the fridge until you're ready to serve. To reheat, place it in a pot over low heat, stirring occasionally until warm. If needed, add more hot milk to adjust the consistency.
How can I add more flavor?
You can enrich the taste by adding ingredients like chopped parsley, cooked and crumbled bacon, or even roasted garlic for a unique and delicious twist.
Can this recipe be made dairy-free?
Certainly, you can make it dairy-free by replacing milk with vegetable or chicken broth and using margarine instead of butter. You can also omit the cream and parmesan cheese or use dairy-free alternatives available in the market.
Tips for a Perfect Mash
Boil the potatoes in salted water to enhance their flavor.
Don't use a blender or food processor for mashing, as this can make it sticky. Instead, use a potato masher or fork.
Ensure the milk is hot before adding it to the mash for better integration and smoother consistency.
Common Mistakes
Not cooking the potatoes enough: Make sure the potatoes are fully cooked before mashing.
Adding too much liquid: This can make the mash watery and less flavorful.
Not seasoning correctly: Ensure you taste the mash and adjust salt and pepper to your liking.
Other Recipes That Might Interest You
Colombian Arepas: Arepas share basic ingredients like salt and butter and are a typical Colombian dish. They're perfect to accompany mashed potatoes or serve for breakfast or dinner.
Papas Chorreadas: This recipe also uses potatoes and offers a delicious and unique way to enjoy this ingredient. "Papas Chorreadas" are made with a tomato, onion, and cheese sauce, making them irresistible.
Stuffed Potatoes: If you love potatoes, you can't miss this Colombian recipe of potatoes stuffed with ground meat, rice, and other ingredients, then breaded and fried until golden and crispy.
📖 Recipe
Ingredients
1

Kg

of potatoes.

1

cup

of parmesan cheese.

200

ml

of hot milk.

50

g

of cream.

2

liters

of water.

2

tablespoons

of butter.

Salt and pepper to taste.
Instructions
Place the potatoes in a pot with 2 liters of water and salt to taste. Bring to a high heat, and once it starts boiling, reduce the heat, cover the pot, and let them cook for 15 to 20 minutes, or until a knife slides easily into a potato.

Once done, drain the water and peel the potatoes.

Place them in a bowl and mash them along with the butter using a potato masher or fork.

Add the cream to provide smoothness and the right texture. Stir.

Also, add the hot milk and mix the ingredients.

Lastly, add the parmesan cheese, salt, and pepper to taste and stir again to integrate our ingredients properly.

Optionally, you can add ingredients like parsley, cooked bacon, etc.
Nutrition
Calories:
228
kcal
|
Carbohydrates:
32
g
|
Protein:
11
g
|
Fat:
7
g
|
Saturated Fat:
4
g
|
Polyunsaturated Fat:
1
g
|
Monounsaturated Fat:
2
g
|
Cholesterol:
18
mg
|
Sodium:
704
mg
|
Potassium:
779
mg
|
Fiber:
4
g
|
Sugar:
3
g
|
Vitamin A:
225
IU
|
Vitamin C:
33
mg
|
Calcium:
280
mg
|
Iron:
1
mg