I invite you to stay with me and prepare this delicious rib broth which will only take us 40 minutes to prepare. The best part is that it comes from our favorite book, Grandma's cookbook.
This delicious and aromatic broth combines the succulent beef rib meat with potatoes, carrots, onions, and a touch of fresh cilantro, creating a unique and unforgettable flavor. Perfect for those cold days or when you need a dish to comfort and lift your spirits, rib broth is a culinary experience you won't want to miss.
Rib broth is a very typical dish here in Colombia, also known as 'levanta muertos' (wake up the dead), it is mainly made from beef ribs cooked in water with potatoes. It is usually consumed for breakfast and is accompanied by a delicious corn arepa and good chocolate.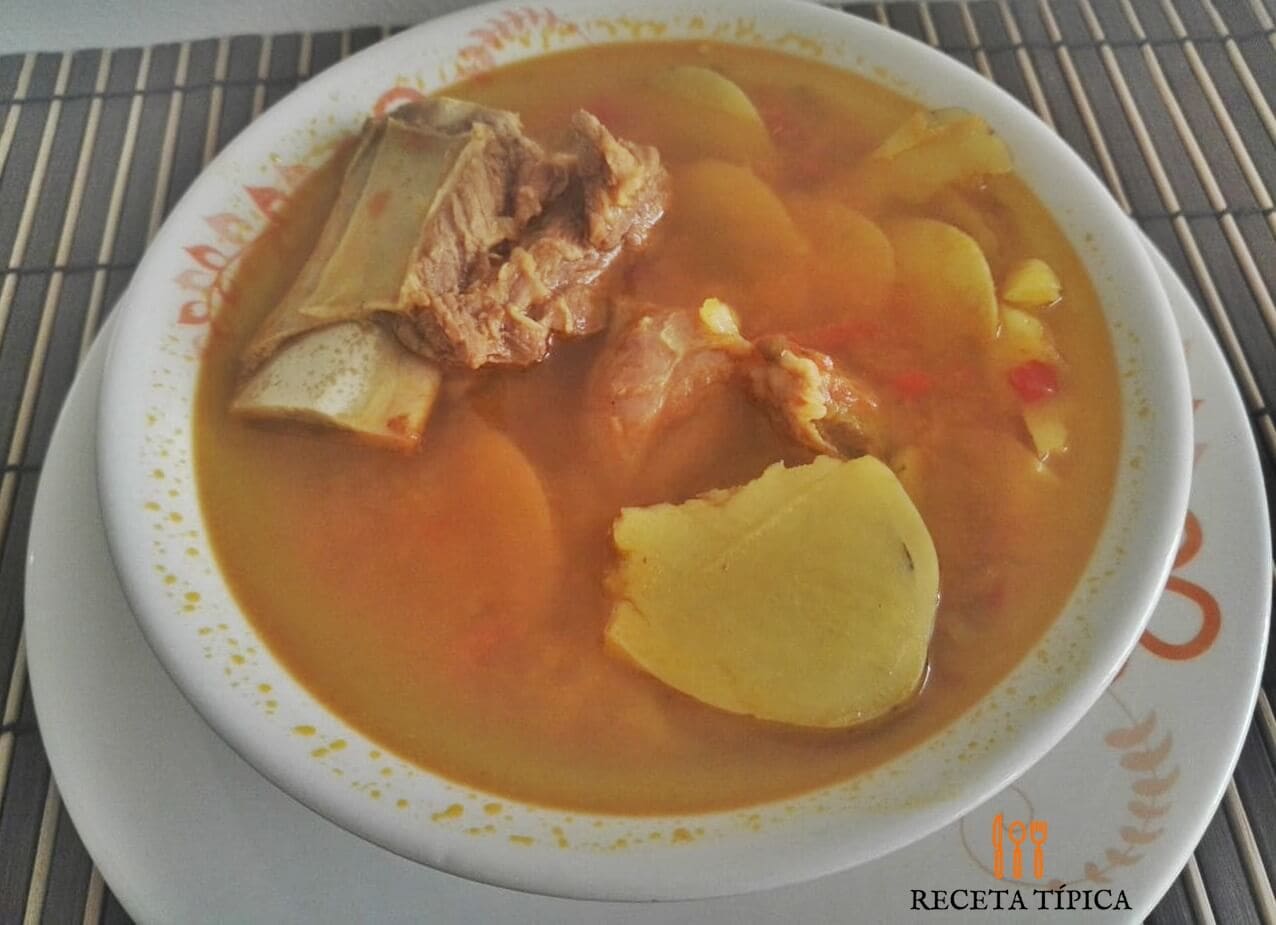 It has become famous for its high caloric content, which provides energy to the body and is very gentle on the stomach, which helps alleviate general discomfort. Not only is it famous for these reasons, but grandmothers use it as a magic potion to cure hangovers or the aftereffects of a good party the day before or from energy depletion.
Rib broth is quite popular, you can find it in most restaurants, as it is ideal for providing that energy we need in our bodies.
This rib broth often brings me many memories, especially because my grandmother used to please us with this delicacy every Sunday, and she still keeps that tradition, it is that breakfast that cannot be missed on a weekend. That's why, every time I have the opportunity to visit her, I can't miss this breakfast. That's why I decided to bring this recipe to you, because I asked her for it to be able to share it with you, her secret touch, some good sprigs of fresh cilantro, a pinch of cumin but above all a lot of love.
So let's not think about it and dare to prepare this delicious grandmother's rib broth, which in addition to providing us energy for those Sundays or Mondays when we don't feel like anything, it is ideal for a cold and rainy day and can you imagine being able to accompany it with an arepa, avocado or maybe white rice. What a delight. Let's cook.
What is the key to obtaining a succulent and tasty rib broth?
The key to obtaining a succulent and tasty rib broth is to cook the ribs slowly in a pressure cooker with plenty of water, salt, pepper and cumin. By doing this, the ribs soften and release all their flavors and juices into the broth. Also, it is important to add the other ingredients, such as potatoes, onions, garlic, and carrots, at the right time so that they don't disintegrate and contribute texture and flavor to the broth.
How can a lighter broth be made?
To make a lighter rib broth, you can reduce the amount of beef ribs in the recipe and increase the amount of vegetables, such as carrots and onions. You can use vegetable broth instead of water to cook the ribs and thus obtain a milder flavor.
What type of potatoes can be used?
You can use any type of potato in the broth, but the Creole potatoes are the most traditional in Colombian cuisine. If you can't find Creole potatoes, you can use red or yellow potatoes, as they are good at maintaining their shape during cooking and contribute a pleasant texture to the broth.
What is the best way to serve and accompany the rib broth?
Rib broth is served hot and can be accompanied by bread, arepas, avocado, chunks of fried plantain, or even white rice. Also, you can add some fresh chopped cilantro on top before serving to give it an extra touch of flavor and freshness.
Can this recipe be frozen?
Yes, you can freeze it. To do this, make sure it is completely cool and pour it into freezer-safe airtight containers. You can freeze the rib broth for up to three months. When you want to consume it, defrost the broth in the fridge overnight and heat it in a pot before serving.
Tips and advice
1- When cooking the ribs in the pressure cooker, make sure not to fill it beyond its maximum recommended capacity to avoid accidents.
2- If you don't have a pressure cooker, you can use a conventional pot, but you will have to adjust the cooking times and cook the ribs for about 1 and a half hours before adding the other ingredients.
3- For a deeper flavor, you can brown the ribs in a pan before adding them to the pressure cooker.
Common mistakes when preparing rib broth:
Not cooking the ribs long enough, which can result in a tasteless broth with hard ribs.
Using too much salt or cumin at the beginning of cooking, which can result in a broth that is too salty or with a very intense cumin flavor. It is better to start with a moderate amount of these seasonings and adjust at the end of cooking to taste.
Cooking the potatoes and other vegetables from the beginning, which can cause them to disintegrate and lose their texture in the broth. Make sure to add them at the right time according to the recipe instructions.
Similar recipes or those that share ingredients
Bogotano ajiaco: This is another Colombian broth-based dish that uses potatoes, chicken, and tender corn. It is accompanied with cream, capers, and avocado. It is an excellent option if you are looking for a similar recipe that also uses potatoes and cilantro.
Sancocho: This is a traditional Colombian stew that is prepared with beef (or chicken or pork), green plantains, cassava, corn, potatoes, and carrots. Sancocho shares ingredients such as potatoes, carrots, and cilantro with rib broth, but offers a different culinary experience by incorporating other ingredients and flavors.
Mondongo: This is a Colombian stew made from beef tripe, potatoes, carrots, and chickpeas. If you like rib broth and want to try something different but with similar ingredients, mondongo may be an excellent option.
In summary, rib broth is a delicious and comforting Colombian recipe that combines beef ribs with vegetables and seasonings to obtain a tasty and nutritious broth.
📖 Recipe
Ingredients
1 ½

lbs

of beef ribs.

4

or 5 potatoes of your choice.

8

cups

of water.

6

green onions.

3

cloves

of garlic.

1

carrot.

Cumin to taste.

Cilantro.

Salt and pepper to taste.
Instructions
Add water, the ribs, salt, pepper, and cumin to a pressure cooker. Cook on high for about 20 minutes to soften the ribs.

While this is happening, peel the potatoes and slice them, finely chop 5 of the green onions and garlic, and dice the carrot.

After 20 minutes, remove the lid of the pressure cooker, add the ingredients from the previous step, check the water and salt levels. Cook again on high for another 10 minutes.

In a blender, blend the remaining green onion with the cilantro in ¼ cup of water. Once the soup is ready, add this blend and serve hot.
Nutrition
Calories:
396
kcal
|
Carbohydrates:
41
g
|
Protein:
29
g
|
Fat:
13
g
|
Saturated Fat:
5
g
|
Polyunsaturated Fat:
1
g
|
Monounsaturated Fat:
6
g
|
Cholesterol:
73
mg
|
Sodium:
713
mg
|
Potassium:
1457
mg
|
Fiber:
6
g
|
Sugar:
3
g
|
Vitamin A:
2740
IU
|
Vitamin C:
47
mg
|
Calcium:
77
mg
|
Iron:
5
mg