If you enjoy the traditional taste of a hearty mondongo soup, you're in the right place for the perfect and most delicious recipe. Prepare it at home and savor this culinary treat.
If you're looking for a soup that feels like home and warms you up, Mondongo Soup is the answer. Rich in flavors and textures, it's perfect if you're after a filling and satisfying meal.
This recipe is easy to prepare and can be tailored to your culinary preferences. If you haven't tasted this delicious soup yet, don't wait any longer and give it a try today! Your taste buds will thank you.
The standout ingredient in mondongo soup is beef tripe, which is primary in all versions of this recipe you might come across. Thus, if you find a mondongo without tripe, it's not truly mondongo even if all other ingredients are present.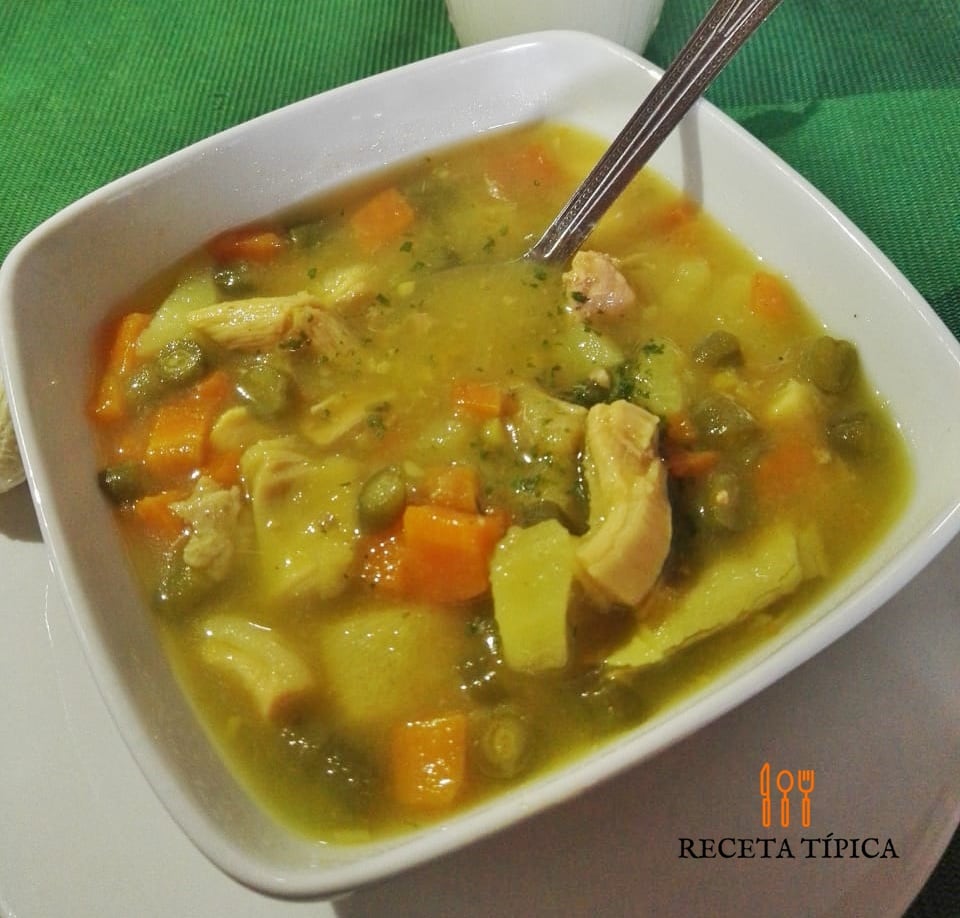 Mondongo Soup
Our recipe is deeply rooted in tradition and made with love. Besides beef tripe, it contains other ingredients that, when combined, create a flavorful and delightful dish.
What sets our mondongo apart from other versions?
We always ensure that the beef tripe is thoroughly washed because, otherwise, this key ingredient will spoil the flavor of our mondongo, making its consumption less enjoyable.
We use simple, precise ingredients to make our mondongo soup a true culinary delight.
We try not to use too many seasonings to ensure the dish isn't overly rich, which might be hard on your stomach later on. We use just the right amount to perfect it.
What exactly is mondongo?
Mondongo is a dish made from beef tripe, complemented with other types of meat, some vegetables, and seasonings. While this dish is a staple in Venezuelan cuisine, over the years, it has become popular in neighboring countries like Colombia.
This dish requires prolonged cooking, especially the beef tripe, as it's somewhat tough. It's best served piping hot to be enjoyed fully.
So, how can we prepare mondongo soup?
First, thoroughly wash the beef tripe using lemon juice and hot water. Once cleaned, cook it in a pressure cooker with water and a bit of baking soda.
Then, drain the water, dice the tripe if you haven't done so earlier, and return it to the pressure cooker. Add chorizo, green peas, green beans, and seasonings like tomato, onion, and garlic. Also, incorporate coloring and a pinch of cumin, then cook with water once more.
Next, add cassava and potatoes and cook until everything is tender. Finally, adjust the seasoning, adding more salt if needed, and sprinkle with finely chopped cilantro. There you have it, a traditional homemade mondongo soup.
What to pair with this soup?
Traditionally, a hearty mondongo is paired with a banana – an unusual yet delightful combination. You can also accompany it with a ripe avocado – you'll love it.
FAQs:
What is beef tripe and where can I get it?
Beef tripe is a part of a cow's stomach. It's typically available at most butchers and supermarkets selling fresh meat.
Why rub lemon on the tripe before cooking?
Lemon is rubbed on the tripe to clean and remove any off-putting smells or tastes. It also helps tenderize the tripe for easier cooking.
What is baking soda, and why add it to the tripe's cooking water?
Baking soda is a common kitchen leavening agent. It's added to the tripe's cooking water to help tenderize it.
Is a pressure cooker essential for this recipe?
It isn't mandatory, but a pressure cooker significantly shortens the cooking time, making the dish ready quicker.
Can I replace chorizos with another meat?
Yes, you can substitute chorizos with chicken, beef, or pork, or omit them for a vegetarian version.
How much water should I add to cover the ingredients?
Ensure there's enough water to cover all ingredients. Typically, the water should be about 2-3 cm above the ingredients.
Can I add other vegetables to the soup?
Absolutely! Options include carrots, celery, squash, corn, and more.
How best to adjust the soup's flavor?
Taste the soup and adjust the seasonings as required. Add salt, pepper, or spices gradually, tasting after each addition until the desired flavor is achieved.
Tips and recommendations
Thoroughly wash the beef tripe – the key to a good mondongo. You'll know it's clean when there's no lingering strange or unpleasant smell.
Allow ample cooking time for the tripe since it's tough and requires a while to become tender.
Health benefits of mondongo soup
Mondongo soup is a healthy choice, low in sugars and unhealthy fats.
It's rich in proteins, which enhances satiety.
It's also a good source of iron, making it ideal for athletes.
Recommended recipes
Tree tomato juice: Perfect for those looking for a refreshing drink to pair with their mondongo.
Chickpeas with tripe: If you have leftover beef tripe, use it in this tasty dish.
Fresh salad: Some like pairing this dish with something light, and a fresh salad is an excellent choice.
📖 Recipe
Ingredients
1

lb

beef tripe

1

lemon

¼

teaspoon

baking soda

1

diced tomato

3

finely chopped scallions

1

lb

pork meat

4

peeled and diced potatoes

1

lb

peeled and diced cassava

½

lb

diced green beans

½

lb

green peas

3

sliced or diced chorizos

½

teaspoon

ground cumin

1

chopped garlic clove

Salt and pepper

Coloring

Cilantro

Water
Notas
The potato will cook very quickly so add it at the end; you can leave the pot semi-covered for 10 minutes (Even that time can help you to chop the other ingredients, if you have not already done so, keeping the pot on the fire)
Instructions
First, wash the tripe thoroughly to ensure it's clean and doesn't spoil the taste of the soup. For this, wash the tripe with warm water and rub with the lemon.

In a pressure cooker, add the tripe cut into small pieces, water, and baking soda. Cook for about 45 minutes. After this time, drain the tripe and discard the water.

Place the cooked tripe back into the pressure cooker, add the diced pork, sausages, green peas, green beans, tomato, garlic, green onions, food coloring, and cumin. Add water again to cover and season with salt and pepper.

Cook in the pressure cooker for another 10 to 12 minutes.

Uncover the pot, add the cassava and potatoes, and cook again in the pressure cooker for about 15 minutes until they soften.

Remove the lid, add finely chopped cilantro, stir, adjust seasoning if needed, and it's ready to serve.
Nutrition
Calories:
415
kcal
|
Carbohydrates:
53
g
|
Protein:
26
g
|
Fat:
11
g
|
Saturated Fat:
4
g
|
Polyunsaturated Fat:
1
g
|
Monounsaturated Fat:
4
g
|
Trans Fat:
1
g
|
Cholesterol:
121
mg
|
Sodium:
128
mg
|
Potassium:
1115
mg
|
Fiber:
7
g
|
Sugar:
7
g
|
Vitamin A:
2437
IU
|
Vitamin C:
56
mg
|
Calcium:
65
mg
|
Iron:
6
mg