I invite you to prepare a delicious meatball stew, as rich and delicious as you imagined.
In Colombia, we have very typical and traditional dishes that cannot be missing in each house. One of those standard recipes is a stew, a typical dish that is consumed daily in different parts of the country. It is common to find chicken, fish, beef, or pork stew, but this time we are going to prepare meatball stew.
If there is something that I have apparent is the combination of the flavors that I like. I know that there is nothing better than combining tasty meatballs with an excellent homemade hogao, transporting us to those flavors of home and remembering mom's The best way.
What ingredients cannot be missing in the meatball stew?
If we want to lean towards the traditional and the homemade, in a meatball stew, the hogao and the sliced ​​potatoes cannot be missing. However, my mother always usually adds cassava pieces and sometimes even slices of green plantain, always accompanied by a serving of white rice, salad, and even avocado.
This dish is a good option if you want to change the menu a bit, it is also a very cheap recipe; With easy-to-get ingredients and if we use a pressure cooker, cooking time will be shorter, so cooking time will reduce.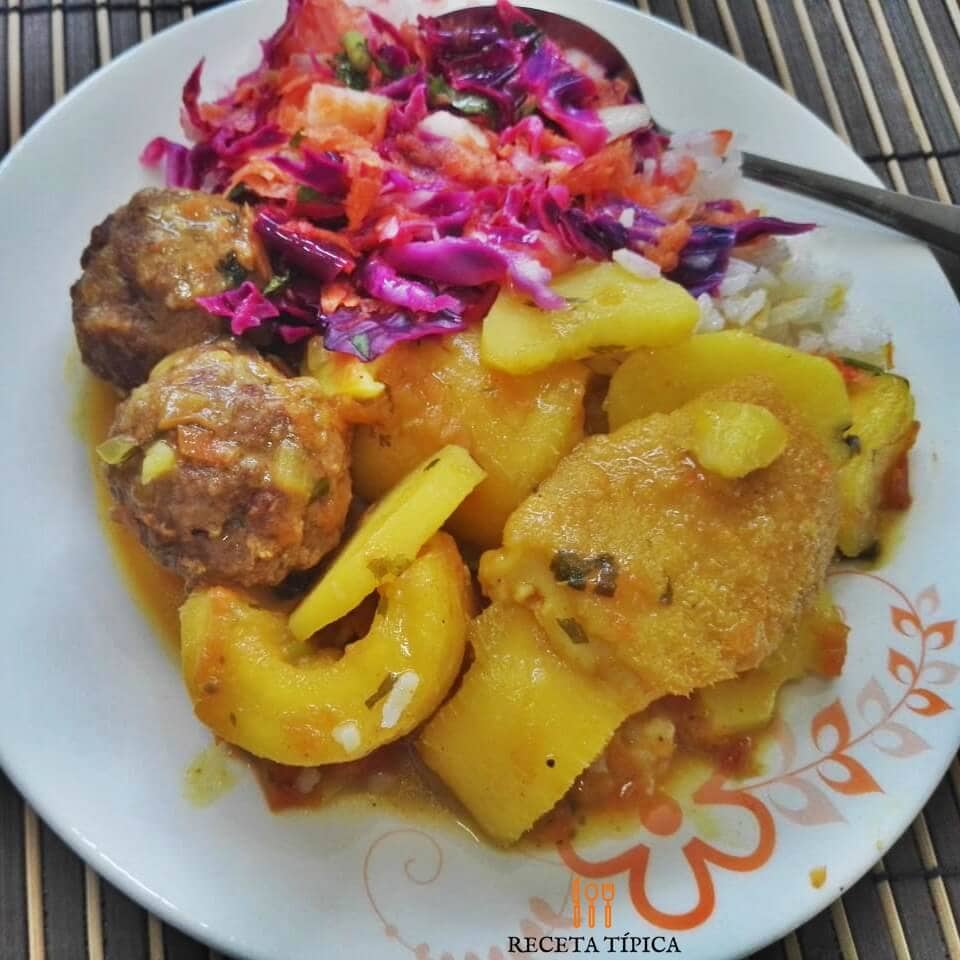 If you are looking for a simple and delicious menu, the meatball stew is the right recipe; I assure you that you will enjoy this dish quite a lot. Do not think more and come to cook with us.
Remember to accompany this delicious meatball stew with a good portion of white rice and cabbage salad.
Receta original en
Español
📖 Recipe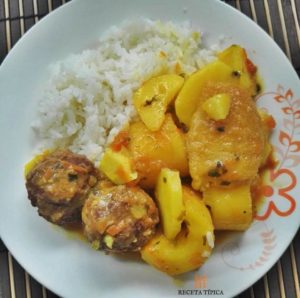 Ingredients
1

pound

ground beef

2

tablespoons

garlic powder

2

tablespoons

onion powder

Salt to taste.

½

cup

white cornmeal or wheat flour.

4

cups

water.

½

teaspoon

saffron

2

potatoes cut into pieces.

4

pieces

of cassava.

Fresh coriander to taste.

1

cup

onion and tomato

Salt to taste.
Notas
Remember that you can reduce the cooking time by cooking everything in the express pot for about 10 to 15 minutes after it starts chopping.
Instructions
In a bowl or bowl, mix the ground meat, onion and garlic powder, flour, and knead with your hands until everything is well integrated.

Divide the mixture and make the meatballs, about 10 or 12, and reserve.

In a large pot place the beef broth, meatballs, the cup of tomato and chopped onion, salt and saffron. Cook over medium-low heat for about 30 to 40 minutes.

Add the potatoes and cassava, and cook for another 20 to 30 minutes until they are tender.

If necessary, add more water, rectify flavor, add the coriander, and lower the heat.

Serve immediately.
Nutrition
Calories:
391
kcal
|
Carbohydrates:
34
g
|
Protein:
20
g
|
Fat:
19
g
|
Saturated Fat:
7
g
|
Polyunsaturated Fat:
1
g
|
Monounsaturated Fat:
8
g
|
Trans Fat:
1
g
|
Cholesterol:
64
mg
|
Sodium:
1012
mg
|
Potassium:
770
mg
|
Fiber:
5
g
|
Sugar:
3
g
|
Vitamin A:
4
IU
|
Vitamin C:
20
mg
|
Calcium:
55
mg
|
Iron:
3
mg