This Grilled Chicken Breast recipe is very easy to prepare, it will only take you a few minutes to have it on your plate, ready to eat. If you're on a diet, this dish is perfect for you. So, let's get cooking!
Grilled chicken breast is an ideal choice for those who want to enjoy a nutritious and tasty meal in no time. This recipe uses simple and accessible ingredients, such as chicken breast, oregano, garlic powder, pepper, and lemon, to enhance the chicken's flavor and provide an unforgettable culinary experience.
Whether you want to prepare a quick dinner after a long day at work or impress your guests with your culinary skills, the grilled chicken breast won't disappoint. The combination of spices and the cooking method ensures a juicy, tender chicken full of flavor.
You can make this grilled chicken breast without oil, just heat up your non-stick skillet well and add the chicken. Grilled chicken breast is one of my favorite meats; every time I go out to eat at a restaurant, I tend to order grilled chicken breast as my main dish.
I hope you try out this delicious recipe at home and have fun enjoying this healthy dish.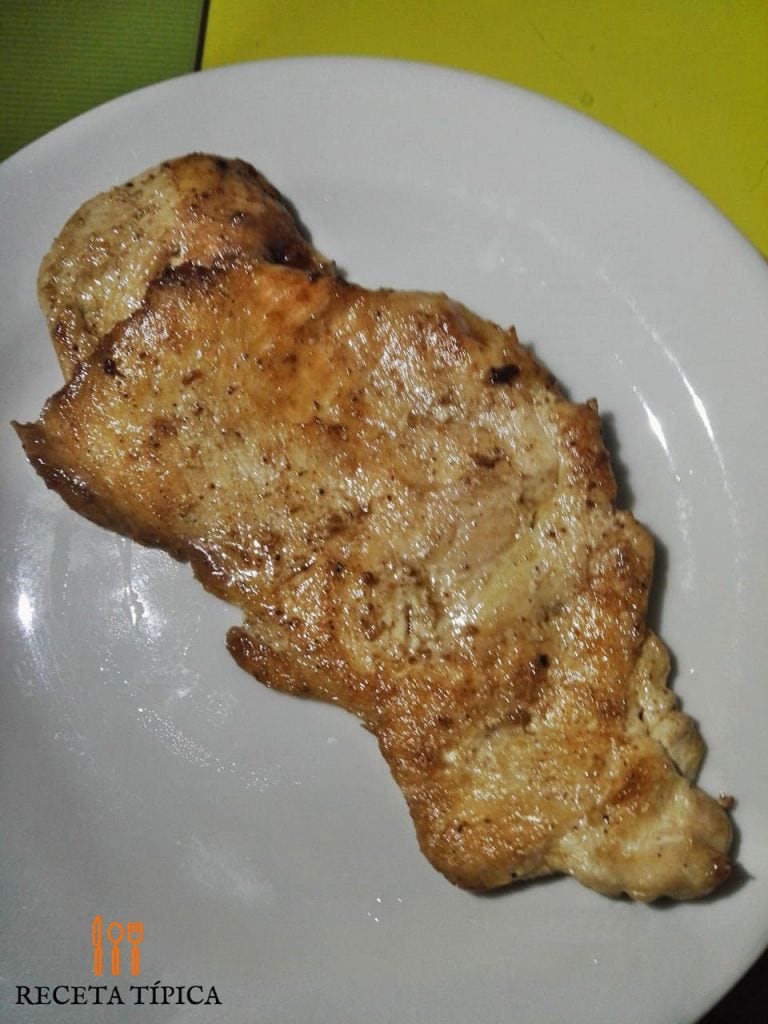 What's the best way to marinate the chicken breast?
To marinate the chicken breast, mix in a bowl the juice of one lemon with oregano powder, garlic powder, ground pepper, and salt (if using). Then, coat the chicken fillet with the spice mixture on both sides using a cooking brush or a spoon. This spice mix will enhance the grilled chicken breast's flavor.
How long should it be cooked?
The cooking time for the grilled chicken breast will depend on the thickness of the fillet. Generally, cooking the breast for 7 minutes on each side on a medium heat non-stick skillet should yield a juicy and tender chicken.
Tips and Tricks
Make sure the skillet is hot before adding the chicken to get a golden and crispy surface.
If you wish, you can use vegetable oil to cook the chicken, but it's not necessary if using a high-quality non-stick skillet.
Avoid pressing the chicken while it's cooking; this can cause it to lose juices and become dry.
Common Mistakes
Not cooking the chicken at the right temperature: Cooking the chicken on too high heat might burn it on the outside while leaving it raw inside. Cooking it on too low heat might leave it dry and flavorless.
Not letting the chicken rest before serving: Letting the chicken rest for a few minutes before cutting will allow the juices to redistribute, resulting in a juicier chicken.
Recommended Recipes
Garlic Chicken: An easy and delicious recipe that also uses garlic powder and lemon as the main ingredients for marinating the chicken before cooking.
Chicken a la Criolla: This recipe also uses chicken breasts and shares ingredients like garlic and pepper, but it's cooked in a tomato, onion, and bell pepper sauce for a different and delightful taste.
Chicken and Avocado Salad: Features cooked and shredded chicken breasts mixed with avocado, lemon, and other spices for a fresh and nutritious salad.
We recommend you also try: grilled steak or vegetable and chicken salad.
📖 Recipe
Ingredients
1

chicken breast fillet

A pinch of oregano powder

½

teaspoon

of garlic powder

½

teaspoon

of ground pepper

Juice of one lemon

2

teaspoons

of vegetable oil

(Optional)

A pinch of salt

(Optional)
Notas
Cooking time will depend on the thickness of your chicken fillet.
With this spice mix, you can marinate a couple more chicken fillets.
Instructions
In a bowl, combine the lemon juice with oregano, garlic, pepper, and salt (if using).

With the help of a cooking brush or a spoon, coat the fillet with the spice mixture on both sides.

Heat a non-stick skillet over medium heat, add a teaspoon of vegetable oil (if using), then add your marinated chicken fillet.

After 7 minutes, flip the chicken, adding the other teaspoon of vegetable oil.

Serve and enjoy with a cabbage salad.
Nutrition
Calories:
357
kcal
|
Carbohydrates:
2
g
|
Protein:
50
g
|
Fat:
15
g
|
Saturated Fat:
3
g
|
Polyunsaturated Fat:
6
g
|
Monounsaturated Fat:
4
g
|
Trans Fat:
1
g
|
Cholesterol:
151
mg
|
Sodium:
314
mg
|
Potassium:
911
mg
|
Fiber:
1
g
|
Sugar:
1
g
|
Vitamin A:
78
IU
|
Vitamin C:
5
mg
|
Calcium:
19
mg
|
Iron:
1
mg