If you are looking for the perfect beverage for the cold weather, you are in the right place. I recommend a delicious homemade Caspiroleta, rich and tasty.
If we talk about traditional drinks, Caspiroleta is my favorite. I love it, I'm fascinated by it, and it brings back so many memories. As you hear it, memories; my grandmother prepared this recipe many years ago, and it was always a pleasure for me to savor this drink.
The last time I had Caspiroleta was on December 3rd of last year, after a very heavy day at work, but my grandmother relieved all my pain and tiredness with this wonderful Caspiroleta. I remember my aunt prepared it for my grandmother on the days when her period was not normal, then this drink arrived with its healing powers to alleviate those ailments, it was a magical recipe.
It brings back many memories, and more so because every time they prepared it, I was there, waiting for them to give me even just a little bit. Looking a bit into this Caspiroleta recipe, I realized that in many places they usually add liquor, whether it's brandy, rum, or any other they like.
On this occasion, we are going to prepare it in the traditional way, as my grandmother makes it, that's why I asked her for the recipe and I want to share it with you, of course, it's your decision if you want to add liquor, in fact, you can do it without any problem.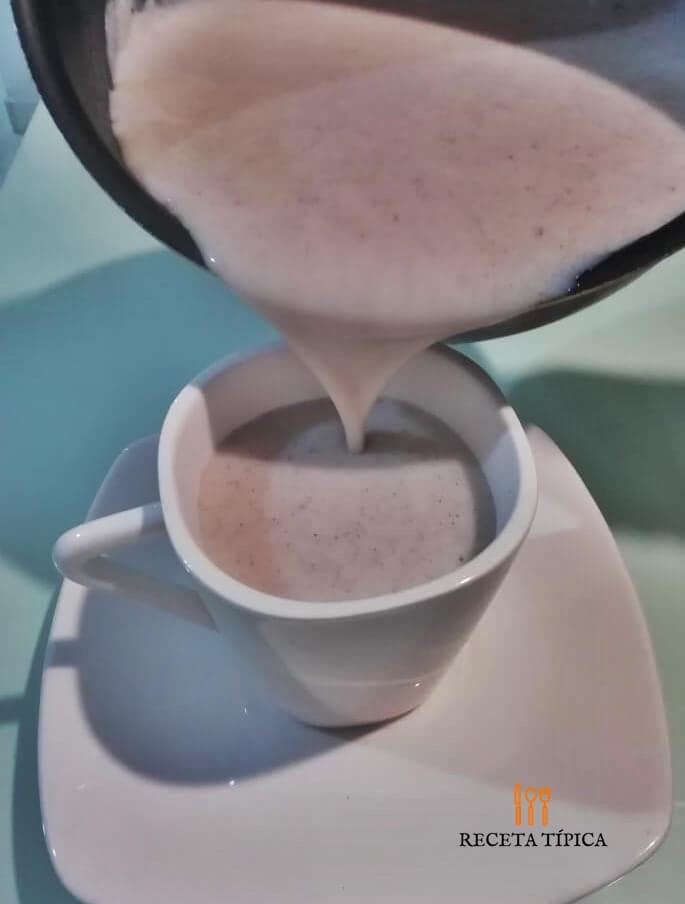 Caspiroleta is a drink that is generally made up of hot milk, eggs, cinnamon, sugar, liquor if desired, and some other ingredients. On some occasions, my grandmother would add bread. I also read that it is a drink used as a dietary supplement for children with low defenses or who are sick.
I hope you are encouraged to prepare this recipe brought especially from the book that I love the most, my grandmother's book, so let's prepare this delicious Caspiroleta.
The Secret of the Perfect Chocolate
How to choose the chocolate tablets for the Caspiroleta?
The choice of chocolate tablets is crucial for the quality of the Caspiroleta. Ideally, opt for good quality chocolate, preferably dark for a richer, deeper flavor. Dark chocolate is less sweet, allowing better control of the sweetness level with the added sugar.
The Essential Touch of Cinnamon
Can I use ground cinnamon instead of cinnamon sticks?
Yes, you can use ground cinnamon, but cinnamon sticks usually provide a deeper, more authentic flavor. If you only have ground cinnamon, use it, but remember that cinnamon sticks provide a more delicate and prolonged flavor.
The Art of Hand Whisking
Is it necessary to whisk the Caspiroleta several times during cooking?
Absolutely. Whisking the mixture several times during cooking not only helps to mix the ingredients well but also contributes to the creamy texture of the Caspiroleta. Don't skip this crucial step, even though it might seem laborious.
Personalize Your Caspiroleta
Can I add other ingredients?
Of course. Although the traditional Caspiroleta recipe is quite simple, you can customize it to your taste. Add vanilla, nutmeg or even a dash of rum for a personal touch.
The Importance of Immediate Service
Why should I serve it immediately after cooking?
Serving it quickly ensures that you enjoy its creamy texture and warm, comforting flavor. If you let it cool down, it may thicken and lose its ideal texture.
Tips and Tricks
When adding the egg, make sure to whisk quickly and consistently to prevent it from cooking and forming lumps.
Don't skimp on the quality of the bread, as this adds body and texture to the Caspiroleta.
Common Mistakes
A common mistake when making Caspiroleta is adding too much sugar at the beginning. It's better to add sugar little by little, tasting as you go to reach the desired level of sweetness.
Recommendations
If you liked the Caspiroleta, I would recommend trying the Champus, a traditional Colombian drink based on corn, pineapple, lulo, and panela. It shares the warmth and creamy texture of Caspiroleta, but with a fruity flavor that you will love.
You can accompany this Caspiroleta with a delicious Pandebono. I recommend preparing caipirinha or carajillo coffee.
📖 Recipe
Ingredients
1

liter

of milk.

3

chocolate tablets.

200

g

of bread.

4

cinnamon sticks.

1

egg.

60

g

of sugar or to taste.

Ground cinnamon for garnish.
Notas
If you don't have a chocolate maker, you can do it in a pot and with the help of a wooden spoon or a manual whisk, stir immediately you pour the ingredients into the pot, let it boil and stir again.
Instructions
In a chocolate maker, add the milk, the chocolate tablets, the egg, the sugar, the cinnamon, and the bread in small pieces, and beat with the help of a mill or grinder.

Let it boil, remove from heat and whisk again vigorously.

Put it back on the heat, let it boil again, and whisk once more with force and it's ready.

Serve immediately and garnish with ground cinnamon.
Nutrition
Calories:
376
kcal
|
Carbohydrates:
55
g
|
Protein:
15
g
|
Fat:
11
g
|
Saturated Fat:
6
g
|
Polyunsaturated Fat:
2
g
|
Monounsaturated Fat:
3
g
|
Trans Fat:
1
g
|
Cholesterol:
66
mg
|
Sodium:
383
mg
|
Potassium:
459
mg
|
Fiber:
4
g
|
Sugar:
31
g
|
Vitamin A:
477
IU
|
Vitamin C:
1
mg
|
Calcium:
398
mg
|
Iron:
2
mg