Can you imagine guava paste accompanied by cheese? Perfect combination, so let's not overthink and prepare this delicious delicacy.
I don't know about you, but I just craved some delicious homemade guava paste, and I want you to crave with me and learn to make this preparation together. If you want, I can also teach you how to make cheese at home, the only extraordinary ingredient will be powdered or paste rennet, but it is very easy to get, so there is no excuse not to indulge in these cravings.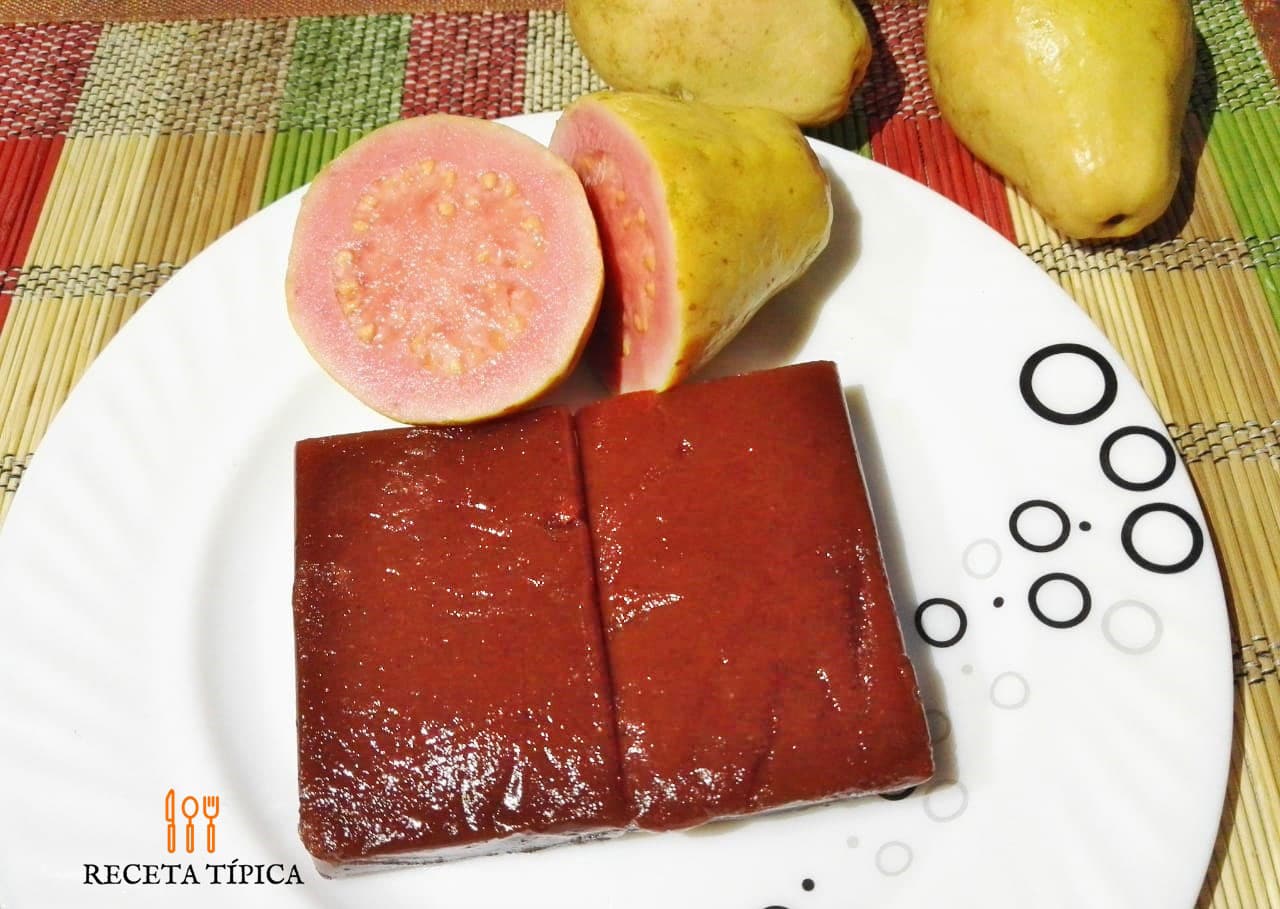 The guava paste is a sweet from Latin America, prepared with guava pulp, panela or refined sugar, which can be wrapped in bijao, corn, or banana leaves. Here in Colombia, it is prepared with guava pulp, however, in countries like Ecuador and Panama, besides this fruit, they usually add banana, pineapple, and plantain, in countries like Costa Rica, they also add other fruits like strawberries, blackberries, pineapple, and grapefruit, and even vegetables, it is eaten in many ways, and one very common way is to accompany the guava paste with a good slice of cheese.
It is very traditional in our country to find guava paste in rectangles, wrapped in dried leaves of bijao or corn, and its packaging, which is a rustic wooden box, is found when its manufacture is handmade.
Guava is a fruit rich in vitamin C and lacks carbohydrates, its composition makes it a natural flu fruit, and its leaves are intestinal astringents, especially in children's diarrhea. The bark and root of the guava tree are used by our ancestors, as it is a good restorative that cures anemia and nervous weaknesses.
Guava paste with cheese is ideal as a snack, whether for parties or gatherings at home. One of the secrets to making delicious guava paste is to choose very ripe guavas, as these have a much more intense flavor, perfect for this dessert. Keep it in mind!
Guava paste with cheese is ideal as a snack, whether for parties or gatherings at home. One of the secrets to making delicious guava paste is to choose very ripe guavas, as these have a much more intense flavor, perfect for this dessert. Keep it in mind!
How to choose the right guavas to make guava paste?
To get the best guava paste, it is important to select ripe guavas. Ripe guavas have a yellow-greenish color, are slightly soft to the touch, and emit a sweet and fragrant aroma. Avoid guavas that are very hard or have dark spots, as they will not have the right flavor for the recipe.
What type of sugar can I use?
The original recipe requires 1 kilogram of white granulated sugar. However, you can replace white sugar with brown sugar, which will add a deeper, caramelized flavor to the guava paste. Keep in mind that the color of the resulting guava paste will be darker if you use brown sugar.
Can I use other fruit juices instead of orange juice?
Orange juice is used in this recipe to add flavor and acidity, which helps balance the sweetness of the guavas and sugar. You can replace orange juice with other citrus juices such as lemon or lime, or even try with pineapple or passion fruit juice to give a tropical touch to the guava paste.
How do I know if the guava paste mixture is ready?
The mixture will be ready when it acquires a smooth and shiny consistency. A key indicator is when the bottom of the pot is visible when stirring the mixture. Cooking may take about 1 hour, but make sure to cook on low heat and stir frequently to prevent the mixture from sticking to the pot.
How to store and preserve guava paste?
After the guava paste has cooled and solidified, cut it into portions and wrap them individually in waxed paper or plastic. Store the snacks in an airtight container in a cool and dry place. They will keep for up to a month.
Tips and Tricks
Cook the guavas over medium-high heat to soften them quickly, but make sure not to overcook them to preserve their flavor and texture.
When blending the guavas, do not process them too much to avoid disintegrating the seeds.
Cook the mixture over low heat and stir constantly to prevent it from burning or sticking to the pot.
Common Mistakes
Not cooking the guavas enough: if the guavas are too hard, the texture of the guava paste will not be smooth.
Cooking the mixture over too high heat: this can cause the mixture to burn or stick to the pot, affecting the flavor and texture of the guava paste.
Similar recipes or sharing ingredients
Guava Arequipe: Like guava paste, this recipe combines ripe guavas with sugar, but also includes condensed milk. Guava Arequipe is a Colombian version of dulce de leche with a fruity touch.
Guava Preserve: If you like the combination of guavas and sugar, you can try guava preserve, which is more like a jam and is prepared by cooking guavas in a mixture of sugar and water.
Guava and Cheese Bars: If you liked guava paste, you can also enjoy these delicious bars that combine the sweetness of guava with the creaminess of cream cheese. Use guava paste or guava preserve as the main ingredient.
These recipes are ideal to enjoy different ways of using guavas in the kitchen and explore the versatility of this delicious tropical fruit. If you have already mastered guava paste, these options will allow you to continue experimenting with new flavors and textures.
📖 Recipe
Ingredients
1

kg

of ripe guavas.

1

kg

of sugar.

1

cup

of orange juice.
Instructions
Fill a pot with water and put it on high heat.

Meanwhile, wash and carefully peel the guavas, then cut them in half.

When the water is boiling, carefully add the guavas and let them cook for 15 minutes or until they are soft.

Once cooked, remove them from the heat and discard the water. Blend the guavas for a few seconds, making sure not to disintegrate the seeds too much.

Pass this blender mixture through a strainer to extract the pulp and leave the seeds.

Place the previous mixture in a pot with the cup of orange and the sugar. Cook over low heat stirring frequently with the help of a wooden spoon to prevent the mixture from sticking to the pot.

Cook until a smooth and shiny paste begins to form. If you can see the bottom of the pot while you're stirring, it means that the mixture is ready.

The cooking may take about 1 hour.

Once ready, turn off the heat and let the mixture cool a bit.

Afterwards, you can place the paste on a tray and stretch it out to level it.

You can coat the tray with sugar before placing the mixture and sprinkle more on top of the mixture.

Let it cool for several hours and when it's compact, cut and enjoy.
Nutrition
Calories:
1165
kcal
|
Carbohydrates:
292
g
|
Protein:
7
g
|
Fat:
3
g
|
Saturated Fat:
1
g
|
Polyunsaturated Fat:
1
g
|
Monounsaturated Fat:
1
g
|
Sodium:
8
mg
|
Potassium:
1172
mg
|
Fiber:
14
g
|
Sugar:
277
g
|
Vitamin A:
1684
IU
|
Vitamin C:
602
mg
|
Calcium:
54
mg
|
Iron:
1
mg