Today, we will prepare a delicious homemade lechona. That's right, you won't need to prepare a whole pig, just some pork skin or cracklings to wrap the rice and other ingredients to perfect your lechona recipe.
Today we'll delve a bit into the history of this recipe. Its origin is Spanish, where it isn't made with stuffing. During the conquest of America, the lechona evolved and adapted to local cuisine. Since arriving in Colombia, it has been widely embraced.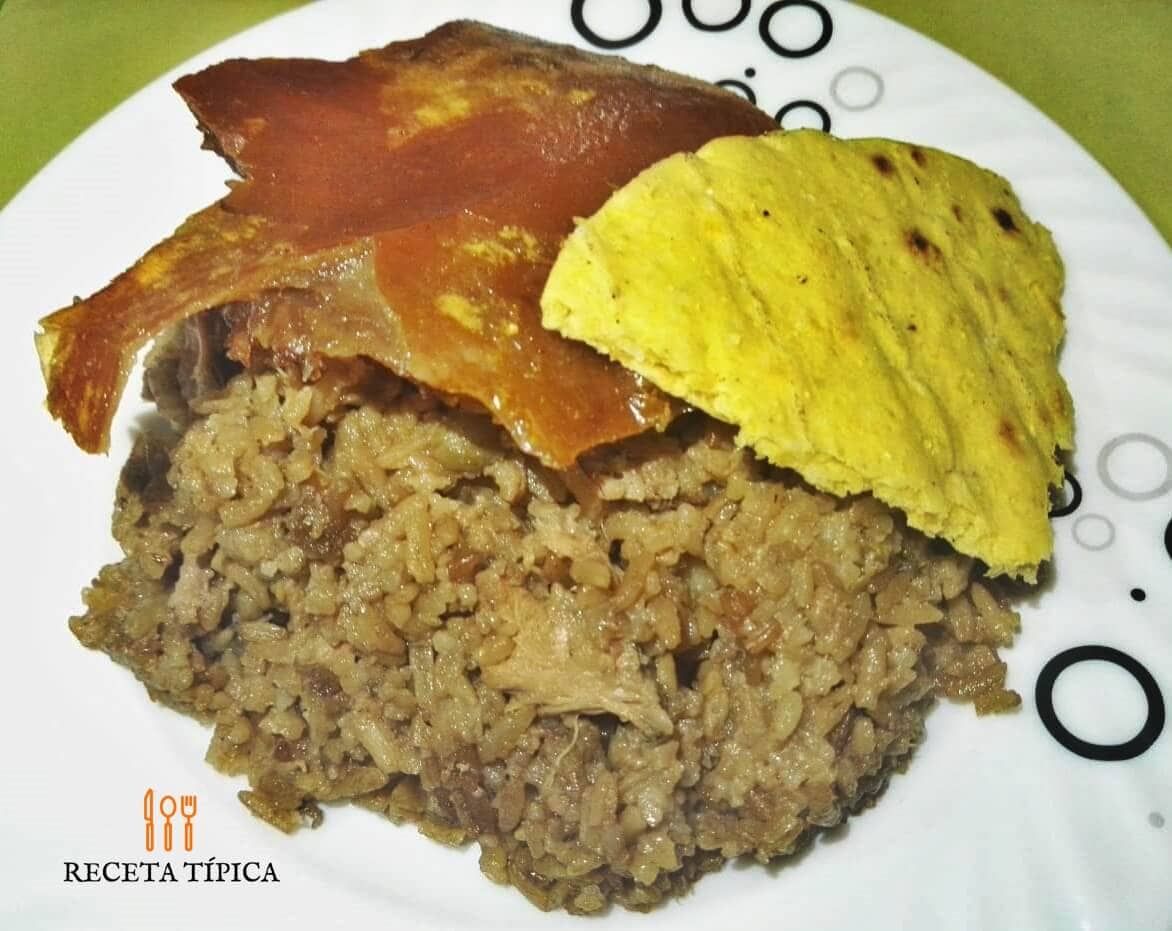 Initially, lechona was consumed by the wealthy during the time of the conquistadors, celebrated on special occasions and Christmas eves as a symbol of companionship. Over time, this dish was adopted by the department of Tolima, becoming part of its typical cuisine and later spreading to different regions of Colombia, experiencing variations in preparation and accompaniments. This main dish consists of pork meat and cooked peas and is typically served with either white or yellow corn arepas.
Nowadays, various places sell lechona by the portion, and many households prepare it, often for special occasions. Its vibrant colors and taste make it a standout dish, and although it requires several hours of preparation, the end result is fabulous. Hence, it's designed for over 40 servings.
It can be part of grand celebrations like a girl's quinceañera, or for Christmas Eve dinner, where it's customary to serve lechona, tamales, custard, fritters, etc. Excessive? Maybe, but let's not forget that we Colombians love to share, especially on Christmas Eve, where we gather as a community to prepare custard, make lechona, and eat as one big family.
Today, I've decided to show you how to make homemade lechona. There's no need to buy an entire pig to enjoy this dish. There are other, more economical options. Let's get cooking.
How can I ensure my homemade lechona has a crispy and golden skin?
For crispy and golden skin, first ensure the pork skin is dry before covering it with the rice mixture. Also, remember to bake the lechona covered with aluminum foil for the initial 45 minutes, then uncover and bake for another 25 minutes. This last step gives the skin a beautiful golden hue and crisp finish.
How can I enhance the flavor of my lechona?
To enhance the flavor of the homemade lechona, make sure to season the rice and pork mixture well. The original recipe suggests using ground cumin, salt, pepper, and sazón with saffron, but adjust these spices to your taste. Marinating the rice and pork mixture in the refrigerator for an hour before cooking allows flavors to meld and intensify.
What other ingredients can I add to the stuffing mixture?
The lechona recipe is quite flexible. You can add ingredients to the stuffing mix according to your preferences. Some suggestions include diced carrots, corn, or even a touch of chili for a hint of spice. Ensure any additional ingredients are cooked or blanched before adding to the stuffing.
How can I determine if it's fully cooked?
The best way is to check the internal temperature with a cooking thermometer. The internal temperature of the lechona should reach at least 145°F (63°C). Also, allow the lechona to rest for at least 15 minutes after removing from the oven; this lets the juices redistribute, yielding juicier and more flavorful meat.
What can I do with the leftovers?
Leftovers can be refrigerated and enjoyed the next day. Reheat in the oven at a low temperature to maintain its crispy texture. You can also shred the meat for tacos, salads, or even mix with eggs for a delightful breakfast.
Tips and Tricks
To ensure crispy skin, rub some salt on the pork skin before baking. This will help dry out any moisture and create a crispy surface.
Baking time may vary depending on the size of the pork piece. Always check the meat's internal temperature.
Common Mistakes
Don't leave the pork skin damp before baking. This can prevent it from becoming crispy.
Not marinating the stuffing mixture long enough. Letting the mix rest in the fridge for an hour allows the flavors to meld and intensify, resulting in a deeper taste.
Similar Recipes
If you enjoy homemade lechona, you might also like other Colombian dishes that share some ingredients. For example, Sancocho de Gallina, which also uses garlic, onion, and potatoes, is a hearty, flavorful soup perfect for cold days. You can also try the Colombian Tamal, which, like lechona, is based on a mix of meat and rice and is wrapped before cooking.
I recommend these recipes not only because they share some ingredients but also as a sample of the rich and diverse Colombian cuisine. They're versatile dishes that you can tailor to your taste preferences and enjoy on any occasion. Bon appétit!
Accompany this delicious homemade lechona recipe with traditional arepas and chicken broth.
📖 Recipe
Ingredients
3

pounds

of pork skin with bacon
For the Stuffing:
1

pound

of pork meat cut into small pieces.

¼

cup

of pork fat.

4

chopped onions.

2

finely chopped garlic cloves.

2

peeled and diced potatoes.

1

teaspoon

of sazón with saffron.

¾

cup

of peas.

1 ¼

cups

of cooked white rice.

1

teaspoon

of ground cumin.

Salt and pepper to taste.
Notas
This recipe is tailored for home cooking and doesn't require a whole pig.
You can add other ingredients like carrots, corn, or chili to the stuffing mixture according to your preference.
Always check the internal temperature of the lechona to ensure it's fully cooked.
Instructions
In a medium saucepan, melt the pork fat. Add onions and garlic. Cook for about 3 minutes.

In a large bowl, mix pork meat, cooked rice, ground cumin, sazón, peas, potatoes, salt, and pepper.

Add the pork fat and onion mixture to the bowl. Cover and place in the refrigerator for 1 hour.

Assembly: Wash the fatty pork skin with cold water and dry. Lay the fatty pork skin on a work surface and cover with the rice mixture. Begin to roll the pork skin to encompass the rice and pork meat mixture completely. Tie with cooking twine to hold the roll together.

Preheat the oven to 325°F.

Cover the lechona with aluminum foil and place in a baking dish. Bake for about 45 minutes.

Uncover and cook for an additional 25 minutes to allow the skin to turn brown and become crispy.

Remove from the oven and transfer to a cutting board. Allow to rest for 15 minutes. Slice and serve.
Nutrition
Calories:
465
kcal
|
Carbohydrates:
24
g
|
Protein:
52
g
|
Fat:
17
g
|
Saturated Fat:
6
g
|
Polyunsaturated Fat:
2
g
|
Monounsaturated Fat:
7
g
|
Trans Fat:
1
g
|
Cholesterol:
147
mg
|
Sodium:
418
mg
|
Potassium:
1182
mg
|
Fiber:
3
g
|
Sugar:
4
g
|
Vitamin A:
109
IU
|
Vitamin C:
20
mg
|
Calcium:
45
mg
|
Iron:
3
mg