Homemade meatballs are a recipe that I love and is quite traditional in Colombian cuisine. One would think that a lot of time required for its elaboration. However, if you have the ingredients at hand, it is only to mix and assemble them right for you to keep your shape.
Meatballs are usually very rich to eat with pasta, with mash, accompanied by a tasty salad, or if it is made with a sauce such as tomato, sweet and sour, or with mustard, they could also be delicious only with rice. At parties, they are also very fancy as snacks since they can be made small and eat with a sauce or dip.
These meatballs are easy to prepare. In less than 20 minutes, you will have enough to serve and enjoy. In its preparation, ground beef commonly used. You can also make pork, chicken, or fish. I like them with the first meat that I mentioned because it gives it a unique flavor, also because I have traditionally prepared them, so this ingredient has a lot of flavors. I also use finely chopped onion, egg, fresh herbs such as coriander and oregano, which complements the aroma of the meat.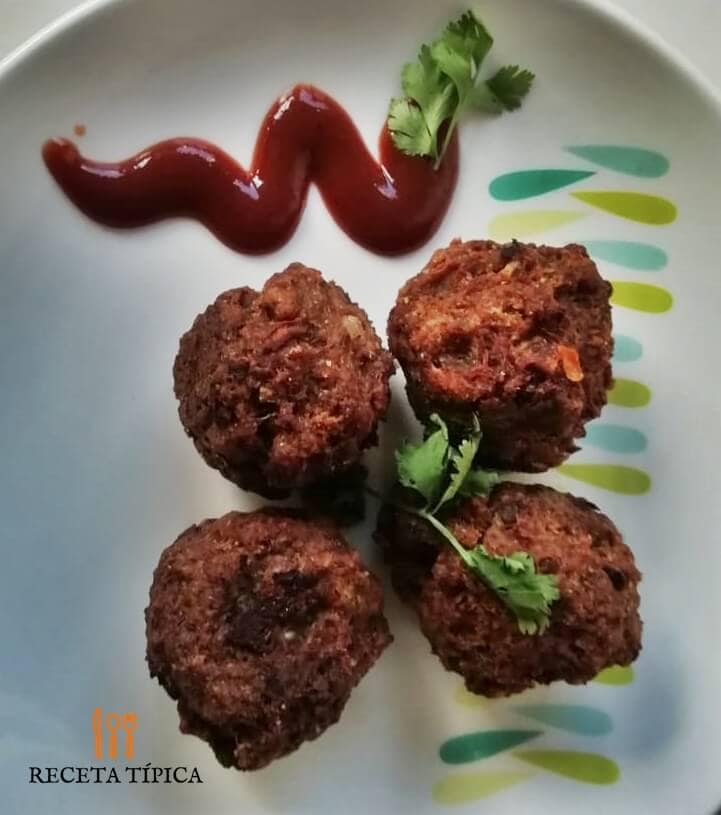 A trick that I have in mind when preparing meatballs is to add a little cornmeal to the mixture so that it gives it more consistency. I also prefer to sauté the onion a little so that it provides more flavor. The meatballs must remain the same size, so if it is not good with the measurements, you can use a spoon to calculate the amount and then knead it to give it the proper shape.
Finally, I want to highlight that in this recipe, I fried the meatballs in a little oil, drained them, and then dipped them in sweet and sour sauce. But they are delicious if you put them to cook in the sauce of your choice or any soup.
You can accompany these meatballs with white rice or mango salad.
Receta original en
Español
Ingredients
1

lb

ground beef.

1

piece

egg

¼

cup

of precooked cornmeal can also use breadcrumbs.

½

piece

onion finely chopped can fry before adding it to the mixture.

1

clove

of garlic macerated.

1

branch

branch of coriander finely chopped.

teaspoon

Salt

(pepper, and spices to taste.)

½

cup

vegetable oil to sauté the meatballs.

¼

piece

red paprika finely chopped.
Instructions
Take the ground beef, onion, paprika, garlic, cornmeal, coriander, egg, salt, pepper, and spices to a large bowl. Mix well with your hands until there is a uniform mixture.

Shape the meatballs and place them on a tray or flat plate.

Bring a saucepan with the oil over medium-high heat. When you see that it is hot, add the meatballs one by one, sauté them on each side until they are golden brown, approximately 7 minutes.

Remove the meatballs and drain on a plate covered with absorbent paper. If you prefer to cook them in sauce, you can boil them for about 20 minutes or in the soup they are only added and the cooking time is left.

Serve by bathing them in sweet and sour sauce and accompanied with white rice.

Ready and so this creamy recipe prepared, I hope you like it and delight. Bon Appetite!
Nutrition
Calories:
592
kcal
|
Carbohydrates:
9
g
|
Protein:
22
g
|
Fat:
52
g
|
Saturated Fat:
13
g
|
Polyunsaturated Fat:
17
g
|
Monounsaturated Fat:
17
g
|
Trans Fat:
2
g
|
Cholesterol:
121
mg
|
Sodium:
674
mg
|
Potassium:
394
mg
|
Fiber:
1
g
|
Sugar:
1
g
|
Vitamin A:
309
IU
|
Vitamin C:
11
mg
|
Calcium:
33
mg
|
Iron:
3
mg