Homemade ground beef meatballs are a recipe I love and are quite traditional in Colombian cuisine. One could really think that their preparation requires a lot of time, however, if you have the ingredients at hand, you just need to mix them and shape them well so that they keep their form.
Ground beef meatballs are usually very tasty to eat with pasta, mashed potatoes, accompanied by a good salad or if made with a sauce like tomato, sweet and sour, or mustard, they could also be delicious just with rice. They are also very popular as appetizers at parties as they can be made small and eaten with a sauce or dip. plate with ground beef meatballs
As they are so easy to prepare, in less than 20 minutes you will have plenty to serve and enjoy. In their preparation, ground beef is commonly used, although they can also be made from pork, chicken, or fish, I particularly like them with the first meat I mentioned, as it gives a unique flavor, also because traditionally I have prepared them this way as this ingredient has a lot of flavor. Likewise, I use finely chopped onion, egg, fresh herbs such as cilantro and oregano which complements the aroma of the meat.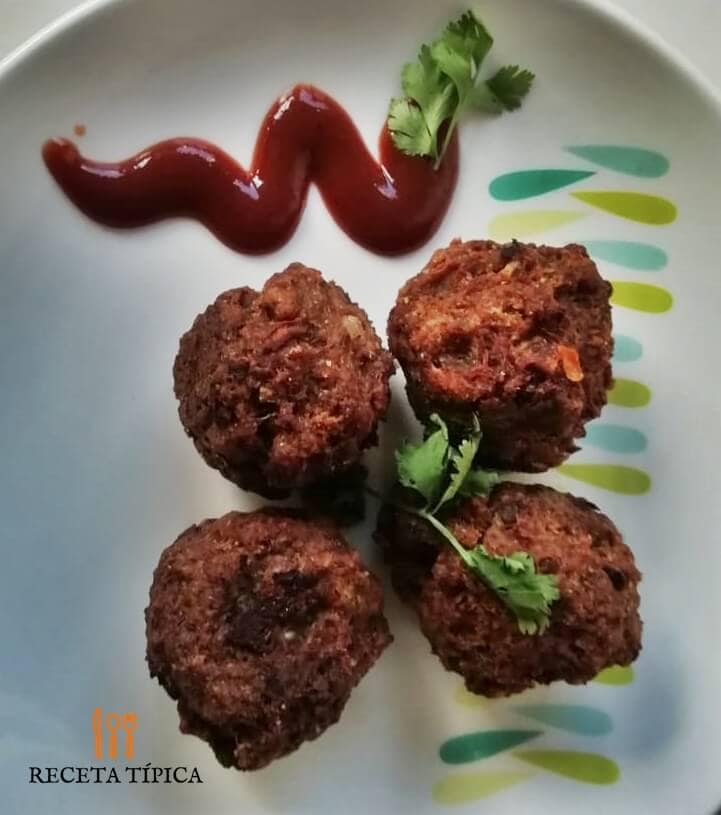 Plate with ground beef meatballs, Colombian recipe A trick I keep in mind in the preparation of meatballs is to add a little pre-cooked cornmeal to the mixture to give it greater consistency, I also prefer to sauté the onion a bit to provide more flavor. It is important that the meatballs are the same size, so if you are not good with measurements, you can use a spoon to calculate the amount and then knead it to give it the right shape.
Finally, I want to highlight that in this recipe I fried the meatballs in a little oil, drained them, and then bathed them in sweet and sour sauce. But they are delicious if you cook them in your preferred sauce or in any kind of soup.
Adding Personality: How can I add a special touch to my ground beef meatballs?
Ground beef meatballs offer a great margin for experimentation. You can add to the meat mixture other ingredients that provide flavor and texture such as chopped parsley, grated cheese, or even a little very finely chopped bacon. If you want a spicier flavor, add a little chili powder or hot peppers.
Golden Tip: How do I make the meatballs juicy and not dry out?
One trick is to add a little bread soaked in milk to the ground beef mixture. This will help the meatballs to be tender and juicy. Also, avoid cooking them on too high heat or for too long as this can dry them out.
Size Choice: What is the ideal size for ground beef meatballs?
The size of the meatballs is largely a matter of personal preference. Some people prefer larger meatballs to serve as a main dish, while others prefer smaller meatballs to use as an appetizer or in soup. Just remember that the size of the meatballs will affect the cooking time.
Mastering the Technique: How are they properly formed?
To form the meatballs, simply take a portion of the meat mixture and form a ball in the palm of your hand. Make sure all the meatballs are the same size so they cook evenly. If the mixture sticks to your hands, you can slightly moisten them with water.
Complementing the Dish: What can I serve this recipe with?
Meatballs are extremely versatile and can be paired with a variety of dishes. White rice is a classic option, but you can also consider pasta, mashed potatoes, or a fresh salad.
Tips and Warnings
A common mistake when making meatballs is not mixing the ingredients enough. It's important that the ingredients are well combined to ensure a uniform texture and flavor in all the meatballs.
If you liked this recipe, I recommend trying other meatball recipes such as meatballs in tomato sauce or fish meatballs. They share many similarities in technique and are delicious alternatives to traditional meatballs.
I hope these tips and recommendations are very helpful for preparing ground beef meatballs. Remember, cooking is an art that allows creativity and experimentation, don't hesitate to add your personal touch to the recipes and enjoy the process.
📖 Recipe
Ingredients
½

pound of ground beef pulp.

1

egg.

¼

cup of pre-cooked cornmeal you can also use breadcrumbs.

½

large onion finely chopped you can sauté it before adding it to the mixture.

1

clove of garlic

(crushed.)

1

sprig of cilantro

(finely chopped.)

Salt

(pepper, and spices to taste.)

½

cup of vegetable oil for frying the meatballs.

¼

of red bell pepper

(finely chopped.)
Instructions
Take the ground beef, onion, bell pepper, garlic, cornmeal, cilantro, egg, salt, pepper, and spices to a large bowl. Mix very well with your hands until you get a uniform mixture.

Shape the meatballs and place them on a tray or flat plate.

Place a saucepan with the oil over medium-high heat. When you verify that it is hot, start adding the meatballs one by one, fry them on each side until they are golden, approximately 7 minutes.

Remove the meatballs and drain on a plate covered with absorbent paper. If you prefer to cook them in sauce, you can leave them to boil for about 20 minutes or in soup just add them and leave them for the cooking time of this.

Serve them bathed in sweet and sour sauce and accompanied by white rice.
Nutrition
Calories:
592
kcal
|
Carbohydrates:
9
g
|
Protein:
22
g
|
Fat:
52
g
|
Saturated Fat:
13
g
|
Polyunsaturated Fat:
17
g
|
Monounsaturated Fat:
17
g
|
Trans Fat:
2
g
|
Cholesterol:
121
mg
|
Sodium:
674
mg
|
Potassium:
394
mg
|
Fiber:
1
g
|
Sugar:
1
g
|
Vitamin A:
309
IU
|
Vitamin C:
11
mg
|
Calcium:
33
mg
|
Iron:
3
mg