I invite you to prepare some creamy and delicious scrambled eggs, taking the recipe the traditional way but adding other ingredients that will make this recipe an unforgettable breakfast.
Scrambled eggs made with tomatoes and onions are a very classic breakfast, which combined with a corn arepa, a bread, or an exquisite toast. They are also a good option not only for the morning but also at night, for dinner. It is a dish very well received by adults and children.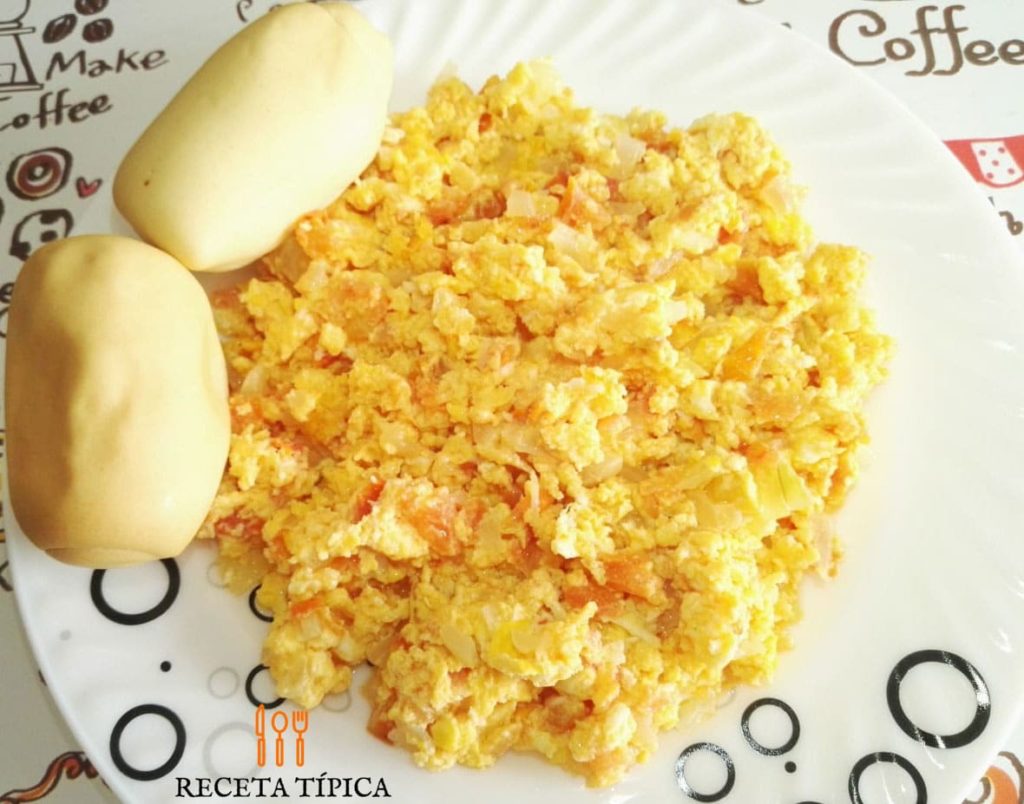 And it is that as it will not be well-received if it is something that we have been eating since we were very young, a breakfast that has been prepared with much love for our mothers, our grandmothers or our aunts, and right now even for ourselves.
Eggs are never missing at home. It is one of those foods that are always present, with different uses. It is a very natural and very versatile ingredient. It is a trendy food in Colombia. Also, egg proteins are those of the highest or biological value. They contain all the essential amino acids that the body needs, and best of all, they are fat-free proteins.
Its nutrients regulate different activities of the body, among them the production of hormone s such as insulin. Eggs also contain all vitamins, except vitamin C, it contains folic acid, it is a vitamin that protects the body's healthy cells, is very important in the formation and functioning of the nervous system. Its consumption is essential in Pregnant women's diet.
Recently, in cooking classes, I had the opportunity to speak with a teacher, who is a food engineer, we came to the subject of the egg, we were talking about this food, and he gave me an essential recommendation. I want to share it, before cooking the egg, it is necessary to wash or clean it, since it is a very susceptible membrane and manipulated by many people, it is for health.
Accompany these scrambled eggs with arepa or bread and chocolate or coffee.
Receta original en
Español
📖 Recipe
Ingredients
6

piece

eggs

1

piece

onion

2

piece

ripe tomatoes

3

slices

of ham optional

1

teaspoon

Salt and pepper to taste.

1

teaspoon

Oil.
Instructions
In a nonstick skillet, heat the oil over medium heat. Add the onion finely chopped and the tomato chopped or grated. Sauté about 5 minutes, stirring occasionally.

Add the diced ham.

Meanwhile, in a bowl, beat the eggs with salt and pepper to taste.

After 5 minutes, add the eggs, mix everything very well and let it cook over medium heat until they get the consistency you like.

Serve and enjoy.

We can accompany them with arepa or bread and hot chocolate.
Nutrition
Calories:
235
kcal
|
Carbohydrates:
7
g
|
Protein:
18
g
|
Fat:
15
g
|
Saturated Fat:
5
g
|
Polyunsaturated Fat:
3
g
|
Monounsaturated Fat:
6
g
|
Trans Fat:
1
g
|
Cholesterol:
345
mg
|
Sodium:
1238
mg
|
Potassium:
450
mg
|
Fiber:
2
g
|
Sugar:
4
g
|
Vitamin A:
1159
IU
|
Vitamin C:
14
mg
|
Calcium:
68
mg
|
Iron:
2
mg