Do you want to learn how to prepare a Cuba Libre cocktail? It's very simple! So, there's no excuse for not trying it. The best part is that you only need a few ingredients. It's time to learn how to prepare the Cuba Libre drink and do it in the best way possible.
This classic drink, born in the tropical heat of the Caribbean, is an explosion of flavor that will transport you to white sandy beaches and crystal-clear waters. With its perfect balance between strong, aromatic rum, the sweetness of Coca-Cola, and the acidity of lemon, it's much more than just a cocktail: it's a meeting of cultures, a testament to the joy of living, and an invitation to enjoy every moment. Whether you're an expert in cocktails or a beginner in the art of mixology, the Cuba Libre Cocktail is an essential classic that you will love to prepare and, of course, taste.
The Cuba Libre is one of those classics that you must know and will get you out of any bind when you need to make a quick and delicious drink. Now, let's learn a little about the history of this cocktail.
Everything started with the introduction of the famous Coca-Cola to Cuba, due to the collaboration of American forces in the Spanish-American war. With the triumph, a group of Cuban and American soldiers who were off duty gathered in a bar in Old Havana to celebrate the victory.
A young messenger, Fausto Rodríguez, later recalled that Captain Russell arrived and ordered Bacardi Rum and Coca-Cola on ice. The captain drank with such pleasure that it piqued the interest of the soldiers around him, so the bartender prepared a round of the captain's drink for them. This round was a total success.
As they raised their arms holding the new cocktail, a soldier proposed a toast to Cuba Libre. It was the battle cry during the war, so in honor of that and having achieved liberation, this is how this Cuban drink started being called.

So, it's time to take a risk and dare to prepare this classic Cuban cocktail with rum and Coca-Cola that has been delighting palates for decades. I remember tasting it on a party night, which also had lemon juice. I tell you, it's an extremely refreshing drink, and I know many of you have prepared it at home, even without knowing its name or origin.
The choice of rum: White or gold?
When it comes to preparing a Cuba Libre Cocktail, the choice of rum can be a matter of personal preference. Both white and gold rum can make a delicious cocktail. White rum tends to have a smoother flavor and blends well with Coca-Cola, resulting in a more refreshing cocktail. Gold rum, on the other hand, has a robust flavor and adds extra depth to the cocktail. Remember, the important thing is that the rum is of good quality.
Tip: If you like a cocktail with a stronger and more complex flavor, opt for gold rum. If you prefer something smoother and more refreshing, white rum will be your best choice.
The perfect balance: How much lemon juice should I add?
Lemon juice is essential to balance the sweetness of Coca-Cola in the Cuba Libre Cocktail. The recipe suggests 4 tablespoons, but this can vary depending on the acidity of the lemon and your personal tastes.
Tip: Start by adding 2 tablespoons of lemon juice to each glass, taste and adjust to your liking.
The common mistake: Am I stirring my Cocktail too much?
A common mistake when preparing this cocktail is stirring it too much. This can cause the ice to melt too quickly, diluting the cocktail and cooling it excessively.
Tip: Stir your cocktail gently and only enough to mix the ingredients well.
A touch of class: How should I decorate my Cuba Libre Cocktail?
A slice of lemon on the rim of the glass is the perfect finishing touch for this cocktail. Not only does it add a touch of color, but it also provides a burst of citrus flavor when taking a sip.
Tip: Before placing the lemon slice on the glass, lightly squeeze the juice over the drink for an extra hint of freshness.
Discovering new flavors: What other similar recipes can I try?
If you love the Cuba Libre Cocktail, I would recommend trying the Mojito, an equally refreshing and tasty drink. Like the Cuba Libre, the Mojito uses rum and lemon as main ingredients, but adds fresh mint leaves and sparkling water for a refreshing twist. The combination of rum, lemon, and mint in the Mojito will give you a flavorful and very refreshing cocktail, perfect for warm afternoons.
Tip: If you want to experiment with different flavors, you can try adding fresh fruits like strawberries or raspberries to your Mojito for a cocktail with a fruity twist.
Making a perfect Cuba Libre cocktail is all about balance and personal preferences. From the choice of rum to the amount of lemon juice, each decision affects the final flavor of your cocktail. Remember, the key is moderation: you don't want the ice to dilute your drink too much, nor do you want the flavor of one ingredient to dominate the others. Experiment and adjust the amounts until you find your perfect blend.
And if you love exploring new flavors, the world of cocktails offers endless possibilities. From a fresh, minty Mojito to a sweet, fruity Daiquiri, there's a cocktail for every palate. So, don't be afraid to experiment and discover your next favorite cocktail. Cheers!
Try making a Cuba Libre on hot days. Cheers!
📖 Recipe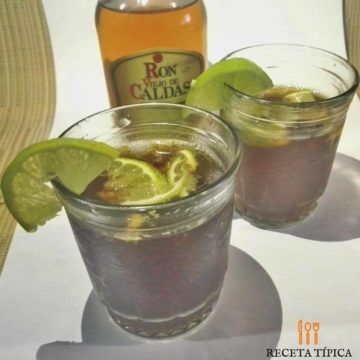 Ingredients
4

ounces

of white or gold rum.

120

ml

of Coca-Cola soda.

8

ice cubes.

4

tablespoons

of lemon juice or to taste.

2

slices

of lemon.
Instructions
Place 4 ice cubes in each glass.

Add 2 ounces of rum in each glass, with two tablespoons of lemon juice and 60 ml of Coca-Cola per glass.

Stir for a few seconds with the help of a spoon.

Decorate the glass with a slice of lemon on the rim and it's ready to enjoy.
Nutrition
Calories:
160
kcal
|
Carbohydrates:
8
g
|
Protein:
1
g
|
Fat:
1
g
|
Saturated Fat:
1
g
|
Polyunsaturated Fat:
1
g
|
Sodium:
6
mg
|
Potassium:
35
mg
|
Fiber:
1
g
|
Sugar:
6
g
|
Vitamin A:
2
IU
|
Vitamin C:
13
mg
|
Calcium:
6
mg
|
Iron:
1
mg