Enjoy the best ground beef, juicy, and creamy lasagna, ideal for those days when hunger does not conform to any meal.
Lasagna is a type of pasta that served in slices, and a meat dish is called a dish that has sliced ​​pasta interspersed with meat (either pork or beef), and that also adds a sauce called béchamel. This lasagna is also usually prepared with vegetables.
When making our meat lasagna, you will end up with béchamel sauce and abundant grated cheese or Parmesan to gratin it in the oven. This dish is of Italian origin, which can be served as an entree or as a first course, is served hot and usually eaten in winter or cold periods.
Like any recipe, its preparation and ingredients vary depending on the region or person who prepares it. Some people usually make this recipe with béchamel sauce and Bolognese sauce, others only with a sauce, you know, it all depends on tastes.
I remember trying this recipe for lasagna with small meat, and I liked it a lot, once I learned to cook and I got into the world of cooking, meat lasagna was one of my goals, and so it was, I looked for the recipe, and I learned to prepare it.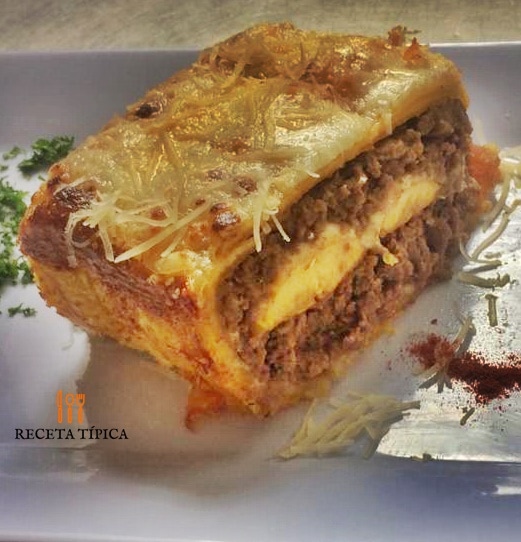 I wouldn't say I like the lasagna of some restaurants. Many times for the eagerness to make it sell or for not devoting the time it needs, it is not as it should be and does not know how it has to know. For this reason, when I feel like eating one, I usually prepare it at home, as I like it and as it should be.
I hope you are encouraged to do it and prepare it with us. Let's cook.
You can accompany this meat lasagna with a delicious blackberry juice with milk or tres leches cake.
Receta original en
Español
Ingredients
900

gm

ground beef or ground pork

5

piece

tomatoes

2

piece

onions

1

piece

small red paprika.

3

tablespoons

tomato paste

2

cloves

of garlic

1

tablespoon

Oregano

(thyme, and bay leaf.)

1

lb

mozzarella cheese

1

box

box of lasagna pasta pre-cooked.

½

cup

parmesan cheese

1

cup

of milk

1

tablespoon

wheat flour

teaspoon

Salt and pepper to taste.

1

tablespoon

of butter
Instructions
First of all, blend an onion, paprika, garlic, and tomato paste.

Sprinkle the ground beef and in a very hot skillet with oil, brown the meat.

Once golden brown adds the previous smoothie, and also add some bay leaves, a pinch of thyme and oregano.

When it reaches the boil, lower it over medium heat and cook for about 15 minutes for the sauce to reduce and take consistency. Reserve.

Apart from making the béchamel sauce, for that, boil the milk in a pot with ½ cup of water (you can replace the water with chicken broth), the other big-headed onion, butter, salt, and pepper. When it is boiling, dissolve the wheat flour in a little milk or cold water and add to the mixture constantly stirring so that lumps do not form, continue stirring until it thickens.

To assemble the lasagna, in a baking dish, sprinkle some Bolognese sauce with meat in the bottom of the bowl. Place a layer of lasagna pasta, then more Bolognese sauce, some bechamel sauce, and cheese slices. Place another layer of pasta and so on until you get three layers.

Finish with a layer of lasagna pasta and cover with enough béchamel sauce. Sprinkle Parmesan cheese and bake at 180 ° C for 30 minutes.

And it's ready to serve hot.
Nutrition
Calories:
737
kcal
|
Carbohydrates:
16
g
|
Protein:
49
g
|
Fat:
53
g
|
Saturated Fat:
25
g
|
Polyunsaturated Fat:
2
g
|
Monounsaturated Fat:
20
g
|
Trans Fat:
2
g
|
Cholesterol:
181
mg
|
Sodium:
1201
mg
|
Potassium:
960
mg
|
Fiber:
3
g
|
Sugar:
9
g
|
Vitamin A:
2312
IU
|
Vitamin C:
44
mg
|
Calcium:
592
mg
|
Iron:
4
mg