There's nothing more delightful than homemade cakes, made by ourselves, captivating the taste buds of our entire family. Today, I want to introduce you to a fluffy pumpkin cake recipe that I'm sure you'll love.
Not only is this cake rich in vitamins and minerals, thanks to our star ingredient, pumpkin, but it's also an excellent choice for those aiming to reduce sugar and fat intake. Get ready to amaze your loved ones and win over even the pickiest eaters with this heavenly cake that will steal your heart from the very first bite.
Pumpkin cake is one of those desserts you seldom encounter in stores but frequently find in homes because it's simple to make and highly nutritious. It's worth the effort to bake one.
Pumpkin Cake. Making a pumpkin cake at home is straightforward, and it's incredibly beneficial for our health, capitalizing on all the nutrients pumpkin offers. Stick around and prepare this delightful pumpkin cake with us; you'll love the recipe.
How is this pumpkin cake different from other cakes?
Compared to other cakes, this one is particularly nutritious and delicious, making it suitable for all ages.
We don't use wheat flour; instead, we use the healthier oat flour, creating a very nutritious recipe.
We add a hint of spice to our recipe, and more importantly, a lot of flavor. So, stick around to see what this recipe has in store for you.
What is pumpkin cake?
This cake is a type of sponge cake made primarily from pumpkin, rarely topped with any icing. It's usually flavored with walnuts, cinnamon, and ginger.
It's considered a delightful dessert, popular in several Latin American countries, both for its taste and its nutritional content, which benefits the entire family.
Picture of a slice of pumpkin cake How to make pumpkin cake at home?
Place all the ingredients in a bowl (oat flour, pumpkin, eggs, honey, baking powder, vanilla extract, cinnamon, ginger). You can blend them with a mixer or even a blender until the mixture becomes liquid.
In an oven-safe cake tin, add a little oil, and using a napkin, spread it evenly throughout the tin. Be careful not to use too much oil. Pour in the mixture you prepared earlier.
Add the chopped walnuts to the mixture, preheat the oven to 180°C (350°F), and bake for about 30 minutes or until a knife comes out clean when inserted. Remove from the oven, unmold, let it cool, and voila!
What can we pair with this recipe?
I personally enjoy it with something hot, as the combination of this cake with warmth creates a delightful sensation on my palate. This recipe can serve as a dessert or even a birthday cake for those pursuing a healthy diet.
Tips and recommendations
I sweeten this recipe with honey, keeping it healthy, but if you wish, you can sweeten it with sugar or stevia.
If you can't find oat flour, you can replace it with wheat flour.
If you live in a low-altitude city, use baking powder; otherwise, you can skip it.
Picture of pumpkin cake Benefits of pumpkin. Pumpkin is a natural supplement that helps combat anemia and malnutrition. Additionally, it's a fantastic blood alkalizer, which enhances circulation throughout the body.
Due to its high nutrient content, it aids rapid recovery after a heart attack.
Given its low-calorie content, it's great for diets as it prevents weight gain.
Recommended recipes
Pumpkin Juice: another way to enjoy this fantastic ingredient, as a drink.
Pumpkin Soup: for lunch, a delectable and nutritious pumpkin soup.
Pumpkin Dessert: if you're looking for a unique dessert, this will tantalize your taste buds.
Ingredients for pumpkin cake?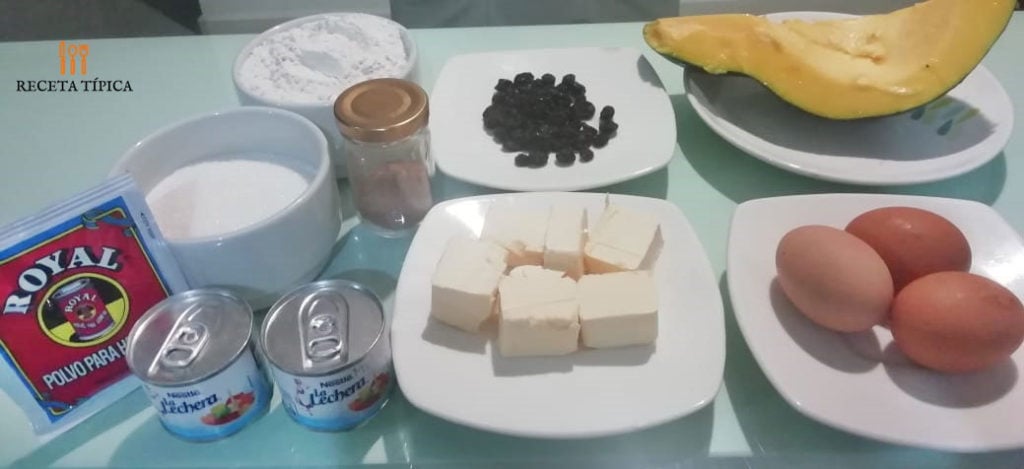 Instructions to prepare pumpkin cake
📖 Recipe
Ingredients
1

and a half cups of cooked pumpkin

(without seeds or skin.)

1

cup

of honey.

5

eggs.

1

teaspoon

of baking powder.

1

teaspoon

of vanilla extract.

2

cups

of oat flour.

1

teaspoon

of ground cinnamon.

1

teaspoon

of powdered or grated ginger.

½

cup

of roughly chopped walnuts.
Instructions
Place all ingredients in a bowl - oat flour, pumpkin, eggs, honey, baking powder, vanilla extract, cinnamon, and ginger. Using a mixer, blend until you achieve a liquid consistency. If you don't have a mixer, you can use a blender.

In the oven-safe tin, add a little oil and evenly spread it throughout the tin using a napkin.

Pour the mixture into the tin and add the roughly chopped walnuts.

Preheat the oven to 180°C (350°F).

Bake the mixture for about 35 minutes or until a knife inserted comes out clean.

Remove from the oven, unmold, and let it cool.
Nutrition
Calories:
221
kcal
|
Carbohydrates:
32
g
|
Protein:
4
g
|
Fat:
8
g
|
Saturated Fat:
2
g
|
Polyunsaturated Fat:
2
g
|
Monounsaturated Fat:
4
g
|
Trans Fat:
1
g
|
Cholesterol:
40
mg
|
Sodium:
194
mg
|
Potassium:
265
mg
|
Fiber:
1
g
|
Sugar:
16
g
|
Vitamin A:
3392
IU
|
Vitamin C:
4
mg
|
Calcium:
122
mg
|
Iron:
1
mg