Enjoy preparing this delicious pumpkin cake. It tastes incredibly delicious. Your whole family will enjoy it, find the recipe with step-by-step instructions with images.
When I was little, at home, they took advantage of the vegetables of which there was an absolute abundance to prepare with these sweets or cakes. One of the most frequently used was the pumpkin; With this, my mother made cakes or ponchos that she gave us in the lunchbox to eat at school, I remember that her texture was quite soft and her taste was incomparable. This cake is prepared at home as an excellent option to eat at family gatherings or celebrations.
The pumpkin, squash, pumpkin, or squash, as it recognized in other countries, is a hard green and hard shell. Its interior has a color that turns orange and has enough seeds that must extract for the preparations of water, fiber, beta-carotene, phosphorus, calcium, potassium, and vitamins. Its sumo contributes to our body receiving enough nutrients.
This vegetable entirely consumed in Colombia. In the preparation of creams, soups, pure, arepa, quesillo, and cakes. The cake is straightforward to prepare you must cook the auyama in a little water and cinnamon. When this soft is crushed to form a pure and then drained to remove the water that it still retains.
Remember that pumpkin is quite easy to get in any market and is usually very economical. Its size is very diverse, and for the cake recipe, it would be ideal for getting a large one, from which we can extract enough grams since the flavor and texture will depend mainly on these.
ingredients to prepare Pumpkin Cake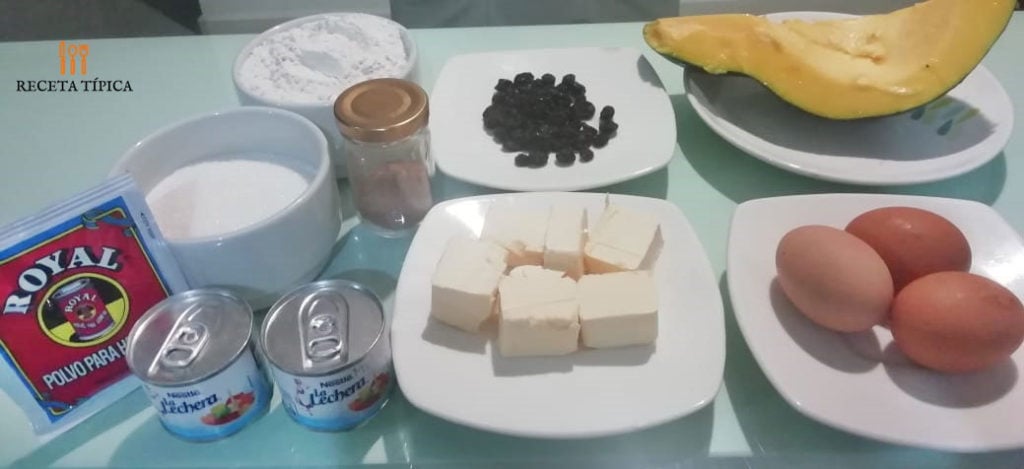 How to make Pumpkin Cake?
I recommend you accompany this delicious pumpkin cake with a cup of coffee or chocolate.
Receta original en
Español
Ingredients
1 ½

cup

flour

(I recommend oatmeal)

100

grams

of margarine

½

cup

brown sugar

½

cup

of condensed milk

500

grams

pumpkin

1

tablespoon

baking powder

1

tablespoon

cinnamon powder optional

½

cup

raisins or almonds chopped

3

piece

eggs

4

tablespoons

vanilla extract

½

cup

of milk
Instructions
Cut the pumpkin into small pieces and cook it in plenty of water with half a tablespoon of cinnamon until it is quite soft. When it cools, strain it and crush it with a fork until a puree obtained. Reserve and preheat the oven to 180 ° C.

Beat the margarine with the sugar until a smooth textured cream forms.

Continue to beat and alternately add the three eggs. The flour (if it is wheat must be previously sifted), milk, condensed milk, vanilla extract, cinnamon, pumpkin, baking powder, and finally raisins or almonds.

Prepare a mold smearing it with butter and flour (so that the cake does not stick) and pour the mixture evenly.

Bake at 200 ° C for 40 or 45 minutes (you can check if this list if when you insert a knife or stick in the cake, it comes out dry and clean).

Let it cool to remove it from the mold, decorate to your liking, and serve to enjoy this delicious recipe.

Now do not stay with the desire to enjoy this delicious cake.
Nutrition
Calories:
221
kcal
|
Carbohydrates:
32
g
|
Protein:
4
g
|
Fat:
8
g
|
Saturated Fat:
2
g
|
Polyunsaturated Fat:
2
g
|
Monounsaturated Fat:
4
g
|
Trans Fat:
1
g
|
Cholesterol:
40
mg
|
Sodium:
194
mg
|
Potassium:
265
mg
|
Fiber:
1
g
|
Sugar:
16
g
|
Vitamin A:
3392
IU
|
Vitamin C:
4
mg
|
Calcium:
122
mg
|
Iron:
1
mg