These delicious stuffed arepas are very easy to prepare, you can use a wide variety of fillings, even the one you want or have on hand, so don't miss this recipe and join me in preparing it.
Stuffed arepas are an irresistible and versatile delicacy that captures the essence of Colombian cuisine. These corn-based delights, filled with succulent ingredients such as shredded meat or chicken and melted cheese, promise a unique and unforgettable culinary experience. Whether for a comforting breakfast, a tasty lunch, or a special dinner, stuffed arepas will satisfy your cravings and win you over with their soft texture and incomparable taste. Don't wait any longer and dive into the world of Colombian cuisine with this easy and delicious recipe that will transport you directly to the heart of Colombia with each bite.
The arepa is one of the most coveted dishes as a main breakfast ingredient or as a side dish in different meals of the day. This is mainly seen in the Andean region of Colombia where it is quite popular to accompany typical dishes such as bandeja paisa, sancocho, or soups.
Plate with stuffed arepa and avocado Similarly, the arepa offers endless opportunities to prepare it, whether by stuffing it with different ingredients such as meats, cheeses, guacamole, vegetables, adding egg on top, hogao, or simply eating it with butter.
The main ingredient of the arepa is corn, however, in our recipe, we will use pre-cooked cornmeal, which is produced by grinding the cereal using various methods, its flavor changes a bit, but it is traditionally used to streamline and optimize the time required for the preparation of the arepas.
Stuffed arepas with ground beef and cheese Cornmeal is also a food rich in magnesium, calcium, and potassium, it has a high fiber content and as it is made through the hydration of the flour with water, it provides great satiety since its consumption in minimal portions can be very filling. It can also be an excellent food since it does not contain gluten.
Although this recipe "the stuffed arepa" is very popular in our neighboring country Venezuela, here in Colombia we have adopted it by turning the typical arepa into a stuffed arepa with delicious ingredients from our land. Highlighting this, it is quite typical when you go out to eat on a weekend and in different parks or food areas you find places that offer stuffed arepas as their main dish. It really is a delight to sit down and savor them, tasting each of the ingredients of its filling. They are delicious!
For the filling of the recipe, I wanted to make it with chorizo, diced meat, and avocado, but in the recipe that I made, you can use the one that you like the most. Now let's cook:
You can prepare typical arepas to use in this stuffed arepas recipe and accompany with Russian salad and guarapo.
How to achieve a perfect texture in arepas?
Achieving a perfect texture in arepas depends largely on the kneading process. Make sure to knead the mixture of pre-cooked cornmeal, butter, salt, and warm water quite a bit until you get a compact and easy-to-mold dough. Letting the dough rest for about 2 minutes will also help the cornmeal to hydrate properly.
How to achieve a well-distributed filling?
To achieve a well-distributed filling, first, make sure that the arepas have an appropriate thickness, approximately 5 cm in diameter and not too thin, to be able to open them easily. Then, with a knife, make an opening at the edge of the arepa and fill it with the mozzarella cheese and the shredded chicken or meat. Make sure the filling reaches all corners of the arepa so that each bite has a balanced amount of ingredients.
What types of cheese can I use?
Mozzarella cheese is a delicious and common option for stuffing arepas, but you can also experiment with other types of cheese, such as fresh cheese, farmer's cheese, or goat cheese. The important thing is that the cheese melts well and harmoniously combines with the other filling ingredients.
What is the best way to cook arepas?
The best way to cook arepas is on a griddle or non-stick skillet over medium heat. Spread a tablespoon of butter on the surface and place the arepas. Cook them for about 4 minutes on each side or until they are golden. This will allow the arepas to have a crispy crust and a soft and cooked interior.
What sauces can I accompany them with?
Stuffed arepas can be accompanied by a variety of sauces, such as hogao (a Colombian sofrito of onion and tomato) or guacamole. These sauces will add extra flavor and texture to the arepas, making them even more delicious.
Tips and advice
To prevent arepas from sticking to the mold or your hands when forming them, you can use a plastic bag to handle the dough.
You can substitute pre-cooked cornmeal for arepa dough by following the instructions on the blog "how to make typical arepas".
Common mistakes
Not kneading enough: This can cause the arepas to crumble or not have a suitable texture.
Making arepas too thin: If the arepas are too thin, it will be difficult to open and fill them properly without breaking.
Recommended similar recipes
Sweetcorn Arepas: These arepas are made with tender corn and cheese, which gives them a sweet and delicious flavor. They are ideal if you want to try a variation of the traditional arepas.
Colombian Empanadas: Empanadas are another popular Colombian dish that shares ingredients such as cornmeal and meat or chicken fillings. They are ideal as an appetizer or starter and can be enjoyed with sauces like hogao or guacamole.
Patacones: Patacones are a delicious alternative made from green plantain. They are fried twice to get a crispy texture on the outside and soft on the inside. You can serve them with shredded meat, chicken, or cheese, just like stuffed arepas.
📖 Recipe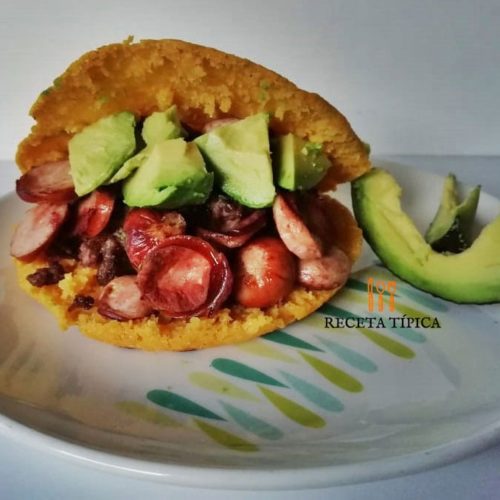 Ingredients
2

cups of pre-cooked cornmeal

2

cups of warm water

3

tablespoons of butter

¼

teaspoon of salt

Shredded meat or chicken

Mozzarella cheese
Notas
If you want to substitute cornmeal for arepa dough, I invite you to consider the preparation found in this blog "how to make typical arepas"
Instructions
In a medium bowl, add the cornmeal, two tablespoons of butter, salt to taste, warm water, stir and let it rest for about 2 minutes.

Knead well until it is compact and easy to shape (this will determine the texture of the arepa).

Form the arepas by hand or with a mold, you can use a plastic bag, place a ball of dough in the middle and flatten it with a flat container. The arepas should be approximately 5 inches in diameter and should not be too thin, to easily open them for filling.

Spread a tablespoon of butter on a griddle or non-stick pan over medium heat. Place the arepas and let them cook for about 4 minutes on each side or until they are golden.

Open the arepas with a knife and fill with mozzarella cheese, chicken or shredded beef, and accompany with hogao or guacamole.
Nutrition
Calories:
284
kcal
|
Carbohydrates:
39
g
|
Protein:
13
g
|
Fat:
8
g
|
Saturated Fat:
3
g
|
Polyunsaturated Fat:
2
g
|
Monounsaturated Fat:
3
g
|
Cholesterol:
24
mg
|
Sodium:
237
mg
|
Potassium:
222
mg
|
Fiber:
5
g
|
Sugar:
1
g
|
Vitamin A:
143
IU
|
Calcium:
110
mg
|
Iron:
2
mg