I present to you a proposal slightly different for our palate: a delicious green plantain soup. You will be amazed by the result, so let's get cooking.
Within the rich Colombian culinary tapestry, there's a dish that stands out for its exquisite flavor and its ability to transport you directly to the heart of its lands: Green Plantain Soup. It's not just a soup; it's an amalgamation of traditions and flavors that encapsulate the vibrant spirit of Colombia. Made primarily with green plantains, this dish combines simple ingredients to create a flavor that is both robust and delicately balanced. Imagine a smooth, silky cream that caresses your palate, leaving behind an unparalleled culinary experience. If you're looking for a meal that nourishes not only your body but also your soul, you're in the right place. Allow me to guide you through the magic that is Green Plantain Soup.
We are in a time where we introduce new and different recipes, and today it's the turn for green plantain soup, a truly delicious and very pleasant proposal.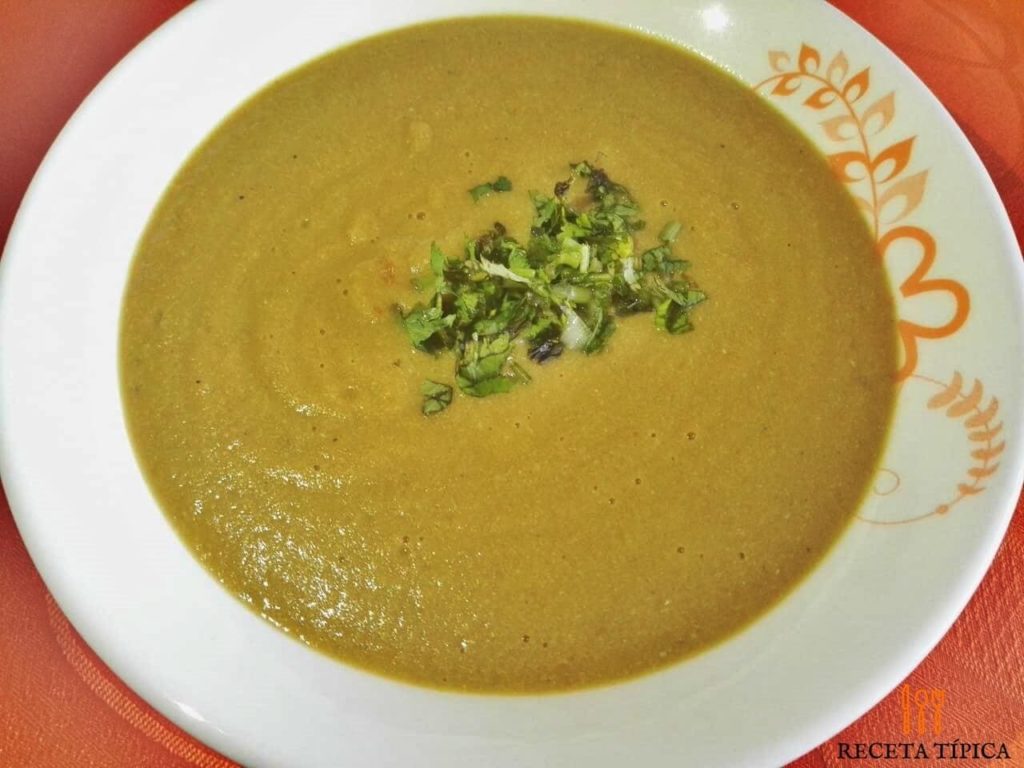 If you have some green plantains at home and still don't know what to prepare with them, well then you know, an exquisite green plantain soup wouldn't be a bad choice, and surely you'll want to prepare it more often.
This is a recipe where the nutrients of the plantain are fully harnessed, offering many benefits and being highly nutritious for our body. Hence, this green plantain soup aids against depression, as plantains contain tryptophan, a type of protein that the body converts into serotonin. It also helps combat anemia, improve our eyesight, and the appearance of our skin.
This doesn't mean these are the only benefits of plantains; in fact, there are many more to be found, and when you know them all, you won't believe everything this ingredient can do for our body.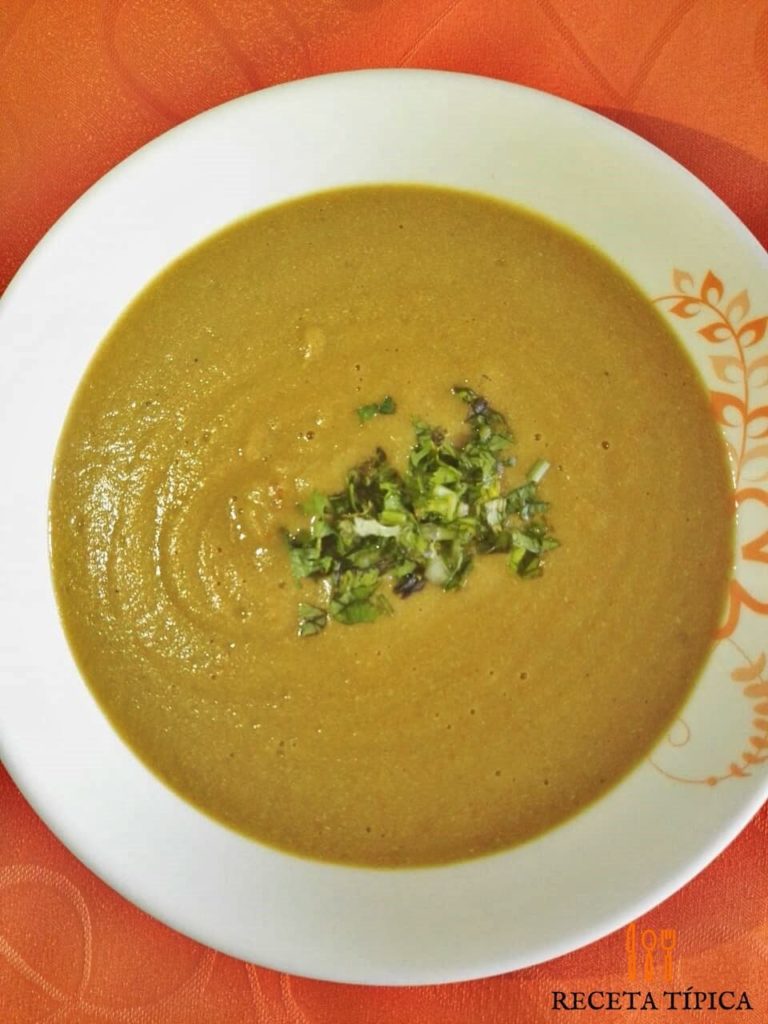 I invite you to prepare this delicious recipe, which will be just right to be savored with much enthusiasm. It's a perfect balance of flavors and a very different sensation for our taste buds.
So I hope you're encouraged to prepare this green plantain soup with us, a very balanced recipe full of benefits. Let's cook.
Why is it necessary to blend the onion and garlic with the broth at the beginning?
Blending the onion and garlic with the broth initially helps create a smooth and even base for the soup. This allows the flavors to blend well and gives a creamier texture to the dish.
Can I use ripe plantains instead of green ones?
It's not recommended. Green plantains have a milder and less sweet flavor than ripe ones, which is essential for the distinct taste of this soup. Using ripe plantains would change the flavor profile, resulting in a sweeter soup.
What is the ideal consistency for green plantain soup?
The ideal consistency is similar to a thick cream. If you find it too thick, you can add more broth or water. If you prefer it thicker, simply simmer for longer to reduce the liquid.
Why should the cilantro be added at the end?
Cilantro is a delicate herb that loses its flavor and aroma when cooked for extended periods. Adding it at the end ensures it retains its freshness and distinctive taste in the soup.
Is it possible to make this soup using broth from another protein source?
Yes, you can use other broths like beef or fish. However, chicken or vegetable broth is most recommended because it complements the taste of green plantain without overpowering the dish.
Cooking Tips
Plantain Selection: Ensure the plantains are truly green. This guarantees they won't have a sweet taste and will provide the desired texture to the soup.
Cumin: This spice is crucial in many Colombian recipes. It adds an earthy and distinctive flavor. Be careful not to use too much to prevent it from overshadowing the dish's taste.
Consistency: Remember you can always adjust the soup's consistency. If you find it too thick after blending, you can add more broth or water until you achieve the desired texture.
Common Mistakes
Plantains not fully cooked: It's essential to cook the plantains until they're very soft. Otherwise, the soup's texture will be lumpy and not entirely smooth.
Not blending thoroughly: Once the plantains are cooked, ensure you blend the mixture entirely to achieve a smooth, creamy consistency.
Using too much cumin: This spice is potent. If you overuse it, it can overshadow the other flavors.
Gastronomic Recommendations
Arepas: Arepas are a classic Colombian side. They can complement the soup well by adding a crunchy element.
Patacones or Tostones: These fried green plantain discs bring a similar flavor but a different texture, making them an excellent side.
Sobrebarriga in the oven or stewed: This meat is tender and juicy and would complement the creamy texture of the soup well.
Ajiaco: If you enjoyed the green plantain soup, I'd encourage you to try ajiaco, a traditional Colombian chicken soup with various types of potatoes.
With these recommendations and tips, I hope you enjoy this delightful Colombian recipe and further explore the country's rich gastronomy. Bon appétit!
Pair this green plantain soup with a good portion of carrot rice. We recommend trying mondongo soup or mute soup.
📖 Recipe
Ingredients
3

green plantains.

8

cups

of chicken broth

(vegetable broth, or water.)

1

egg onion.

2

garlic cloves.

1

carrot.

½

teaspoon

of cumin.

2

green onions.

Salt and pepper to taste.

Cilantro.
Notas
Remember to adjust the seasoning as per your taste and enjoy the meal with your loved ones.
Instructions
In a blender, combine the onion, garlic, and a cup of broth or water and blend.

Pour the mixture into a medium pot and bring to a boil. Reduce the heat to medium and add the peeled and chopped plantains, chopped green onions, chopped carrot in small pieces, cumin, the rest of the broth, and season with salt and pepper.

Cover the pot and cook over medium-low heat for 30 minutes or until the plantains are soft.

Once done, transfer the broth to the blender and blend until it forms a puree.

Return the soup to the pot, stir and cook for another 10 minutes.

If you find it too thick, you can add more broth or water.

Serve the green plantain soup and garnish with cilantro.
Nutrition
Calories:
210
kcal
|
Carbohydrates:
54
g
|
Protein:
2
g
|
Fat:
1
g
|
Saturated Fat:
1
g
|
Polyunsaturated Fat:
1
g
|
Monounsaturated Fat:
1
g
|
Sodium:
2480
mg
|
Potassium:
786
mg
|
Fiber:
4
g
|
Sugar:
26
g
|
Vitamin A:
5127
IU
|
Vitamin C:
29
mg
|
Calcium:
25
mg
|
Iron:
1
mg