I invite you to prepare this jam or guava jelly. When it comes to sweet farmers, I think we should try to make them with all the varieties of fruits that exist. I love them all, especially those that highlight their sweet taste when they are very ripe such as mango, banana, papaya, or as in the case of today's guava recipe.
In Colombia, guava is a reasonably common fruit. It is grown in different regions. It is widely marketed and consumed in various preparations. Mainly in traditional sweets such as guava candy, sandwich (see recipe in this blog, guava sandwich), in desserts, juices, ice cream, milkshakes, or to make jellies.
The guava tree produces this fairly common fruit. You can easily find it on the banks of the road when you travel through the different destinations in Colombia. You also find them in abundance in the countryside. In green areas of some cities, it is quite common to see them.
Regarding this tree, I also want to highlight that outside of using the fruit as edible, its leaves can also use to make healing and relaxing infusions, and the stem and root can apply for various healing remedies.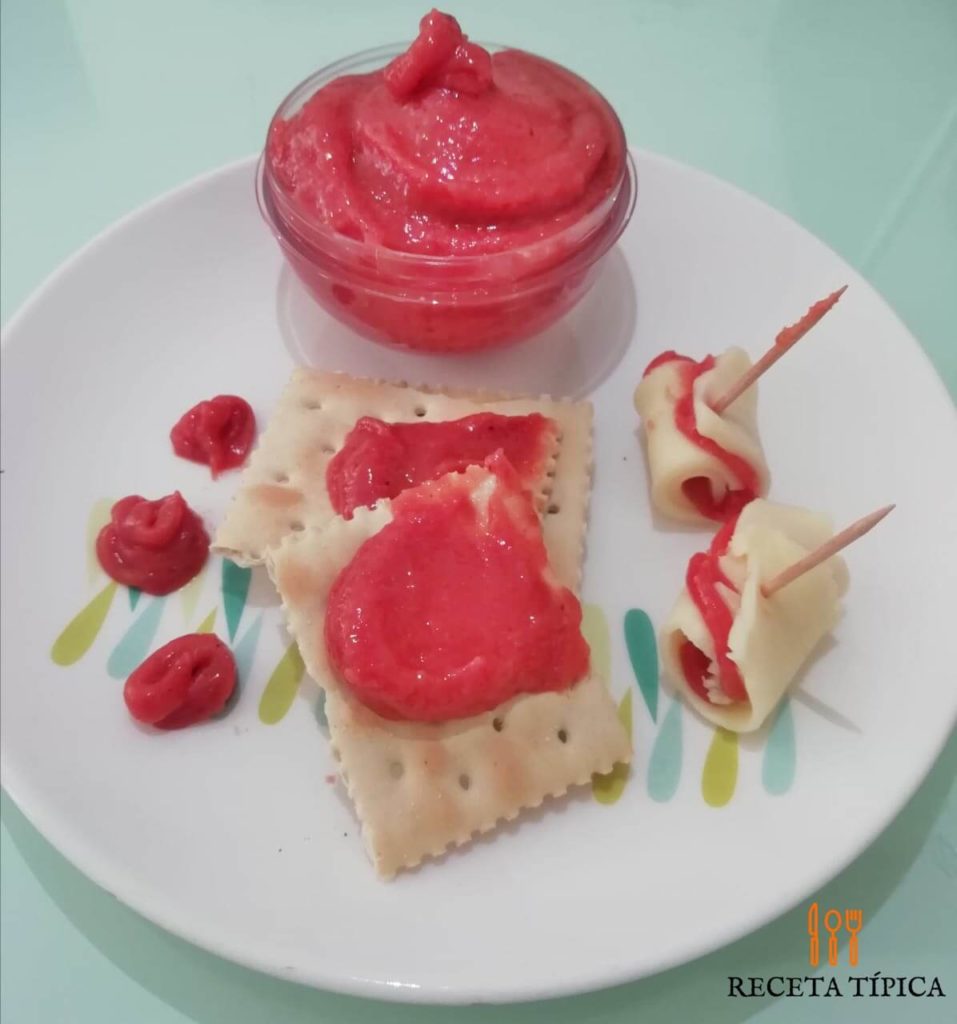 In another sense in the peasant houses, this guava candy cannot be missing at the time of the ounces or in the snack, since the harvest of this fruit is very frequent, it is used enough to avoid wasting it. I remember that my grandmother, as I lived in an Inca, elaborated this recipe a lot, and all the grandchildren enjoyed eating it with soda cookies at any time.
In the preparation of the guava jelly, it is necessary to use enough guavas, of the right size, color, and that are very ripe. It is also essential to use panela to give it a pleasant texture and cinnamon and cloves to flavor.
It is advisable not to let all the water evaporate and prevent the mixture from being taffy, because if so, it will end up converted into a guava paste.
How to make guava jelly?
My recommendation when serving it is to be tasted with crackers, with curd cheese or toast, really after trying one you want to repeat again and again.
Recommended recipes: Guava paste or strawberries and cream.
Receta original en
Español
Ingredients
6

guavas medium-sized

½

cup

of sugar can use panela

2

cups

of water

1

cinnamon stick

1

teaspoon

vanilla extract
Notas
If the candy is very watery, you should take it to the fire and continue stirring until the water evaporates.
Or if on the contrary, it is very thick, bring it back to the fire and add two tablespoons of water and stir.
Instructions
Wash the guavas very well, cut the ends, and then put them in small cubes.

Place the cups of water in a medium saucepan and add the cut guavas, cinnamon, and vanilla extract. Boil for about 20 minutes and then reduce heat to let cool.

Eliminate the water in which it boiled. Just leave a splash and liquefy the guavas.

Strain the previous smoothie to remove the seeds.

Bring the pulp of the guava and sugar to the pot and bring it to a simmer while stirring because it can burn. When it begins to thicken, lower the heat and let it cool.

You can store the guava jelly in a glass container to keep for longer. Refrigerate or serve with cheese or salt crackers.