This refreshing watermelon juice is ideal for those hot days. The fastest way to rehydrate, prepare it in 5 minutes.
I have a fondness for watermelon juice. It's special because it has detoxifying properties that effortlessly help cleanse our body of excess fluids, combat inflammation, and provide us with plenty of vitamins.
In some places, watermelon is also known as "patilla."
It's no secret that watermelon is a fruit with a high water content and is a refreshing option amongst fruits.
What's unique about watermelon juice?
We are the ones who give uniqueness to the food or drinks we prepare. In this case, a touch of mint pairs very well with watermelon juice, and I'm sure you will love this combination.
Not only that, as I mentioned before, watermelon is a fruit rich in water and essential nutrients for our body. It's also low in calorie content, making watermelon juice a perfect beverage to complement any diet.
Glass of "Patilla" Juice
If you want to mix things up in your watermelon juice, you can add ingredients like cucumber, celery, or lemon. All these complement the fruit well and are also known to act as stimulants that benefit the gastrointestinal system.
Watermelon is not just apt for adults but also for our little ones. Given their dependency on nutritious meals, what better way to supplement their diet than with a good glass of watermelon juice in the morning, for lunch, or a glass in the afternoon after play. So, go ahead and prepare this delightful beverage in less than 5 minutes.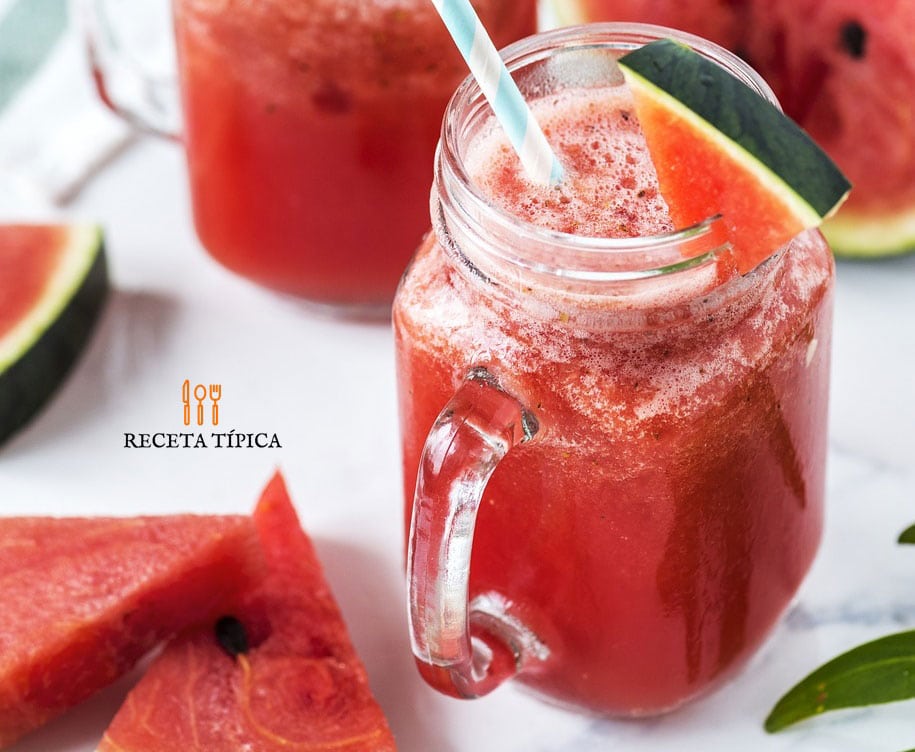 How can I make the watermelon or "patilla" juice healthier?
To make the juice healthier, you can reduce or omit sugar and choose natural sweeteners like honey or agave syrup. You can also add fresh mint leaves or lime to flavor the juice and reduce the need for added sugar.
What other ingredients can I add to this delicious juice?
You can add more flavors to your watermelon juice with strawberries, pineapple, mint, ginger, or lemon. All these ingredients complement the fresh and sweet taste of watermelon or "patilla."
How can I give my recipe more texture?
If you prefer your watermelon or "patilla" juice with more texture, you can add chunks of fresh fruit to the blender instead of processing everything until smooth. Chia seeds or flax seeds can also be added to increase fiber content.
Common mistake when making watermelon or "patilla" juice
A frequent error when making juice is failing to ensure all seeds are removed before blending the fruit. Make sure to remove all seeds before adding the watermelon or "patilla" to the blender to avoid a gritty or unpleasant texture.
Remember, you can also enjoy a refreshing beet juice or ginger tea.
📖 Recipe
Ingredients
2

cups

of watermelon

(chopped)

Sugar to taste

Water to taste
Notas
A trick to separate the watermelon seeds is using a strainer, press the pieces through it. That being the watermelon liquid, you can even drink it. Naturally, it will be healthier
Instructions
Add watermelon, sugar, and water to the blender glass.

Process for about 30 seconds.

Serve and enjoy adding ice cubes.
Nutrition
Calories:
54
kcal
|
Carbohydrates:
14
g
|
Protein:
1
g
|
Fat:
1
g
|
Saturated Fat:
1
g
|
Polyunsaturated Fat:
1
g
|
Monounsaturated Fat:
1
g
|
Sodium:
7
mg
|
Potassium:
170
mg
|
Fiber:
1
g
|
Sugar:
12
g
|
Vitamin A:
865
IU
|
Vitamin C:
12
mg
|
Calcium:
14
mg
|
Iron:
1
mg