A delicious glass of mango juice is good at any time of the day and even more so if it is to refresh you during a hot day. This mango juice recipe is easy to make, it will take you about 5 minutes to enjoy it, let's prepare it.
This natural and easy-to-make juice is a real tropical delight enjoyed throughout Colombia. With its sweet and fragrant flavor, it is a drink that will transport you to the beaches and exotic landscapes of Latin America. Likewise, besides being delicious, mango juice is rich in essential vitamins and minerals, making it a healthy and nutritious option.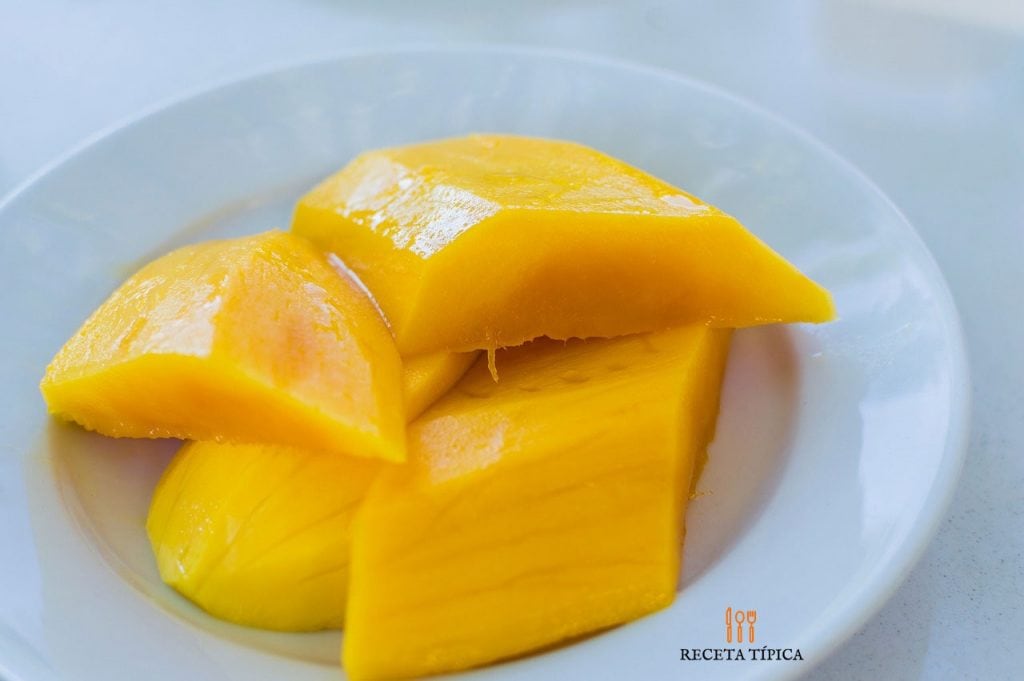 How to make mango juice with milk?
Follow the recipe instructions and replace the water with milk. It's that simple.
How can I make my juice thicker?
If you want your mango juice to have a thicker texture, you can add a small amount of milk and little water, and blend it. This will not only give it a smoother texture but also a richer flavor.
Can I use frozen mangos for this recipe?
Of course, you can use frozen mangos for this juice. Just make sure to defrost them before adding them to the blender. You can also add some ice cubes if you want the juice to be colder.
How can I tell if the mangos are ripe?
To know if the mangos are ripe, you should gently squeeze the fruit. If it's soft to the touch, it means it's ripe. You can also check if it has a sweet and fragrant aroma.
Is it necessary to add sugar?
It is not necessary to add sugar to the mango juice if the mangos you are using are very sweet. However, if the mangos are not very sweet, you can add sugar to taste to enhance their flavor.
Can I add other ingredients?
Yes, you can add other ingredients to the mango juice according to your taste. Some options are lemon juice, grated ginger, or fresh mint. This will give a different and refreshing flavor to the juice.
Tips and Tips
If you want your mango juice to be colder, you can chill the peeled and cut mangos in the refrigerator before blending them.
If you want to make a healthier version of the mango juice, you can omit the sugar and add some honey or stevia to taste.
If you don't have a blender, you can use a food processor or a hand blender to make the mango juice.
Recommendations
You can add a little lemon or lime zest to give a citrus touch to the mango juice.
If you want a more exotic version of the mango juice, you can add a little passion fruit or pineapple pulp to the mix.
You can also make a frozen version of the mango juice by placing the juice in popsicle molds and freezing them for several hours.
Common mistakes
Not peeling the mangos before adding them to the blender.
Not removing the mango seed before processing it in the blender.
Not adding enough water to the mango juice, which can make it too thick or difficult to drink.
Other recommended recipes
Pineapple and mango juice: combines the sweet flavors of pineapple and mango to create a refreshing and tropical drink.
Mango and avocado salad: a fresh and delicious salad that combines the sweetness of mango with the creaminess of avocado
We recommend you to prepare: Blackberry juice in milk or soursop juice.
📖 Recipe
Ingredients
4

medium-sized mangos

(peeled and cut.)

2

cups

of water

Sugar to taste
Instructions
Add the mango, water, and sugar to taste to the blender. Process for about 30 seconds.

Serve and enjoy. You can add some ice cubes to make it even more refreshing.
Nutrition
Calories:
272
kcal
|
Carbohydrates:
68
g
|
Protein:
3
g
|
Fat:
2
g
|
Saturated Fat:
1
g
|
Polyunsaturated Fat:
1
g
|
Monounsaturated Fat:
1
g
|
Sodium:
16
mg
|
Potassium:
696
mg
|
Fiber:
7
g
|
Sugar:
63
g
|
Vitamin A:
4479
IU
|
Vitamin C:
151
mg
|
Calcium:
53
mg
|
Iron:
1
mg