Breaded chicken, is a prevalent food since you can find it in chicken roasters in pieces or complete, today we will learn to prepare it at home, so you can see how easy and straightforward it made, you can even stay much better.
This recipe is easy to make, and the result is a crispy, flavorful dish that everyone will love. Whether you serve it as a main dish or an appetizer, the breaded chicken is a perfect choice to satisfy your cravings for comforting homemade food.
Breaded chicken is known for its flour coating combined with other ingredients that are fried. However, many complain about its seasoning taste or the egg flavor.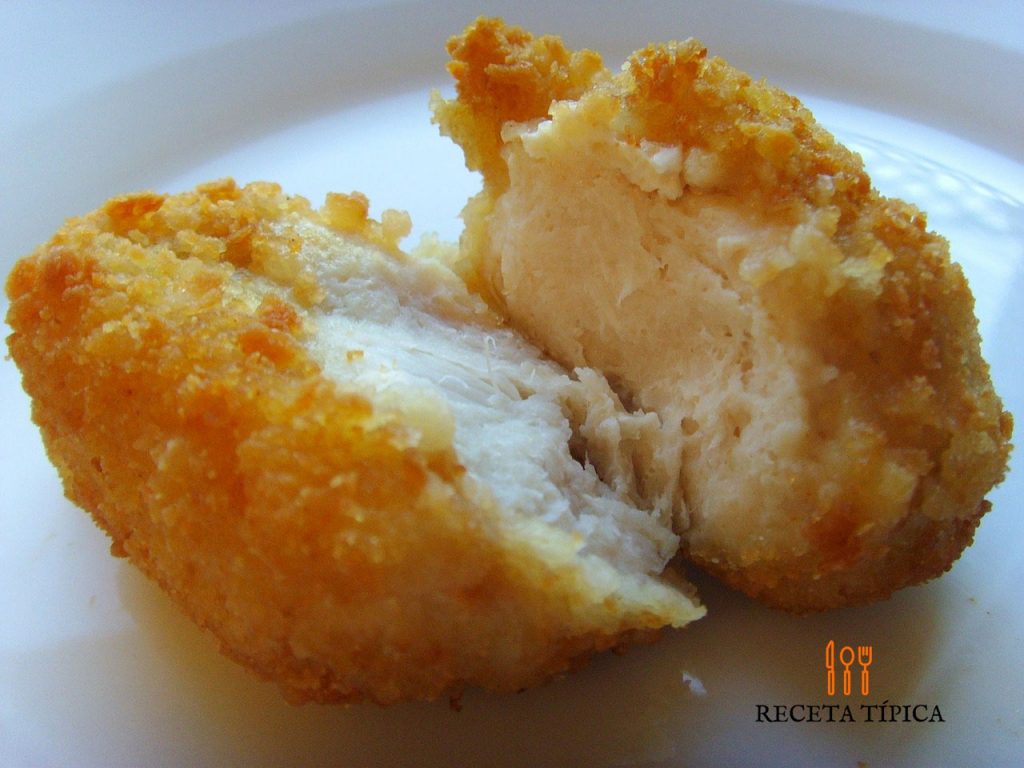 Crispy Breaded Chicken
Today, we show you how to make it so that you don't face any flavor issues. We are experts in making tasty breaded chicken for your palate's delight.
What makes our breaded chicken stand out?
I want to tell you that in our recipe, we try not to add too much seasoning to the breading flour, ensuring a mild and pleasant taste.
I assure you, you won't experience that off-putting egg taste. Instead, you'll find it very delightful.
We aim to achieve crispy chicken, and that's what we want to offer in this recipe. I guarantee you'll love it.
What does 'breaded' mean?
I want to share that 'breaded' is a term often used, not only in high-end national and international cuisine but also by homemakers. Breading refers to a coating applied to food before cooking.
Basic breading involves dredging the food in flour, then dipping in beaten egg, and finally covering with breadcrumbs or bread pieces. It's then usually deep-fried.
This technique can be applied to meats, fish, vegetables, and in this case, chicken.
How to make breaded chicken?
First, wash and thoroughly clean the chicken. In one bowl, combine wheat flour with seasonings, salt, and pepper; in another, the beaten egg with milk, and in another, the bread crumbs.
Once you have these three bowls ready and the chicken cleaned and organized to your liking, coat each chicken piece first in the flour, then the egg mixture, and lastly in the breadcrumbs, ensuring each piece is thoroughly covered.
Heat the oil over medium heat. Once hot, add the chicken pieces to fry. Stir and ensure they don't burn. Remember, the oil shouldn't be too hot, or the pieces might burn or brown too quickly. When golden, remove from the oil, drain, and serve.
Is there a special side dish for this breaded chicken?
Absolutely! This delicious dish can be paired with steamed potatoes seasoned with a pinch of salt, or a green salad to balance our meal and not feel guilty for indulging.
Tips and Recommendations
Add milk or a bit of water to the beaten egg to dilute the egg flavor, so it's not noticeable after frying.
Be very careful with the oil's temperature. If too hot, the chicken will brown quickly and might remain raw inside.
Always coat the chicken in flour, egg, and breadcrumbs for a richer and crispier result.
Frequently Asked Questions
Do I need to add seasonings to the flour? It's not necessary. We do it to enhance the chicken's flavor, but you can skip it for a natural taste.
Should the chicken be raw or cooked? Raw chicken is typically used for this procedure.
Can I bread the chicken and freeze it uncooked? Absolutely. Many restaurants practice this, storing it in the freezer for days, so it's just a matter of frying when needed.
Recommended Recipes
Sweet and Sour Chicken: Use any leftover chicken from this recipe to make other dishes.
Chicken and Vegetable Salad: Why not make a salad that includes chicken? You'll see how delicious it is.
Chicken Broth: A delightful chicken broth wouldn't hurt, so give it a try.
📖 Recipe
Ingredients
4

chicken pieces

1

cup

wheat flour

½

cup

milk

1

beaten egg

½

teaspoon

garlic powder

½

teaspoon

cumin

½

teaspoon

onion powder

Enough oil to saute

Salt to taste

Pepper to taste
Notas
Seasonings are optional. If you don't have any of them, you won't have problems with the cooking process. Maybe the taste changes a little. But the pieces of breaded chicken will still be delicious.
Instructions
Mix the egg with half a cup of milk.

In another recipient, add the wheat flour, garlic, cumin, onion powder, salt, and pepper to taste.

Dip each piece of chicken in the milk and egg mixture, then soak well with the flour mixture, verify that each piece of chicken is wrapped tightly in the flour.

Place the oil over medium heat in a skillet, wait until it is hot to start adding the chicken pieces.

Let them fry for five minutes on each side or until golden brown and crispy.

Please remove them and place them on paper towels to drain the excess oil.
Nutrition
Calories:
411
kcal
|
Carbohydrates:
26
g
|
Protein:
27
g
|
Fat:
21
g
|
Saturated Fat:
6
g
|
Polyunsaturated Fat:
4
g
|
Monounsaturated Fat:
9
g
|
Trans Fat:
1
g
|
Cholesterol:
131
mg
|
Sodium:
693
mg
|
Potassium:
326
mg
|
Fiber:
1
g
|
Sugar:
2
g
|
Vitamin A:
277
IU
|
Vitamin C:
2
mg
|
Calcium:
64
mg
|
Iron:
3
mg