If you love gatherings with friends in the afternoon or enjoy enlivening your parties with a good drink, today I want to invite you to prepare together this delicious recipe, the famous "Coco Loco" which besides being a perfect appetizer, can also be quite refreshing for those days when the heat only makes you crave something cold.
Imagine the sensation of a soft sea breeze caressing your face while the tropical sun illuminates the beach, and there you have the Coco Loco: it is more than a cocktail, it is a passport to a tropical paradise in every sip.
This cocktail, born on the coasts of Colombia, masterfully combines the soft flavor of coconut with the vigor of liquor and the citrus and refreshing touch of lemon. It is the perfect symbiosis between sweetness and acidity, transforming each sip into an explosion of flavor on the palate.
The Coco Loco is more than a cocktail, it is a lifestyle: carefree, tropical, and full of flavor. Every sip is a reminder of the wonders of the tropics, a celebration of life, of the here and now.
This recipe is perfect for those summer days, so it is very famous and quite popular in the Caribbean area, not only for visitors but also for locals. There it is very easy to find it around the beach, as in some street stalls, the seller can open a coconut with a machete or knife, add different drinks inside, coconut milk, ice, and serve it while you watch the preparation.
The way they present it is quite pleasant, as they always use fresh coconut with the shell still green, and when you start tasting it, you want to order one and then another. The coconut is also quite common in this area, just look at various preparations that have this ingredient as their main base, some examples of this are the cocadas, coconut rice, fish in coconut sauce, coconut ceviche among others (on our blog you can find some of these recipes.
In my Coco Loco recipe, it was difficult for me to find a fresh coconut to serve it as it is traditionally found, however, I used a glass that gives a good presentation and some coconut shells that I toasted myself to decorate.
It is also important to keep in mind that, if this cocktail wants to be shared with the youngest of the house, no type of liquor should be added, it would only be made by mixing the water and coconut milk with crushed ice. As an option for adults, drinks such as vodka, rum, or brandy are added.
The Art of Balance: How to achieve the perfect balance of flavors in a Coco Loco Cocktail?
The Coco Loco is a tropical party, in terms of the perfect balance of flavors it requires paying attention to key ingredients: coconut cream, coconut water, lemon juice, and liquor. The secret lies in balancing the sweetness of the coconut cream and coconut water with the acidity of the lemon juice. Liquor also plays an important role, providing a strong punch of flavor, but should be added sparingly so as not to overwhelm the other flavors.
Tip: Experiment with different types of rum and vodka or even tequila until you find your preferred mix.
No More Diluted Cocktails: How do I prevent the ice from diluting my Cocktail?
It is common for ice to dilute cocktails, but there is a way to prevent this. When you're blending the ingredients, try to use less ice. Instead, add two ice cubes just before serving. This will keep your cocktail fresh and prevent it from quickly diluting.
Tip: If you have time, make ice cubes using coconut water. This will add flavor instead of diluting your cocktail.
Dressing Your Cocktail: How can I make it look as good as it tastes?
Presentation is essential in the world of cocktails. For the Coco Loco, a slice of lemon is a classic garnish. However, if you want to go a step further, serve your cocktail in a fresh coconut. This not only adds a tropical touch but also adds an extra note of flavor.
Tip: Make sure to keep the coconut in the refrigerator before using it. This will help keep your cocktail cold longer.
The Big Mistake: What is the most common mistake and how do I avoid it?
The most common mistake is to overdo it with the liquor. This cocktail has a soft coconut base, and too much liquor can overwhelm that delicate flavor. Remember, you're looking for a balance of flavors, so measure your rum and vodka or tequila carefully.
Tip: Use a bar measure or a measuring cup to ensure you add the correct amount of liquor.
Exploring Flavors: What other cocktails can I prepare that are similar to the Coco Loco Cocktail?
If you like Coco Loco, you might also enjoy other tropical cocktails. A good example is the Piña Colada, which also uses coconut cream and rum, but adds pineapple juice for a fruitier flavor. Another option is the Coconut Mojito, which includes white rum, coconut water, mint leaves, and lemon. These cocktails share ingredients with Coco Loco and maintain that vibrant tropical flavor you love so much.
Tip: Don't limit yourself to these recommendations, mixology is an art and invites you to experiment with different flavors and techniques.
In summary, preparing a Coco Loco Cocktail can be a fun and rewarding experience. Make sure to balance your flavors, measure the liquor carefully, and keep your cocktail cold but not diluted. Don't forget to pay attention to presentation and above all, don't be afraid to experiment and make the cocktail to your taste.
Now let's follow the steps of the recipe to prepare this delicious Coco Loco cocktail.
📖 Recipe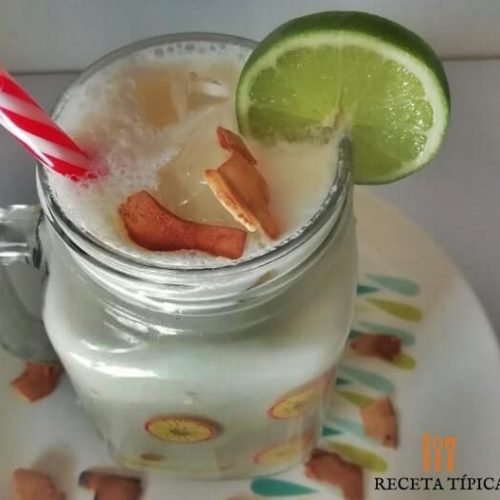 Ingredients
1

glass of ice cubes

¼

cup

of white rum or your preference

¼

cup

of vodka or tequila

2

cups

of coconut cream

1

cup

of coconut water

The juice of 4 medium lemons

4

slices

of lemon for serving
Instructions
Take the ice cubes, liquor, lemon juice, and coconut cream and water to the blender.

Blend for a few seconds.

Serve in a fresh coconut if you have it at hand or in a glass, adding two ice cubes and garnishing with the slice of lemon.
Nutrition
Calories:
486
kcal
|
Carbohydrates:
13
g
|
Protein:
5
g
|
Fat:
42
g
|
Saturated Fat:
37
g
|
Polyunsaturated Fat:
1
g
|
Monounsaturated Fat:
2
g
|
Sodium:
72
mg
|
Potassium:
586
mg
|
Fiber:
4
g
|
Sugar:
2
g
|
Vitamin A:
17
IU
|
Vitamin C:
18
mg
|
Calcium:
35
mg
|
Iron:
3
mg