This croissant recipe is straightforward to prepare, and you can enjoy it for breakfast or with a cup of coffee.
The croissant, also known as croissant, is a piece of bakery whose puff pastry version developed in France. It made with a specific puff pastry that contains yeast, butter, or margarine. Since the twentieth century, it has spread throughout many countries of the world, and there are numerous variants with ingredients and consistencies.
It is also known as 'cachitos' in Peru, Ecuador, and Venezuela. in Colombia as 'croasán.' In Chile, Paraguay, Argentina, and Uruguay as 'medialuna,' and in other Latin American countries as 'cangrejitos' or 'cuernitos,' prepared mostly in the same way, there are sweet or savory, simple or stuffed.
And in these times, it is not surprising that the croissant has become one of the most consumed bakery pieces in the world, becoming famous for its crunchy texture, a very particular flavor between salty and sweet, which have made it a snack very precious.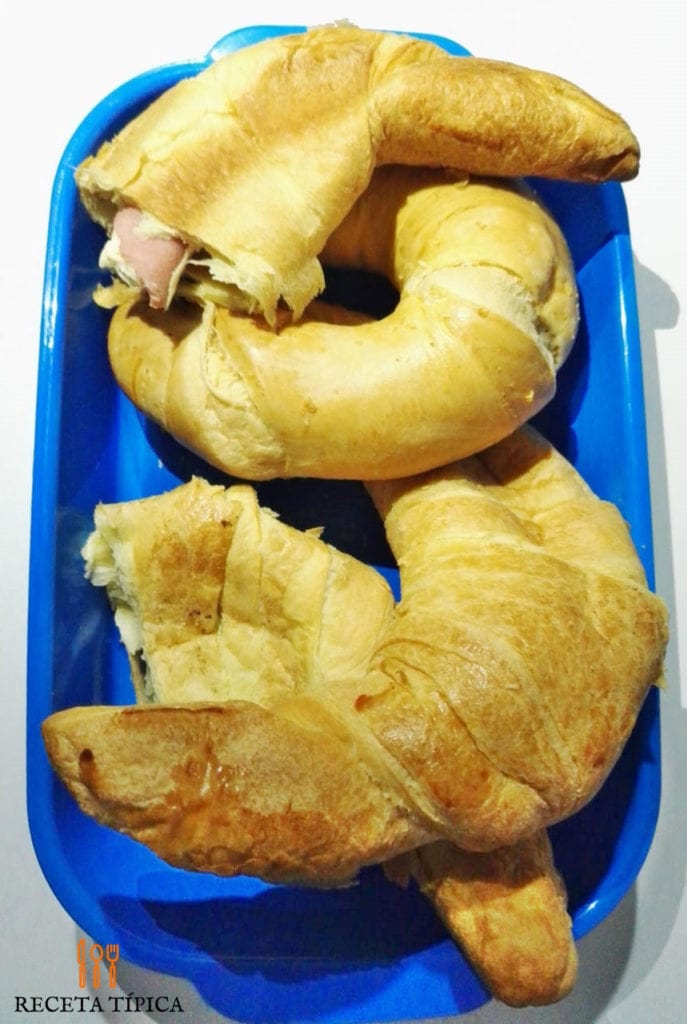 While it is true, croissants are not a product to consume in diaries. However, they are one of those delicious and crunchy snacks that are almost impossible to resist. And although the most natural thing is to buy them in any bakery or supermarket, the truth is that you can also do it at home, and it is time for you to take risks and try.
It is straightforward and fast, the best of all is that you can make them healthier, and vary their size. Moreover, you can turn it into small bites to enjoy breakfast with a cup of chocolate, or something with a cup of coffee or even to feed the youngest children.
As you want to make them, stuffed or simple, large or small, they are a delicious delicacy that we have to learn to prepare. Let's cook.
You can accompany this delicious croissant with a cup of coffee or chocolate.
Receta original en
Español
📖 Recipe
Ingredients
500

g

of wheat flour.

250

ml

of warm water.

175

g

of butter

50

g

of white sugar

25

g

of fresh yeast.

1

packet of bologna

500

g

of cheese curd.

10

g

of salt

1

beaten egg

Notes

The size of the Croissants will be to your liking.
Notas
The size of the Croissants will be to your liking.
Instructions
Stir the flour with salt and sugar. Open a hole in the middle and add warm water. Knead very well.

Add the yeast plus another two tablespoons of warm water and continue to knead all the ingredients well.

Stretch it out and give it a rectangular shape, put it on a tray, cover it with plastic wrap and refrigerate for 1 hour.

Soften the butter, and with the help of a roller, flatten it.

After the dough time, place it on a floured surface and shape it with the rolling pin.

Cut the dough into a rectangle and place a portion of butter on top.

Fold the dough and, in this way, join the butter with the dough. Repeat this process three times until you have a perfect dough similar to the puff pastry.

Shape the dough and cut it into triangles.

Add two leaves of bologna and cheese in thin pieces.

Roll the dough, starting at the thickest part from one of the corners.

Once rolled, we spread the croissant with the beaten egg.

We put them in the oven at a temperature of 200 ° C for 15 minutes. And ready.
Nutrition
Calories:
618
kcal
|
Carbohydrates:
45
g
|
Protein:
23
g
|
Fat:
38
g
|
Saturated Fat:
21
g
|
Polyunsaturated Fat:
1
g
|
Monounsaturated Fat:
7
g
|
Trans Fat:
1
g
|
Cholesterol:
124
mg
|
Sodium:
1112
mg
|
Potassium:
167
mg
|
Fiber:
2
g
|
Sugar:
6
g
|
Vitamin A:
485
IU
|
Vitamin C:
1
mg
|
Calcium:
397
mg
|
Iron:
3
mg