If you're craving a delicious ground beef with potatoes, stay with us and we'll show you how to prepare it in no time.
In the vast world of gastronomy, there are combinations that, due to their simplicity and flavor, transcend borders and take root in the hearts of households. One of those culinary gems is ground beef with potatoes. Imagine a juicy stew of ground beef, carefully seasoned, merging with tender potato chunks that have absorbed all those robust and spicy flavors. It's a dish that evokes the warmth of home, conversations around the family table, and the unconditional love that goes into homemade meals. If you're seeking a dish that nourishes the soul as much as the stomach, you've come to the right place. Join me on this culinary journey and rediscover the magic of basic ingredients transformed into an unforgettable delight. Get ready to reconnect with authentic flavors and fall in love once again with home cooking!
I believe ground beef is delicious. I love it. And if we combine it with delightful potatoes, its flavor improves by 100%. The potatoes provide a special and delicious touch, making our ground beef taste even more delicious.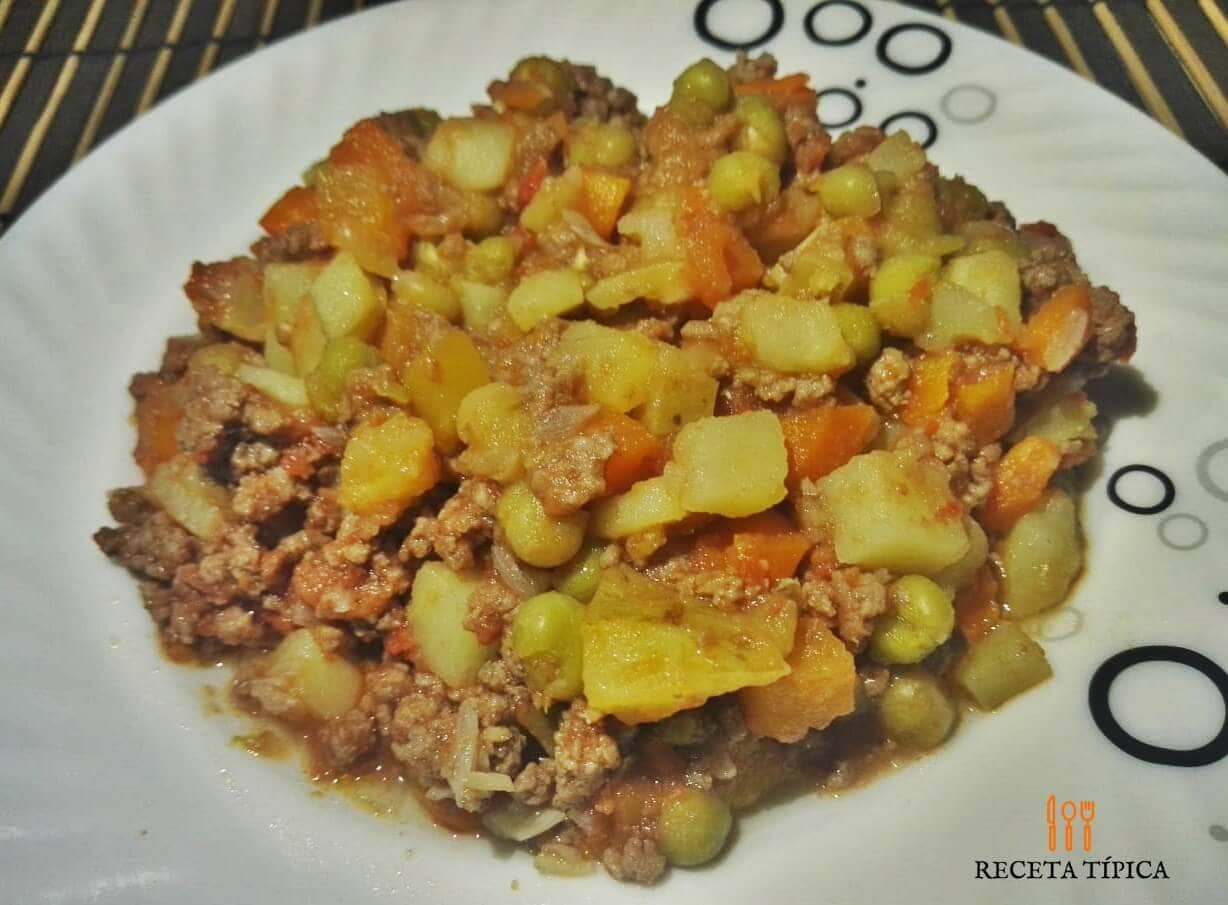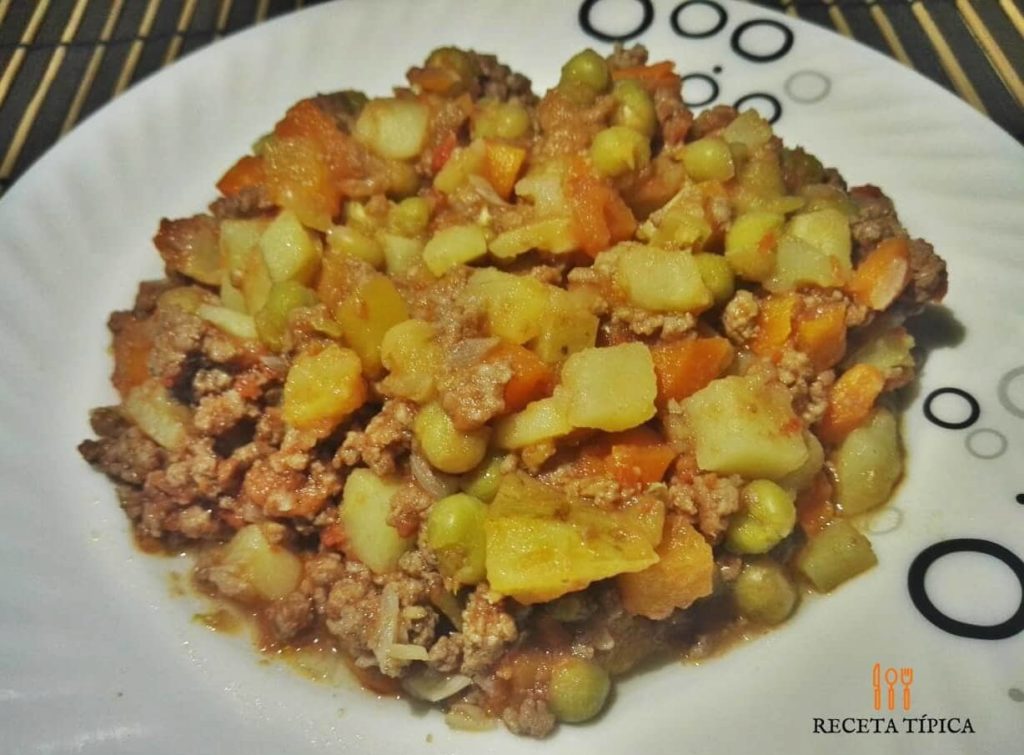 Dish of ground beef with potatoes
What's the secret to making the best ground beef with potatoes?
I've always said that the secret touch one should give to meat is the seasoning, the spices, and the marinade. That is, if we only use salt and pepper for our recipe, its flavor will be much simpler.
However, if we decide to add a bit of thyme, some oregano, a good stew, among other ingredients we can use in the kitchen for flavor, our recipe will acquire many pleasant flavors and aromas for our senses.
In the ground beef with potatoes recipe, we can include vegetables like carrots and add peas, thus giving it even more flavors that make the ground beef with potatoes taste even better.
It's a recipe that allows us to add various ingredients to enhance its flavor, making it a very appealing and delicious dish, despite its simplicity. Ground beef with potatoes is a dish that both children and adults love. It's ideal for lunch or dinner, whether eaten alone or with company. I'm sure it will leave you wanting just a little more.
So now you know, you can add the spices you want or those you like most, some vegetables, and make your recipe a wonderful dish. Let's cook.
How to achieve juicy ground beef and not dry?
The key is not to cook the meat for too long and at very high heat. When sautéing the beef, ensure it is browned but not overcooked. Then, when adding the blended tomatoes and other ingredients, lower the temperature and let it cook slowly so that the meat absorbs the juices and flavors of the mix.
What's the trick to making the potatoes soft but not mushy in the preparation?
It's essential to pre-cook the potatoes, but not to the point where they're too soft. They should be cooked but still firm to the touch. This way, when added to the ground beef, they'll maintain their shape and texture without disintegrating in the stew.
Can I substitute any ingredient if I don't have everything on hand?
Of course! If you don't have carrots and peas, you can experiment with other vegetables like corn or bell peppers. Ground beef with potatoes is a versatile recipe, and you can adapt it according to your preferences or the ingredients you have available.
What's the purpose of the bay leaves in the recipe?
Bay leaves add a subtle aromatic touch to the preparation. They provide a depth of flavor and a characteristic aroma that complements the beef and potatoes well.
Is it essential to blend the tomatoes? What if I use tomato sauce instead?
Blended tomatoes provide a smooth, natural texture to the stew. If you prefer to use tomato sauce, you can, but keep in mind that it might have a more concentrated and saltier taste. If you decide to use it, adjust the amount according to your preference and be careful with the salt.
Chef's Tips and Tricks
Seasoning: When sautéing the onion and garlic, you can add a touch of cumin to give the stew an extra burst of flavor.
Moistness: If you feel your stew is getting too dry, add a bit of beef broth to increase its juiciness.
Potatoes: Use potatoes that maintain their shape when cooking, like Creole potatoes, to ensure they don't fall apart in the stew.
Common Mistakes in Preparation
Overcooking the beef: This can result in dry meat. It's crucial to sauté until browned and then lower the heat.
Overcooking the potatoes beforehand: This can cause the potatoes to disintegrate in the stew.
Not tasting while cooking: Ensure you taste and adjust the salt and pepper according to your preference.
Recommendations
Colombian shredded beef: Uses beef and is equally delicious. Shares the base of onion and garlic but has its unique twist.
Potato and carrot soup: An excellent option if you have these ingredients left over. The flavor combination is comforting and perfect for cold days.
Pericos eggs: A traditional Colombian dish using onion and tomato, similar to our recipe but as a breakfast version.
📖 Recipe
Ingredients
1

kg

of ground beef

1

cup

of chopped onion

2

cloves

of chopped garlic

3

cups

of blended tomato

1

cup

of cooked carrot and peas

2

cups

of pre-cooked potatoes

(chopped)

2

bay leaves

Oil
Instructions
In a pan, sauté the onion and garlic.

Add the beef and once it's browned, add the blended tomato, carrots, peas, pre-cooked potatoes, and bay leaves.

Season with salt and pepper and stir well.

Cook for about 15 minutes until the beef is well-cooked or to your desired level.
Nutrition
Calories:
835
kcal
|
Carbohydrates:
38
g
|
Protein:
49
g
|
Fat:
54
g
|
Saturated Fat:
20
g
|
Polyunsaturated Fat:
3
g
|
Monounsaturated Fat:
24
g
|
Trans Fat:
3
g
|
Cholesterol:
178
mg
|
Sodium:
1304
mg
|
Potassium:
1856
mg
|
Fiber:
7
g
|
Sugar:
10
g
|
Vitamin A:
4508
IU
|
Vitamin C:
41
mg
|
Calcium:
112
mg
|
Iron:
8
mg