Prepare a delicious carrot cream soup, easy to make with a very creamy texture. It will turn out fantastic, I assure you. Stay with us and cook along.
This carrot cream soup is perfect for any time of the year. Honestly, there's nothing more nutritious than having a vegetable soup at least once a month. This warm soup offers a delightful taste, and you'll find its outcome not as carrot-intensive as it might seem.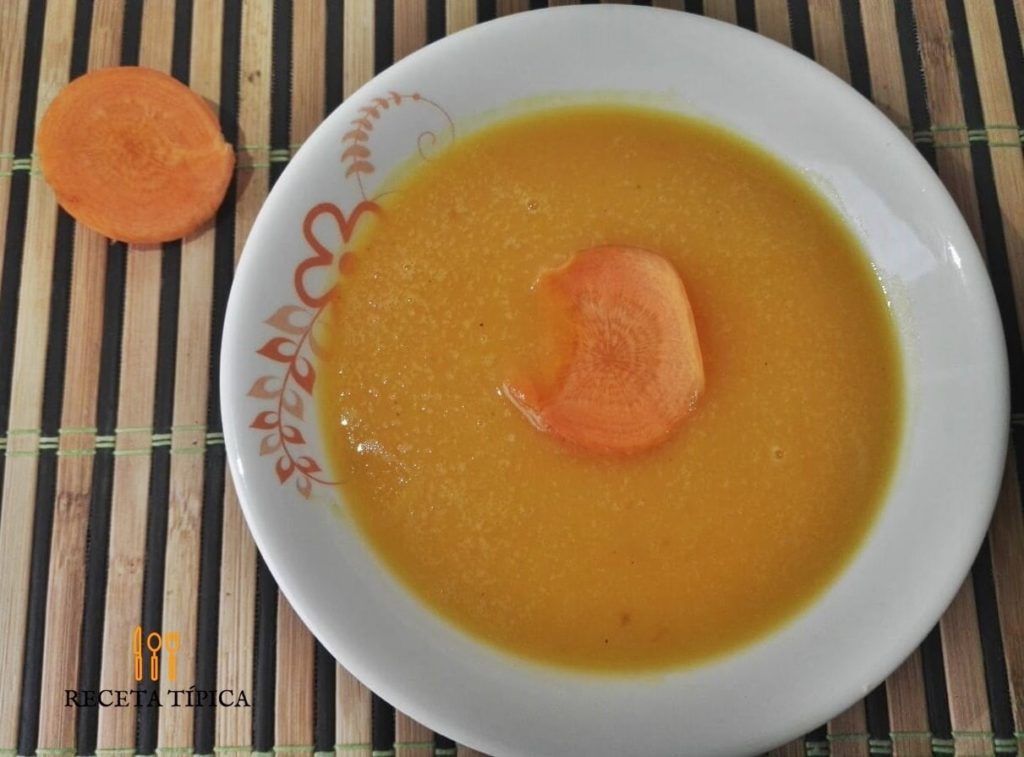 It's a recipe that comes in handy on those days when we're out of dinner ideas. And in many places, carrots are abundant.
What's the secret to this carrot cream soup?
What I love most about this soup, which I'd say is its secret and delicious touch, is the flavor that the heavy cream adds to it. Every time I think about it, I can't resist.
Its creaminess, flavor, texture, and everything that makes up this soup is what sets it apart. I'm sure if you follow our recipe, you'll want to make it more often. And your kids, the most demanding diners, will enjoy its flavor the most.
Additionally, remember that carrots provide numerous benefits to our body, especially for children in their growth stage. More than just a carrot soup, we're preparing a nutritious meal for our kids.
So come and prepare this wonderful carrot cream soup with us. It doesn't require many ingredients, and all we'll need is a little time. Let's get cooking!
What type of broth can I use in the recipe?
Though the recipe suggests vegetable broth, you can go for chicken broth if you prefer a richer flavor. For a vegetarian version, vegetable broth is ideal. If you're out of broth, water with good seasoning will also do the trick.
Can I add other vegetables to the soup?
Absolutely! You can add potatoes, celery, or squash for added body and nutritional variety. Just make sure to adjust the cooking time based on the vegetables you add. Is adding heavy cream or milk necessary?
Heavy cream or milk gives a creamy texture and a mild taste, but if you're looking for a lighter option, you can skip or replace it with almond milk or unsweetened natural yogurt.
How can I give it a unique touch?
For a twist, consider adding spices like ginger, curry, or nutmeg. You can also garnish with fresh herbs like cilantro or parsley for a vibrant and fresh touch.
Can I freeze the carrot cream soup?
Yes, you can. Ensure it cools down completely before transferring to an airtight container. It can last up to 3 months in the freezer.
Tips and Tricks
Fresh Carrots: Use fresh and firm carrots for the best flavor and texture.
Perfect Sauté: Cook the onion until it becomes translucent for a deeper flavor.
Careful Blending: Blend in batches and carefully to avoid accidents due to the hot broth.
Common Mistakes
Not adjusting seasoning: Taste and adjust the salt and pepper before serving.
Overcooking the carrots: Cook them until they're tender to avoid an overly thick soup.
Recommended Recipes
Colombian Lentil Soup: A nutritious soup also featuring onions and carrots, ideal for cold days.
Ajiaco Bogotano: A Colombian classic that also uses heavy cream. Perfect for those looking to dive deeper into Colombian cuisine.
Why Do I Recommend These Recipes?
Both are traditional Colombian soups providing comfort and nutrition. They use similar ingredients, allowing you to diversify your menu without buying extra ingredients. Ideal for those looking to explore Colombian culinary diversity.
📖 Recipe
Ingredients
1

large egg onion.

7

medium-sized carrots.

1

liter

of vegetable broth.

150

ml

of heavy cream or milk.

Salt and pepper to taste.

Oil for cooking.
Notas
You can blend the soup with the heavy cream and serve immediately.
Instructions
Peel the onion and slice it finely.

Heat some oil in a pot and sauté the onion over medium heat for about 4 minutes.

In the meantime, wash, peel, and slice the carrots.

Add the carrots to the pot, pour in the broth, season with salt and pepper, and bring it to a boil.

Cook over medium heat for 15 minutes.

Blend the mixture from the pot, serve immediately, and add the heavy cream or milk.
Nutrition
Calories:
147
kcal
|
Carbohydrates:
18
g
|
Protein:
2
g
|
Fat:
8
g
|
Saturated Fat:
3
g
|
Polyunsaturated Fat:
1
g
|
Monounsaturated Fat:
3
g
|
Trans Fat:
1
g
|
Cholesterol:
14
mg
|
Sodium:
1672
mg
|
Potassium:
431
mg
|
Fiber:
3
g
|
Sugar:
8
g
|
Vitamin A:
18499
IU
|
Vitamin C:
9
mg
|
Calcium:
81
mg
|
Iron:
1
mg